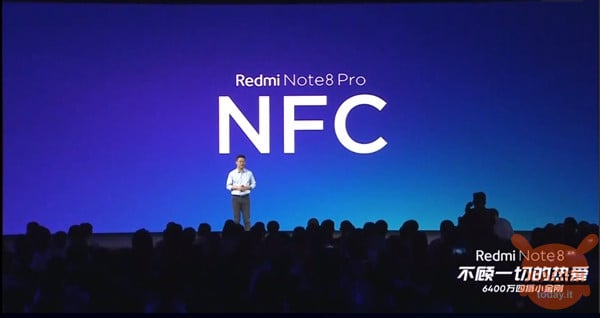 The hype of the last few days linked to the new smartphone Notes redmi 8 Pro of the sub-brand Xiaomi it is entirely justified: putting aside the criticisms for a moment and working on the real data we have, Redmi brought us one gaming smartphone, with a space camera from ben 64 megapixel produced by Samsung, a system of Black Shark style liquid cooling which allows to lower temperatures up to 6 degrees in situations of high stress, a technology linked to the Wi-Fi signal that practically resets the lag in the gaming sessions, certification TÜV Rheinland certification compared to the display which greatly reduces the eye stress caused by blue rays e 4500 mAh battery. Let's not forget about theNFC which had a level up compared to the previous generation. You can see everything in this teardown.
Redmi Note 8 Pro takes the NFC to another level (and for everyone)
But before telling you what the upgrade of this chip is forNFC, we want to tell you how this update is tied in an essential way to politics and motto of Xiaomi "Technology for everyone". During the presentation yesterday in Beijing, the general manager Lu Weibing stated firmly:
"This time Redmi Note 8 Pro makes NFC-related features popular. At the same time, I therefore appeal to Redmi users and staff to work together to make the NFC functions even more popular ".
With "popular" the GM obviously wants to refer to the usefulness of the chip in everyday use for everyone. He goes on to say that il NFC utilization rate (only in Xiaomi and Redmi smartphones) in Beijing is of 43,6% and therefore his presence is gradually sinking more and more cities; today all smartphones that use this type of technology are no longer simply smartphones, but credit, travel and access cards and so on.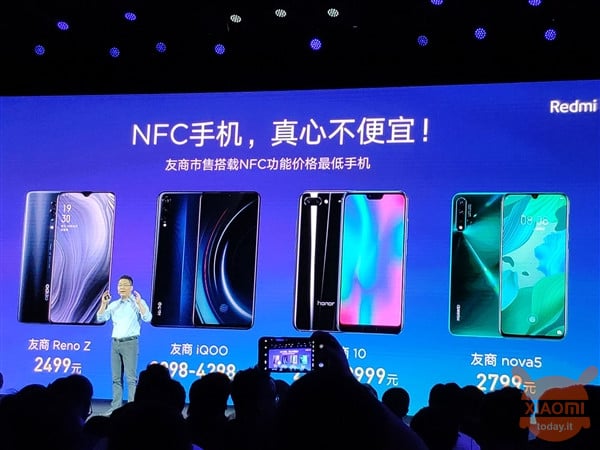 From personal experience I confirm that now in China the use of cash is close to zero and through this technology it is possible to pay anywhere and access anywhere.
But let's move on to the heart of the matter, that is upgrade of the dedicated chip. Compared to the previous generation mounted on smartphones ranging from Redmi Note 7 back, this NFC whose technical name is NPX-SN100T, allows faster transactions than 30% and greater security. Considering that the speed of execution of its functions is already very high, this will allow us in an almost instantaneous way to use the service, presently present in 257 Chinese cities (linked to the Xiaomi Bus app). Perhaps the problem related to the delay of thesmartphone release in Global version it is also linked to this but it is only a guess.
In any case, with the release of the Note 8 Pro, Redmi demonstrated how even payment technology is available to everyone: the price is the justification! We do not yet know how much it will cost in Europe at the time of its arrival, but we firmly believe that its price remains decidedly under the € 250. By the way, Did you know that it is the smartphone with the least expensive NFC on the market?
📱 DESIGN
🔍 DISPLAY
⚙️ HARDWARE
🤖 SOFTWARE
🔋 BATTERY
📞 NETWORK
📡 CONNECTIVITY
📷 CAMERA
🔈 AUDIO
ℹ️ MISCELLANEOUS
Are you interested in OFFERS? Follow our TELEGRAM Channel! Many discount codes, offers, some exclusive of the group, on phones, tablet gadgets and technology.