Let's go back in time, in the "distant" 2020 when for the first time we talked about Redmi tablet. Unfortunately or fortunately that product never came out, even if Xiaomi gave us the satisfaction of getting our hands on Xiaomi pad 5. Today, two years later, Chinese sources would confirm that Redmi Pad would really be arriving, at least in China to start. In fact, according to what was disclosed by industry sources, a survey where the tablet name was used for the first time. Hint this, or a simple false alarm? Let's see the details of the news.
A Xiaomi questionnaire concerning the Mi Magic Sharing Center named Redmi Pad for the first time, which is the first tablet of the brand
As we said, Chinese sources quite reliable have disclosed that on the Mi Community Chinese has been published a very interesting survey. This specifically concerns the use and satisfaction of the Xiaomi Mi Magic Sharing Center, or a sort of enhanced Control Center through which you can pass and send data and commands from one device of the Xiaomi ecosystem to another. The questionnaire asked which tablet the user was using the Magic Sharing Center on and right here the name of the RedmiPad 5G. Not being out yet, we expect this to be a clue about the upcoming launch.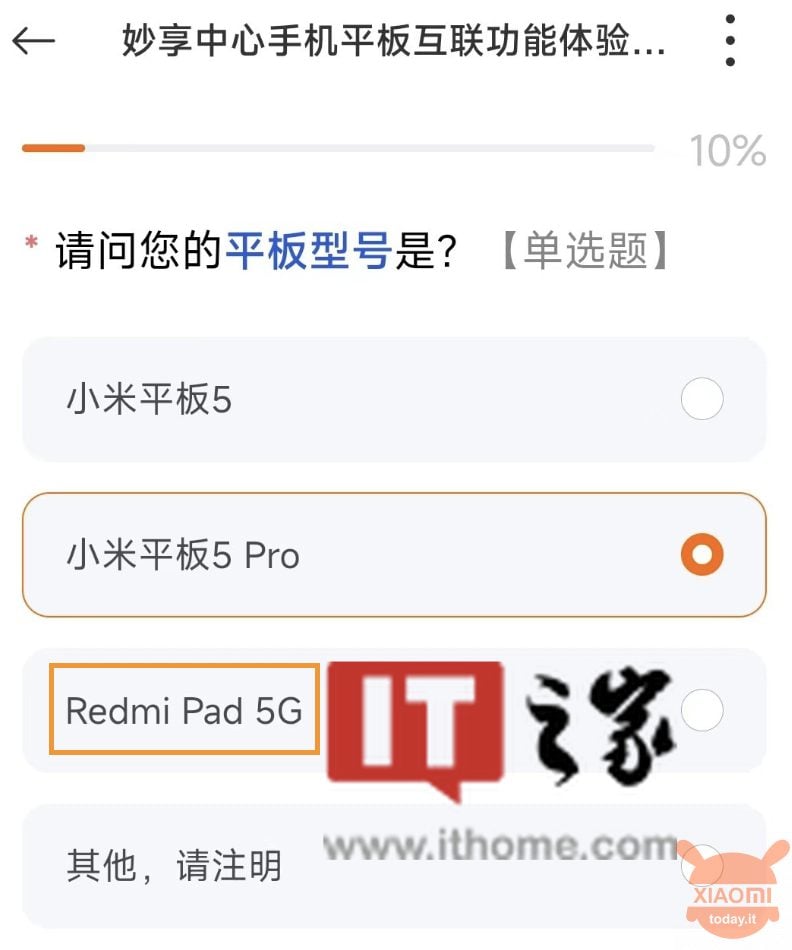 Now, let's move on to the Redmi Pad 5G specifics. At his time we said that the tablet would integrate an SoC Snapdragon 765G, a camera from 48 megapixel, support for charging from 30W and a screen from 90 Hz. Of course, this was a figment of the imagination or at least of speculations based only on rumors. Currently, at least, we can say that Redmi Pad 5G is in the pipeline, even if the specifications have not been revealed. We expect that in next few months we will know something more, but one thing is certain: the hardware equipment of Redmi Pad 5G will not be the same as we have thought up to now.
Xiaomi Pad 5 | 6 GB - 128 GB | White
1 used by 253,58 €
1 December 2022 9: 48

Amazon.it
Price updated on: 1 December 2022 9:48