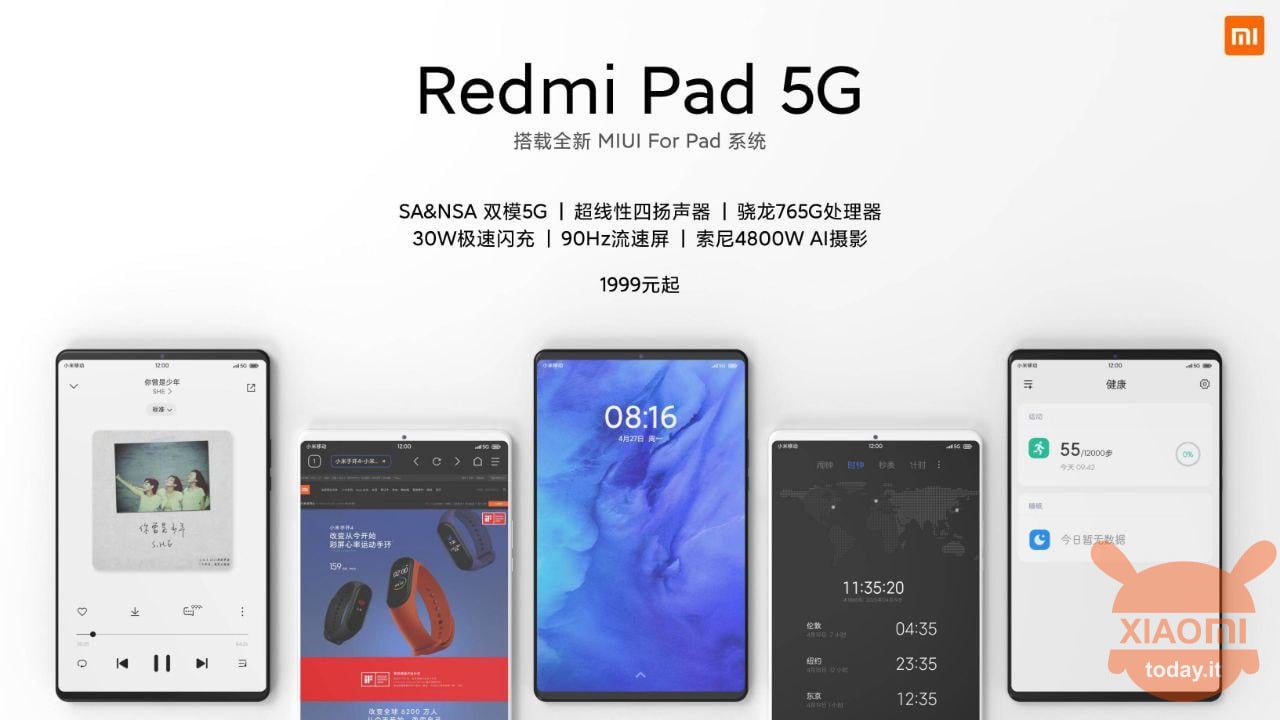 After long hoping that Xiaomi would give us a new and updated one Mi Pad, the brand replied that the projects concerning the tablet line has not been abandoned. Although we have no news from the latest news in our possession (early April), it seems that something is moving thanks to the first sub-brand. Let's talk about Redmi and its first tablet Redmi Pad 5G. We have seen how technical they will make it one of the best tablets out there but nothing has been said about the release date, at least to date. Indeed it seems that will come this month.
Redmi's first tablet, Redmi Pad 5G, could debut next June 21: the date unveiled by a Chinese retailer
Among the many features that we will soon list in an orderly way, we find two that will make this device to be the most popular tablet out there. Let's talk about operating system and 5G: as for the first, it will be equipped with MIUI for Pad, a specialization of the personalized interface that we love so much but dedicated to tablet use. A step forward therefore compared to the Mi Pads of the previous generation. Secondly we will have the 5G connectivity that we have seen on the new one Honor V6.
But going back to the main news, let's see how a reseller (unofficial) he put in presale the new device on its e-commerce portal. Clearly the price is not the final one nor the real one, but to the Chinese users question if the device was the real one he replied:
"We guarantee original and unopened products as well as a basic one-year warranty that can be extended to two"
The price in any case should be around 1.999 yuan, at the current exchange rate 250€. According to what he says therefore, it is really the Redmi Pad 5G original. At the bottom right we can see the date: 21 June. This means that it is just under 20 days before the device makes its debut in China. But what are the specifications of this first Redmi tablet?
Specifications (not officially confirmed) Redmi Pad 5G
display: 90Hz refresh rate even if we don't know the size of the diagonal;
processor: Qualcomm Snapdragon 765G (octa-core Kryo 475 with a larger core that can reach the frequency of 2,4GHz, a 2,2GHz core and six cores with a maximum clock of 1,8GHz

connectivity: 5G modem;
GPU: Adreno 620;
battery: huge 8.920 mAh and 30W recharge;
camera: single 48 megapixel
OS: MIUI for Pad.
Are you interested in OFFERS? Follow our TELEGRAM Channel! Many discount codes, offers, some exclusive of the group, on phones, tablet gadgets and technology.