Let's go back to talk about Redmi Pad, the first tablet of the Chinese company that has always supported Xiaomi. Many users expect a device almost equal to that of Xiaomi, namely the Xiaomi Pad 5. However, we know from preliminary information that the tablet will be different both from an aesthetic and a hardware point of view. Specifically, we have relevant information about the Redmi Pad battery. The FCC portal reveals the charging and capacity of the cell. Let's go see the details.
From the FCC portal we learn about the first official key specifications of Redmi Pad, the company's first tablet. How about?
According to the information available, the Redmi Pad (model number 22081283G) will be equipped with a metal case with rounded corners. It will then equip a rear camera with a single image sensor inside a relatively large module. Underneath all this poo of stuff, we'll find one battery from 7800 mAh. For a quick comparison: Xiaomi Pad 5 has a 8720mAh battery. In addition to this the certification confirms the arrival of MIUI 13 on Redmi Pad which, remember, should also have support for 5G connectivity. For the rest, the certification refers to a nominal voltage of 3.87V which however does not confirm the charging power.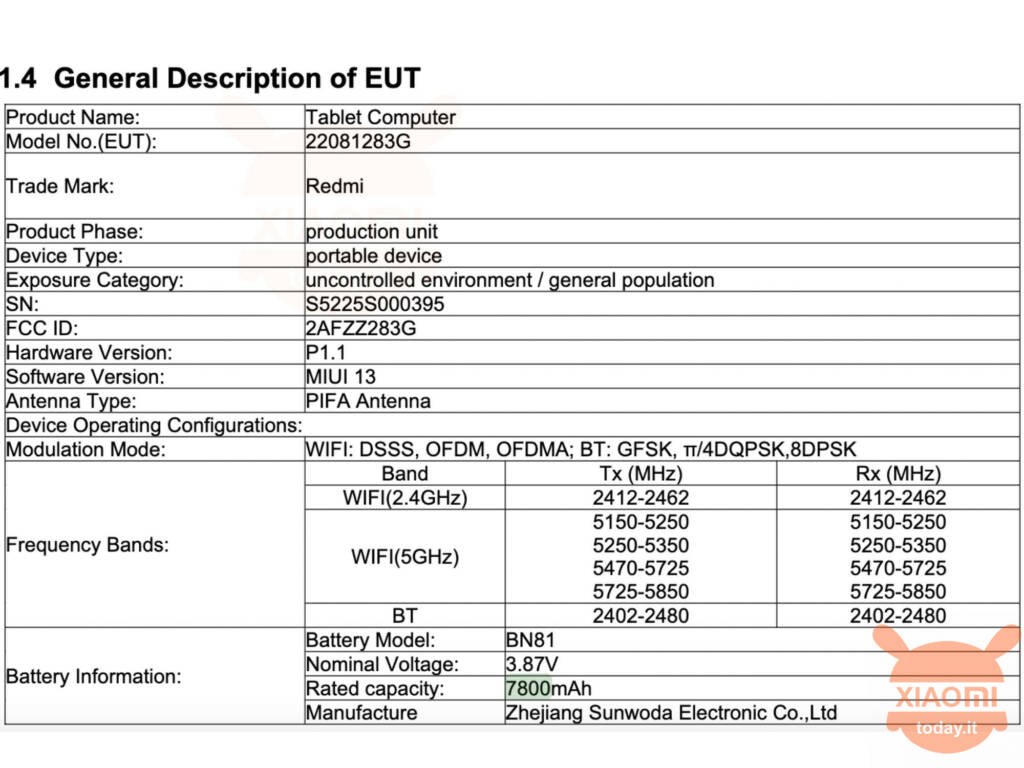 As for the other alleged Redmi Pad 5G specs, the device should have an integrated SoC Snapdragon 765G, a camera from 48 megapixel, support for charging from 30W and a screen from 90 Hz. Of course, this was a figment of the imagination or at least of speculations based only on rumors. Currently, at least, we can say that Redmi Pad 5G is in the pipeline, even if the specifications have not been revealed.
That said, we don't know when Redmi's tablet will debut on the Global market. However, we have a certainty: will arrive in Europe 100% since this is confirmed by the certification in question.
Xiaomi Pad 5 | 6 GB - 128 GB | Grey
349,99

€

389,00

€
available
8 December 2022 18: 21

Amazon.it
Price updated on: 8 December 2022 18:21