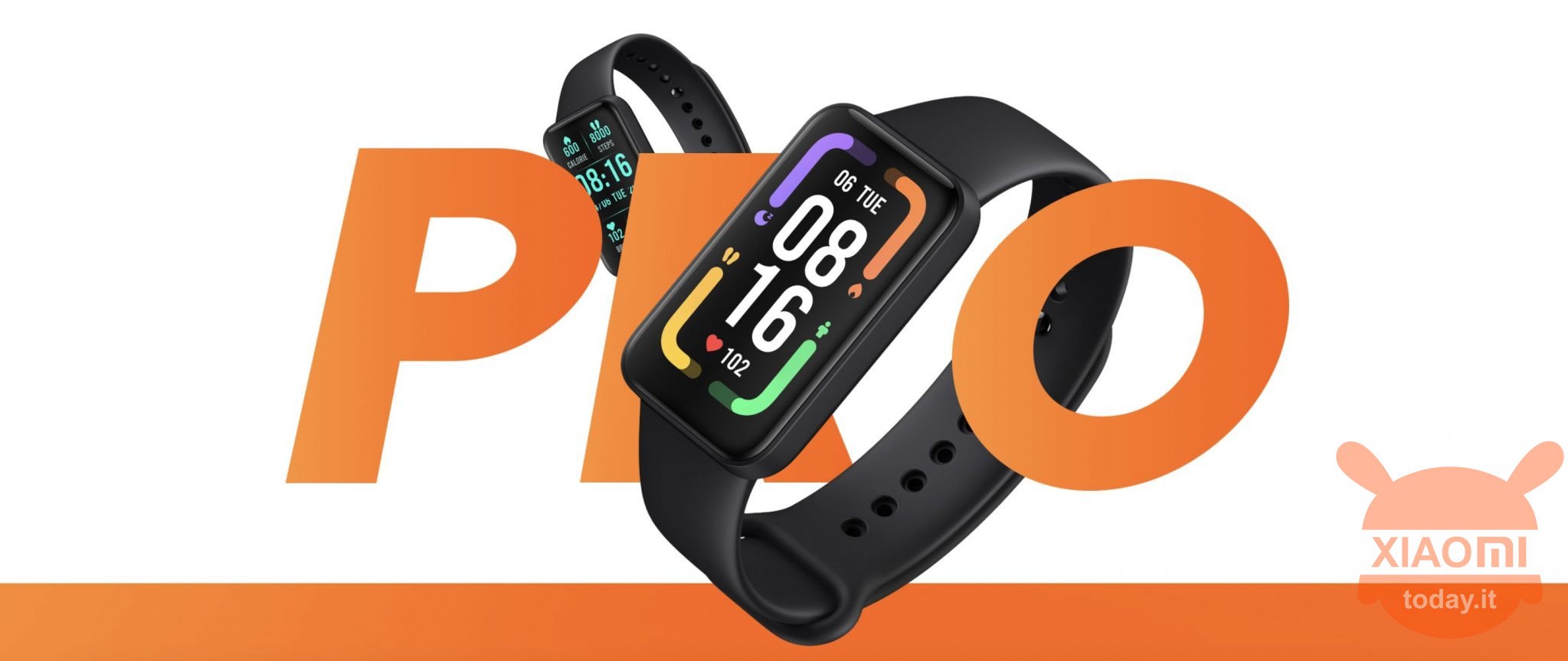 Redmi SmartBand Pro has finally debuted on the market Overseas hubs, after the device was previewed by us some time ago. The device, as we have seen, does not resemble any wearable of the company, but to that of realme. The screen is in fact wider and far from rounded than the Mi Band 6 NFC recently released. The smart bracelet has officially arrived on the Xiaomi official site, even if the colossus has not announced it. For this, we don't even know when it comes out e how much the Redmi Smart Band Pro. But having said that, let's see all the specifications and features together.
Redmi Smart Band Pro is official: here are specifications and all the features of the Redmi smartband with AMOLED display. A bomb!
Redmi Smart Band Pro is finally official. It is a smartband with a larger display than usual (for Xiaomi). It is a Full AMOLED from 1.47 ″ with a screen-to-body ratio of 66.7%. This ensures a better experience in terms of visibility, while also allowing you to have more data on the screen. Redmi Smart Band Pro is equipped with a 100% NTSC display, whose maximum brightness of 450 nits it will ensure you can see the screen clearly even under sunlight. Continuing with the display data, we have one resolution of 194 x 368 pixels for a density of 282 pixels per inch (PPI).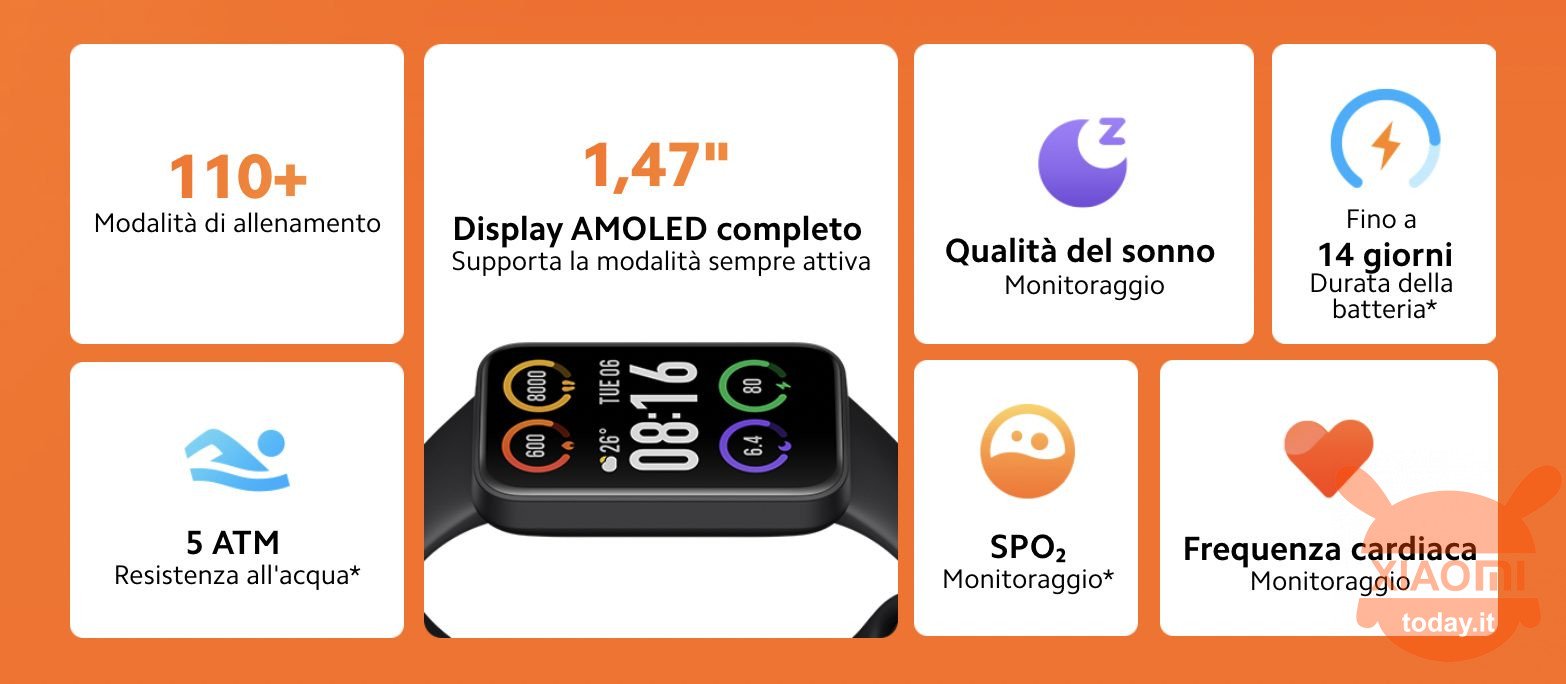 In terms of capacity, we have 110 fitness modes which help keep track of calories burned, heart rate changes and exercise duration. Present a more comprehensive metric tracking with 15 professional modes. Below are the sports activities supported by the Redmi Smart Band:
Outdoor running
Conveyor belt
Walks outdoors
Outdoor cycling
Hiking
Outdoor running
Trekking
Cycling indoors
Elliptical
Rowing machine
Jump rope
HIIT
Yoga
Free activity
Swimming
Other sporting activities are planned to be introduced in the future. The smart bracelet is Pro in every sense as it also comes with diving possibilities up to 5 TMJ (50 meters deep), even if we do not find any trace of the certification IP68. Redmi's Smart Band tracks heart rate in real time 24 hours a day and provides accurate data in easy-to-read graphs. The belt will vibrate to warn you when your heart rate goes out of the safe "threshold".
Present monitoring of blood oxygen saturation (SpO₂), which is a key indicator of a person's overall health. We are aware of the possibility of monitoring the level of oxygen in the blood automatically during sleep. Other three interesting features I'm:
Stress level monitoring
Breathing exercise
Menstrual cycle monitoring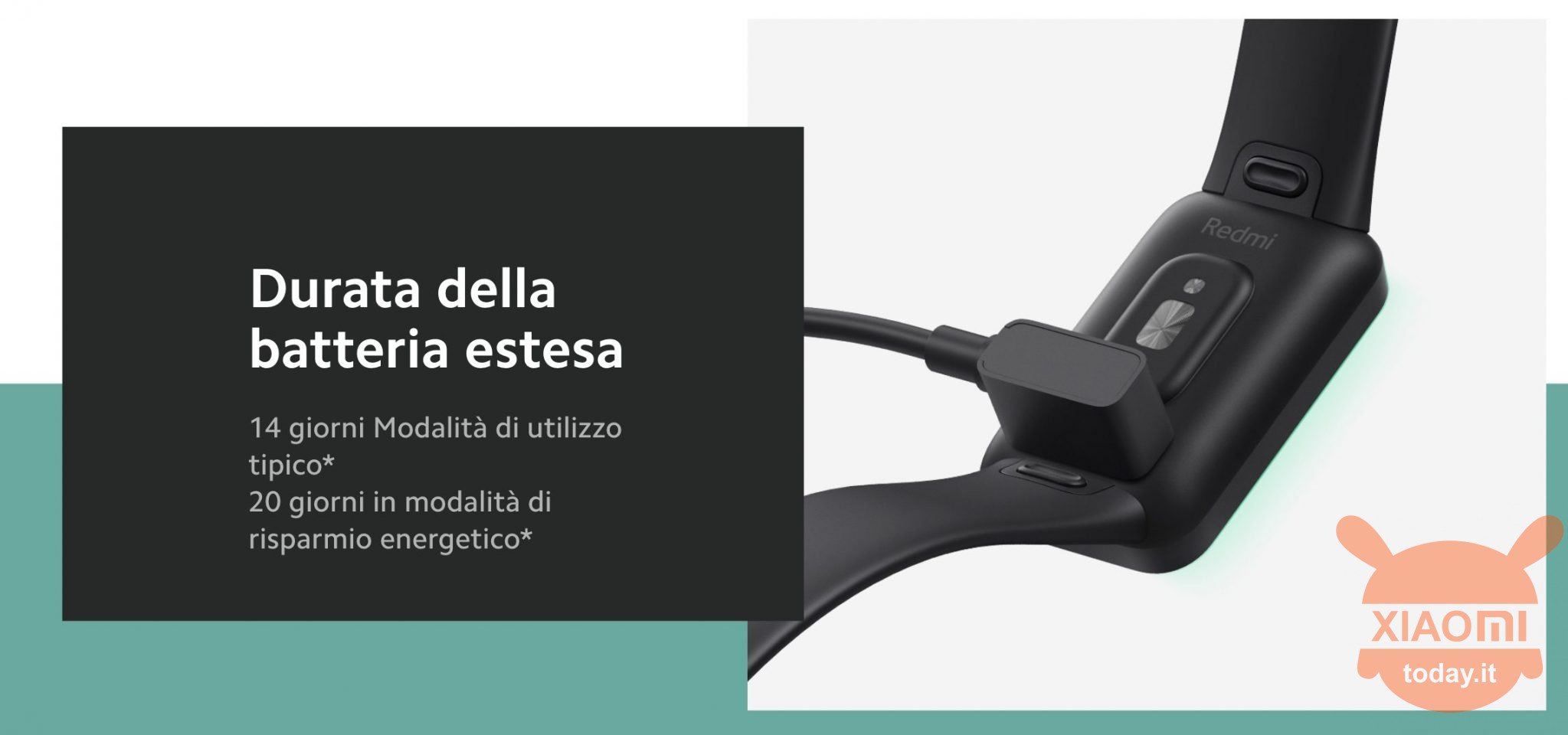 You may also be interested: Mi Band 6 NFC: official list of banks that support payment via NFC
Functionality taken from the previous generation smartbands of Xiaomi is the magnetic charging via pin. In this regard, the Redmi Smart Band Pro allows a use of 14 days in typical mode and 20 days in power saving mode.

The smartband is also compatible with Strava e Apple Health. Not having been officially announced yet, we don't know the price of the Redmi Smart Band Pro and neither to date exit. Without a doubt we will be able to tell you more in the coming days. But let's imagine that the cost to the public is around 55 €, the selling price of the Mi Band 6 NFC which all in all has almost the same characteristics (with the exception of SP02).
Xiaomi Mi Band 6 NFC
8 used by 43,55 €
28 November 2022 15: 57

Amazon.it
Price updated on: 28 November 2022 15:57