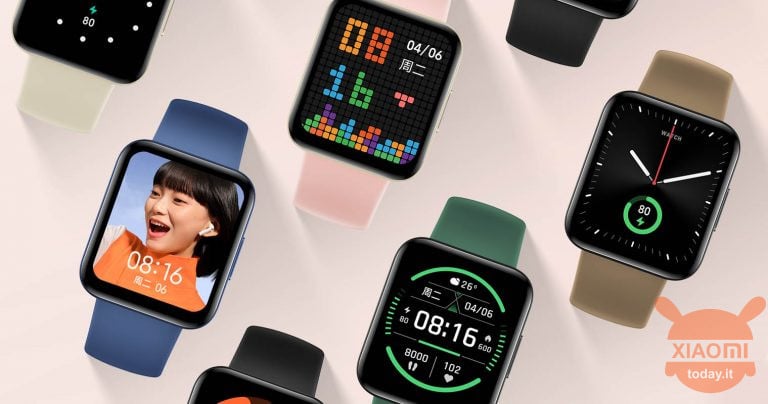 Almost there ... to what? But of course at the debut of the new Redmi Watch 2, the smartwatch of the Asian brand that will be unveiled on October 28th. Entry level device that improves on the previous generation, offering interesting specifications, which could direct less demanding users towards the purchase of this wearable.
In fact, there will be functions dedicated to the sports world, using a large AMOLED type screen, or 1,6 inches, for reading: a significant step forward compared to the 1,4-inch LCD screen of the last model.
In reality we do not know much about the rest of the features, but we expect with extreme certainty the presence of a waterproofing certification up to 5 ATM and the presence of a microphone to interact with the virtual assistant XiaoAI which will then become Alexa when the Redmi Watch 2 will also be valid on the European market. The NFC sensor will probably also be present, taking a cue from the Mi Band 6 NFC and which therefore should guarantee payment on the move on the main circuits.
Redmi Watch 2: now we also know the selling price
Certain colors, on the other hand, are three different variants including black (Elegant Black), blue (Space Blue) and sand (ivory). But let's get to today's news, namely the fact that a well-known online retailer, JD.com specifically, missed the launch price of Redmi Watch 2 which corresponds to 399 yuan (about 53 euros at the current exchange rate), a price definitely interesting, albeit of poco higher than seen with the first generation.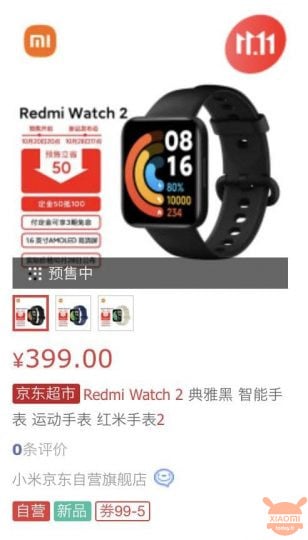 Probably the higher price could be justified by the improvements already mentioned as well as by the presence of a GPS, for the accurate monitoring of outdoor sports tracks, but this is just my personal consideration, which I hope will materialize in reality.
Of course, for the European debut, which could take place under the Xiaomi brand, we should expect price increases of at least 15/20 euros. However interesting prices if what has just been said should prove to be the truth. We just have to wait for October 28th now.