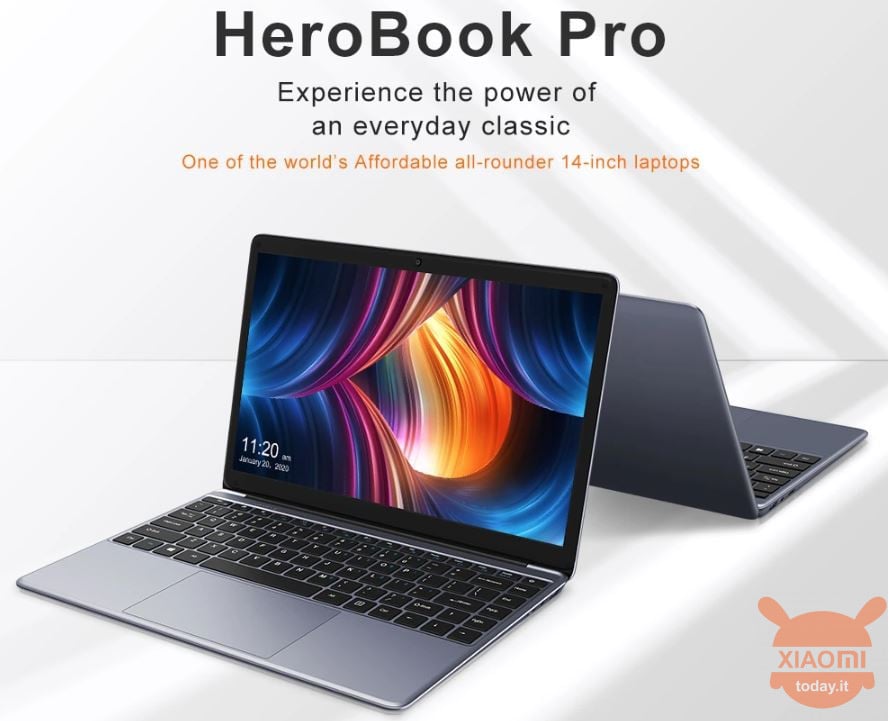 The first question I asked myself when looking at the price of this notebook was: how can it cost like this poco view the technical data sheet of all respect? To answer I could only try it and report my impressions!
CHUWI Herobook Pro 14.1 "8 / 256Gb SSD from EU warehouse
ES Standard Shipping Shipping 2 / 5gg (NO customs) ✈
CONFEZIONE
In the package, a fairly anonymous cardboard box, we will find:
PC well protected by expanded polyethylene
Charger with Italian socket
Small user manual / warranty info
BEAUTY
We come to the first impact, as the Notebook presents itself. The shell is in dark gray polycarbonate, which will not be the best in terms of aesthetics and resistance but certainly reduces its weight which is only 1.4Kg! Even the size is very small only 33cm x 22cm x 2cm, making it really excellent from a portability point of view. Of course some creaking is present, but we always keep in mind the price .. so you can not expect to have a full blow and drunk wife! In the back and front you will find a clean profile, in fact the various connections are located on the right and left side.
On the right we find the connection for the charger, a USB 3.0 port and the very important MiniHDMI that will allow you to transmit from your laptop to the TV (ideal for those who want to take advantage of their streaming programs like SKY GO on TV). On the left we find the 3.5mm jack (which will act as the in & output of the sound card), a USB 2.0 port and the SD card slot On the front, above the screen, there is a 0.3Mpx webcam while below there are 4 rubber pads for grip on smooth surfaces and the type of hard drive housing M.2 SATA (2242 or 2280) HARDWARE AND SOFTWARE
To my positive surprise, the Chuwi HeroBook Pro arrives with multilingual Windows 10 Home (which should not be taken for granted when buying Chinese PCs). After the classic configuration it will immediately download the latest updates and the operating system will be nice and updated and windows activated! Very well indeed! As for Office, my advice is that on these devices it makes no sense to spend on various licenses, so go straight to Open Office which is also free.
On board we find an Intel Gemini Lake N4000 14nm CPU with a frequency of 1.10 ~ 2.60GHz, an Intel UHD Graphics 600 graphics card with a frequency of 200 MHz-650 MHz, 8Gb of Lpddr4 RAM memory, 2 GB GB M.2280 256 SSD hard disk (up to at 512Gb). The SD port will allow us to expand our internal memory of another 128Gb at low cost!
As for wireless connections we find a BT 4.0 and a Wi-Fi 802.11b / g / na 2.4GHz (no 5GHz band). I have not encountered any problems whatsoever with either of them.
The 38Wh battery (ricrica up to 24W) is declared by the manufacturer for an autonomy of up to 9 hours. I was not able to exceed 4.5 hours..but I have to say that I expected even less, so absolutely satisfied from this point of view.
But after talking to you about HW and SW you are wondering: what can and cannot do with this laptop? The answer is very simple: you can use it, as 95% of users do, to surf, watch Netflix-Amazon Video, word-excel-power point, play all those games that do not require important "firepower". You won't be able to use it (or better, I don't recommend it) for professional audio / video / imaging editing programs or games like Battlefield and The Witcher.
DISPLAY
The display is a 14.1 ″ IPS unit, with excellent viewing angles, and GLARE PROOF technology that will help us not to strain the eyes. It is NOT a touch screen, I make this clarification because we are often used to Chinese 2-in-1 products (notebook-tablet). The definition is FullHD 1920x1080p. The frames are quite small and the viewing of multimedia content is quite satisfactory, I would say excellent if compared to the price. Do not take it to the beach to watch it under an umbrella, it does not reach very high brightness, but in home use it is very good! KEYBOARD - TOUCHPAD
The keyboard and TouchPad occupy practically the entire useful area of ​​the PC base. The pad is very large and works by touch or with the classic physical click. The keyboard did not convince me very much, it is quite precise but the feel is really cheap. The layout is not Italian but American but don't worry, you will have the possibility to set it exactly as English-united states and all the keys will correspond. If you really can't do without the Italia layout, just buy the classic stickers to put on the keys (honestly I don't like them and I've never used them). CONCLUSIONS, PRICE AND WHERE TO BUY IT
In conclusion we can certainly promote this Laptop! If you have a limited budget and you have no particular job needs, it will certainly be the right choice. I have not yet told you about the price because it is the icing on the cake..the price list is about 350 € but with our offers you can buy it on GOOD BANG (which we thank for sending the sample) to about 200€! You got it right, we are not kidding .. a laptop with these features you could not find it for less than 500 €, so we are less than half the price.
We remind you that purchases on GOOD BANG they are absolutely safe, you can pay with PayPal and also enjoy the possible refund (for the first 6 months) in case of shipping for problems to be solved under warranty. GOOD BANG it also offers an inexpensive shipping service and sheltered from any customs duties, priority shipping, which in our offers is always reported as highly recommended.
For any questions please feel free to leave a comment under this article.
CHUWI Herobook Pro 14.1 "8 / 256Gb SSD from EU warehouse
ES Standard Shipping Shipping 2 / 5gg (NO customs) ✈