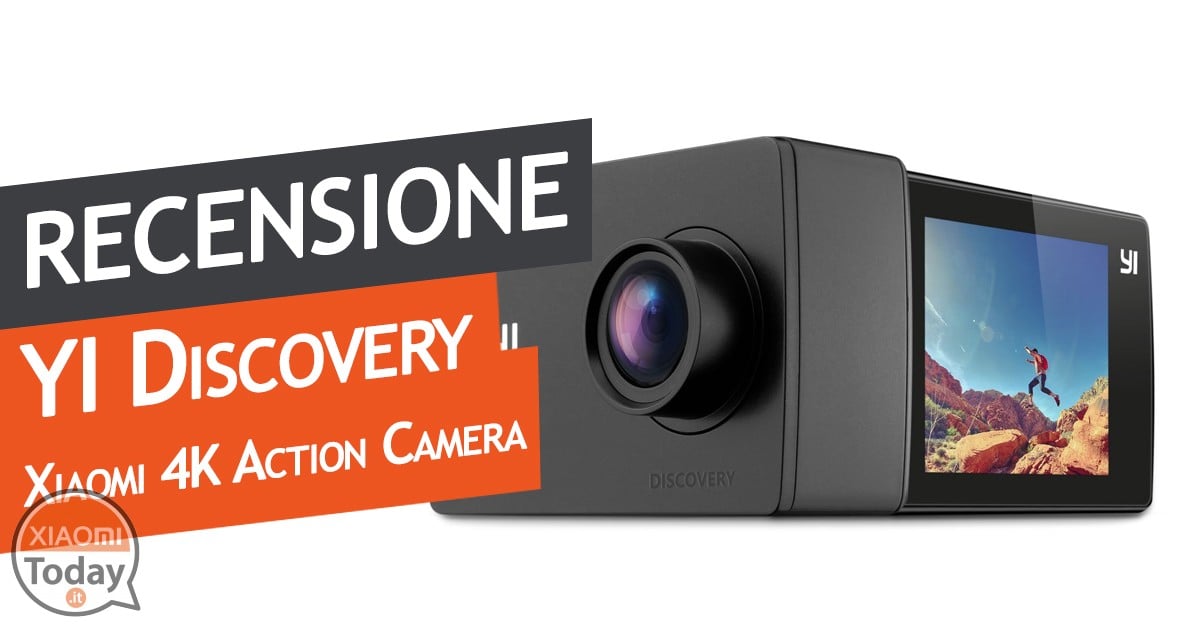 Are you interested in OFFERS? Be smart and subscribe to our Telegram channel! Lots of discount codes, offers, pricing errors on technology from Amazon and the best online stores.
Too many times they make absurd comparisons between an entry level action camera and the most famous Go Pro, which at least in the high end of the market remains the undisputed queen. But how many of us need an action camera at professional levels? Maybe we are approaching these technological gadgets or we are simply looking for an alternative recording medium to be combined with our SLR / mirrorless / compact. in conclusion spending a lot of money on an action camera makes no sense, unless we use it for work, but the low cost solutions are most often cinesate. At an affordable price, available at the store Amazon Italia and then with Italian guarantee, but we find the Yi Discovery, produced by Yi Technologies branch company of Xiaomi, also Chinese but that over time has shown to bring out products not bad. Will it be confirmed to the height? Let's find out in our full review.
ATTENTION TO THE LAMPO OFFERS, LIKE THE ODIERNA (11 / 04 / 2018) THAT LOWER THE PRICE TO 38,99 EURO.
The first thing that distinguishes the Yi Discovery from the myriad of Chinese action cameras in the category is theabsence of the thousand accessories that too often entice the buyer and that on balance are also of poor quality. That said, the packaging of our room is really minimal, in fact in addition to the Yi Discovery we will find only one micro USB cable for recharging, the battery from 900 mAh, thank you note for the purchase of an Yi product, limits of the warranty applied by the manufacturer e multilingual user manual including Italian. Unfortunately, no waterproof houses, and this is a really remarkable lack, since the original one costs almost as much as the action camera itself. It is true that we find cheaper solutions, which I do not want to judge, but which nevertheless raise the final price of the Yi Discovery.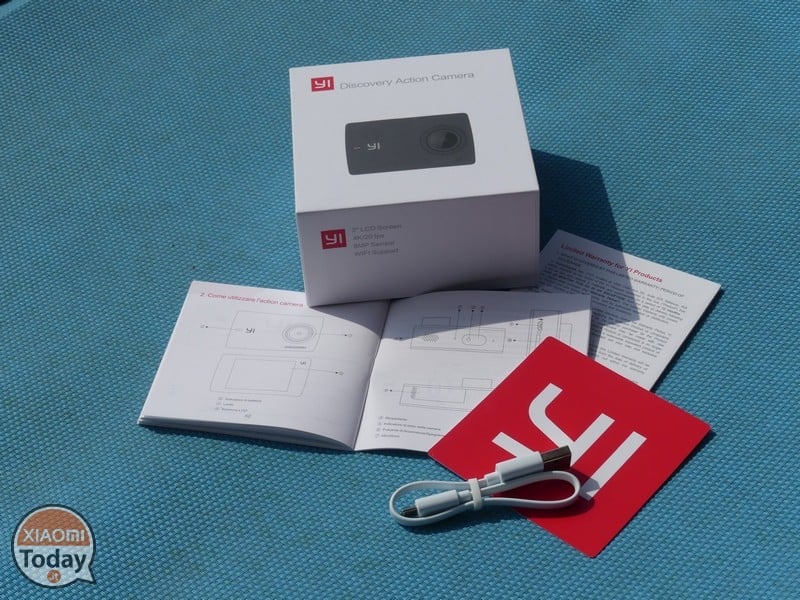 Yi Discovery is the entry level of the action cameras proposed by the company that somewhere had to save money to offer a valid product at an economic price. Therefore I am plastic materials to compose the body, to the touch not of the highest quality, but nevertheless personally I did not find crunches or push-ups some materials. However, I can say that the opaque plastic retains a lot of fingerprints and therefore a cleaning is advisable for every use.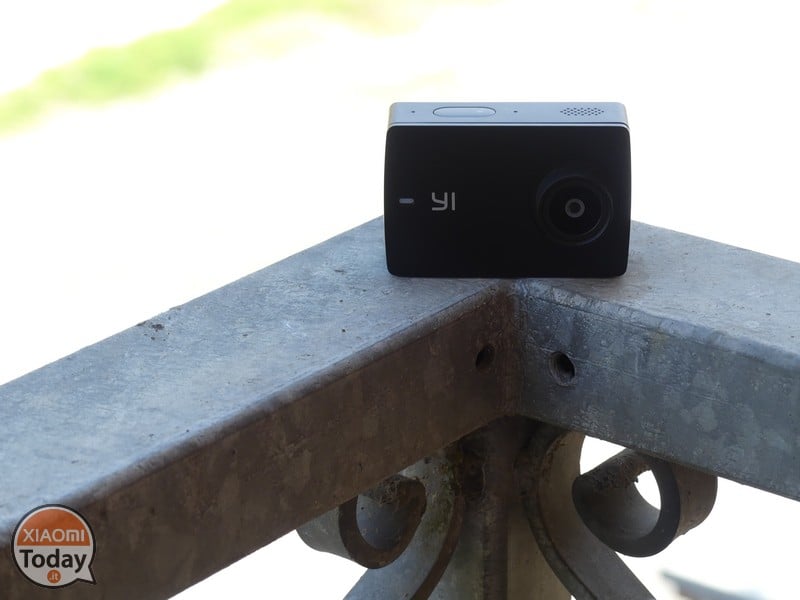 That Yi Technologies wanted to save on materials is also noticeable from the fact that all sorts of protection are absent on the left profile relative to the micro USB input for charging and input of the micro SD card. Moreover from these holes it is possible to notice the light of the Status LED on the front of the machine body. An LED that turns blue during use and loads at the maximum, violates when we go down to about 50% of autonomy and turns red when the battery is low. Red LED button being charged and then returning steadily when the charging is complete. Also on the front we find the lens with focal length from 2.27 mm +/- 5%, aperture f / 2.4 and viewing angle DFOV to 145 °.
Clean right profile while the upper one houses a small speaker, on / off button and click con small integrated LED which gives us information on the status of the room (if it is recording or not) and finally the microphone, or maybe I should say the microphones, because the holes are two but the company only indicates one. But what makes me think of a double microphone is the fact that the audio captured by Yi Discovery is really amazing, clean, crystal clear, in short, even better than Go Pro and it is an aspect not to be underestimated in the action camera, especially if entry level. Moreover in "In Housing" mode keeping the shutter-release button pressed for a few seconds, we will access a quick menu for selecting the video / photo functions without having to touch the touch screen.
The lower profile unfortunately reserves two bad surprises, as we immediately notice theabsence of an entry for threaded screw from 1 / 4 ", which will limit us so much in the use of Yi Discovery. No selfie sticks, no mini tripods and considering that we do not even have a base, it's easy to understand the limits of this action camera. We only find one hatch anchored with a thin strip of silicone to the structure of the camera and inside reveals the battery compartment, and this is the second negative surprise because after some use it is difficult to keep it closed in a stable way (solvable by cutting the tab to help remove the battery).
Fortunately the battery gives excellent autonomy coming to touch 1 hour and a half recording in FUll HD to 60 fps with wireless connectivity turned off and automatic shutdown of the screen. But another positive news is that if by chance you bought a Chinese action camera some time ago, maybe it was broken only by holding the battery of the latter they will come back useful on Yi Discovery as compatible models (model PG900 from 3.7 V / 3.33 Wh 900 mAh).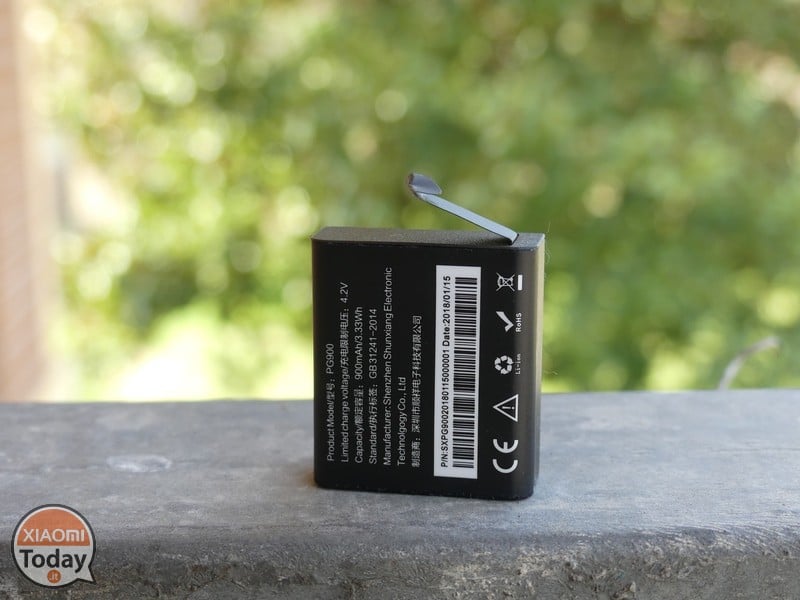 With dimensions equal to 65 x 30 x 42 mm and a weight of 79 grams, the Yi Discovery offers on the back a touch screen display from 2 inch, which is very bright and colors with good yield but unfortunately hides a problem related to the sensitivity of the same. Sometimes it seems not to take the touch, sometimes it turns out to be too sensitive, but in my opinion I do not think it's a hardware problem and that a future update can solve everything.
We have a sensor supplied Sony IMX179 da 8 megapixel and a processor that would seem to be one AllWinner V3 which unfortunately can not make up for theabsence of any sort of stabilization both optical and digital. However we can register with resolutions up to 4K (3840 x 2160 pixels) but at 20 fps, therefore an unusable format, going down to resolution 2.5K (2560 x 1440 pixels) fps go up to 30, but the format that makes this room shine is the 1080p (1920 x 1080 pixels) to 60 fps. Among the other available recording formats are 1080p to 30 fps and 720p (1280 x 720 pixels) to 30 / 60 / 90 fps.
We can also take pictures, which to be honest are of appreciable quality, but the 16 megapixels offered by Yi Discovery are not real because they are only interpolated because of the 8 megapixel sensor. Therefore, shooting at 8 megapixel is even better, considering that in post production through the editing software the result can only improve, acting on color correction and other parameters. Indeed one can notice one dominant in blue color, especially in the sky. Finally, there is no lack of it WiFi connectivity to 2.4 GHz that will allow us to connect the action camera to the smartphone via a dedicated application.
Here are some sample photos taken by Yi Discovery with fully automatic settings:
I have already expressed my praise for theaudio captured in movies that is of the highest quality, and Video if compared to the range in which our Yi Discovery stands, they are of fair quality, of performance better than competing models. Also in this case there is a certain dominant blue color in the sky, but the general colors are fairly faithful. We do not expect miracles in low light conditions where the background noise is quite inevitable but it is possible to manually set the values ​​related to ISO, white balance, measurement mode, EV step and sharpness.
Among the registration modalities offered we also find the Time Lapse, Video Loop, but also a photo shoot with Timer and Burst mode. The Yi Discovery menu is in English or Chinese, but maybe even here a future update by the manufacturer could bring interesting news, such as the inclusion of the EIS which would improve the defects related to stabilization. At the price to which this action camera is offered certainly we would not have expected a stabilized view, it would be definitely impossible, but the lack of attachment to a tripod / selfie stick is a significant handicap. Finally I can not cite a problem related to the video recording mode, because too many times I have found that although the Yi Discovery has set 1080p resolution to 60 fps, the video returned in reality was 1080p resolution to 30 fps. I did not understand what it could be, but without a doubt the problem is related to software.
Absent defects in theapplication, Yi Camera, that is really complete, well done, perhaps the best present in the industry. In fact, from the application not only could we set up our Yi Discovery, review the captured photos / movies, and use the smartphone as a monitor in situations where we can not access the room but within the app hides a real community with which to share their creations. We can through software edit and apply filters to our videos and photos, combine them together creating a kind mini short footage to be published in various social media.
Unfortunately Yi Discovery, net of rather incident shortcomings on the choice of an action camera, among which the most important are the absence of a waterproof case but above all the absence of the screw entry for anchoring a selfie stick / tripod, it is placed between the anvil and the hammer. In fact on the one hand because of these deficiencies it would be advised against the purchase, but on the other hand, like technical specifications already seen on products of the same price range, Yi Discovery manages to give better quality video / photos but above all audio that will avoid long synchronizations with audio recorded externally during post production. The hope is that some improvements will be implemented with a software update but unfortunately the lack of care in the assembly is unrecoverable. Honestly I do not know if I would buy it considering that with about € 30 more you can bring home the Yi Lite model which is definitely a step forward, but certainly the fact that often the Yi Discovery is sold in promotion at about 38 euro really makes you feel, maybe to give to a novice teenager and considering that the period of communions / confirmations is approaching I would say that a thought you can do it. So if you are interested you can find the Yi Discovery directly on Amazon Italia with Italian warranty and shipping from Italy through Prime service.
Yi Discovery Action Cam 4K
It's the first time that I have not appreciated a product that has Xiaomi as its parent company. The basic Yi Discovery has everything it takes to be a small best buy thanks to its superior video and audio quality. But unfortunately, Yi Technologies preferred to get lost in a glass of water churning out an action camera with an attractive price but many faults, partly solvable at the software level, but others destined to make compromises.
PROS
VIDEO QUALITY
AUDIO
APPLICATION ON THE COURSE
CONS
LACK OF ACCESSORIES
ABSENCE INPUT SCREWS TRIPODS / SELFIE STICK
LARGE CARE IN THE ASSEMBLY
SOFTWARE LEVEL BUG
Add your review