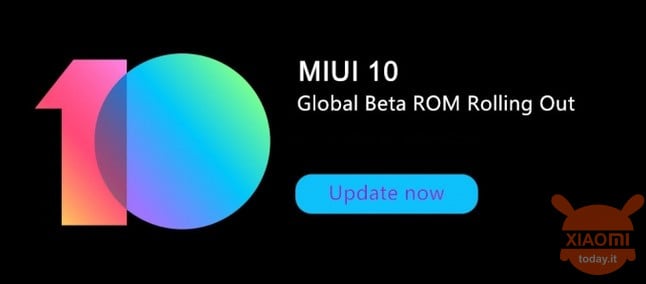 Hello MIUIers of Italy, this time I propose only the changelog of MIUI 10 Global Developer. I think we will continue on this standard, moreover we are in Italy, so let's not get lost in small talk and let's find out together the changelog, which turns out to be very short and uninteresting.
Xiaomi Redmi 7 Global
ATGRATIS Shipping from Italy 24 / 48h - Cover and Film free
Note for Global Beta: 1. Thereupdate 9.3.14 is released for Redmi 3S, Redmi Notes 4 MTK, Redmi Notes 3 Special Edition, Redmi 4X, Mi 5S, Redmi 4A, Mi Max 2, Redmi Note 5A / Redmi Y1 Lite, Redmi Note 5A Prime / Redmi Y1, Mi 6, Mi MIX 2, Redmi Notes 5 / Pro, Mi Notes 2, Mi Mix, Mi MIX 2S, POCOPHONE F1, Mi 8, Redmi 6A, Redmi 6, Mi Max 3, Redmi 5A, Redmi 5, Mi Note 3, Mi 5S Plus, Mi 8 Pro, Redmi Note 6 Pro, Mi 8 LIte, Redmi 6 Pro, Mi Mix 3.
2. The 9.3.14 Update for Redmi Notes 4 Qualcomm / Redmi Notes 4X, Redmi 5 Plus is late due to system errors.
3. The update for Redmi S2 is delayed due to the testing of Android P.
4. The first Android Pie update for Redmi 6 Pro has been released. It is reported that it is preferable not to return to Oreo as there could be serious system problems.
MIUI 10 Global Beta ROM 9.3.14 Full Changelog
live Wallpaper
Resolved - Lor backgroundanimated was not displayed on the lock screen after thepower on device.
Screen lock
New - PYou can stay in the lock screen after your face has been recognized. You can activate this feature in Settings> Lock screen and password> Manage face data.
---
Download links of the global MIUI 10 beta
Click on this LINK
sources | Thread MIUI Global
If you have any doubts about how the different branches of the MIUI ROM are organized, see our guide to
versions of MIUI