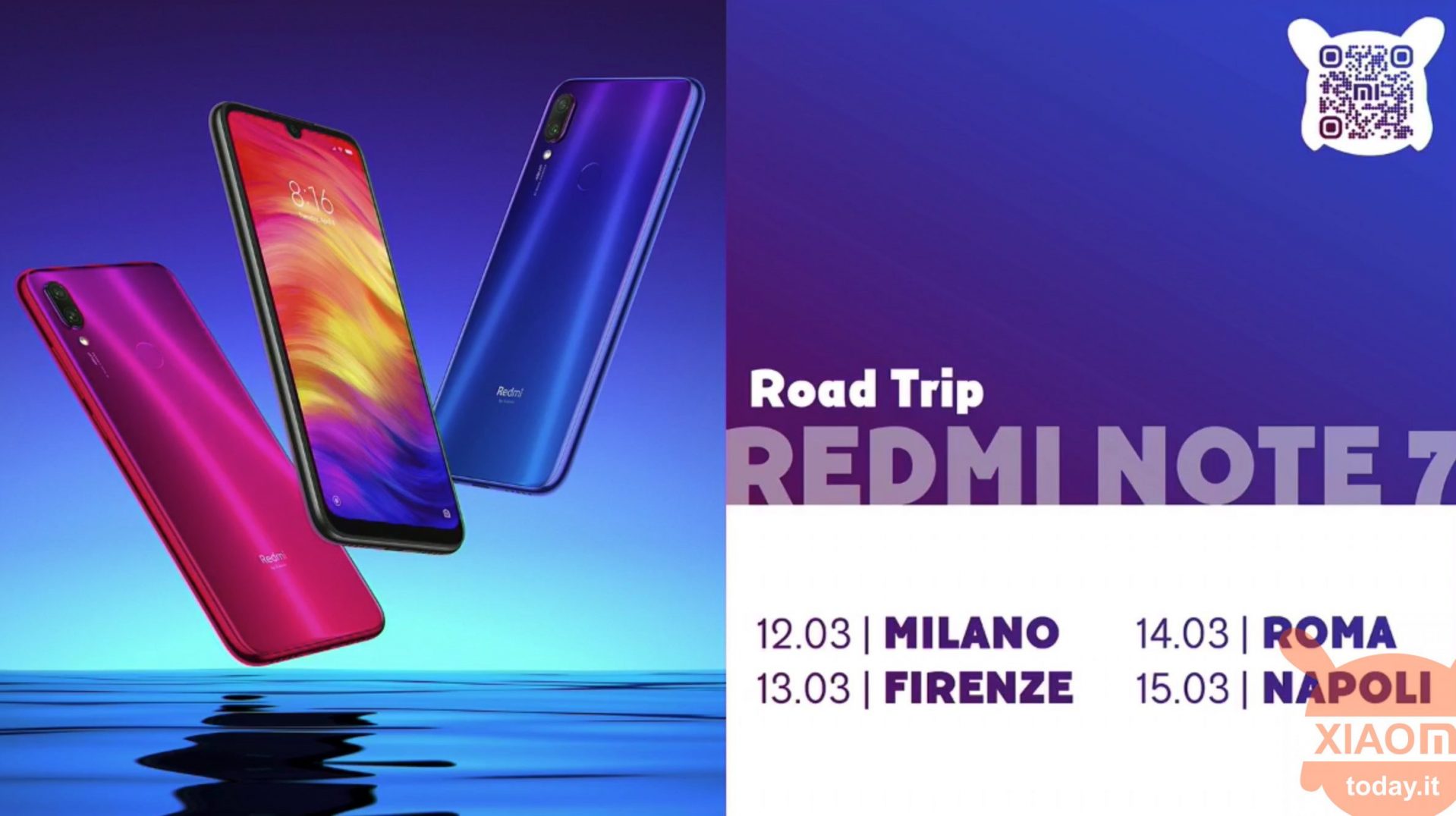 It had already been presented in China without any specification on the presence of the 20 Band (since they do not use it in China) and today, in Milan, the first stage of the Road Trip of presentation of the Redmi Note 7 ... this time in Global version! The next few days will follow Florence (the 13 March), Rome (the 14 March) e Naples (the 15 March).
Xiaomi Redmi 7 Global
ATGRATIS Shipping from Italy 24 / 48h - Cover and Film free
20 lucky Xiaomi fans will attend the event #AperitivaMI to be held today in Milan, at the Metropolis Lounge & Restaurant, receiving a free aperitif from Xiaomi. Everyone else will have to be content with trying the hand Redmi Note 7 and its 48 Mpx camera, on which the company is focusing a lot.
What will we see this afternoon?
Before the 18.45 aperitif, a presentation event in which the "new" will be shown to the press Redmi Note 7. And although a Pro version has already been unveiled in China, we can assure you that it won't be in Milan. We will therefore have to content ourselves with seeing the Redmi Note 7 in the catalog which will be equipped with 20 band. The characteristics do not deviate from the Asian model and we present them again briefly to avoid confusion:
Technical Data Sheet Redmi Note 7 (Global)
660 Octa-core Snapdragon SoC (4 × 2.2 GHz Kryo 260 & 4 × 1.8 GHz Kryo 260)
6.3 Display ″ (1080 x 2340)
Dimensions x 159.2 75.2 8.1 mm x
Weight 186 g
Adreno GPU 512
RAM and Storage: 3 / 32 GB, 4 / 64GB, 6 / 64GB (expandable with microSD up to 256 GB)
Rear cameras: 48 Mpx, f / 1.8, 1 / 2 ″, 0.8µm, PDAF + depth sensor from 5 Mpx, f / 2.4 with Dual Flash LED
Front camera: 13 MP, f / 2.2, 1.25µm
Bluetooth 5.0, FM Radio, USB Type-C, 20 Band
Battery pack from 4000 mAh
The is interesting night photography mode which, by setting the resolution to 12 Mpx, allows you to get quality photos by combining the pixels side by side with the largest sensor: in detail, while for a photo in good light conditions the 48 Mpx of 0.8µm size will be exploited, in light conditions scarce, the photographic noise will be reduced by the use of close pixels comparable to pixels by 1.6µm for a resolution of 12 Mpx.
We can anticipate you official launch prices in Italy: the 3 / 32 GB version by Redmi Note 7 will cost 179,90 EUR, while the variant with 4 GB of RAM e 64 GB of internal memory will cost 199,90 EUR. The price difference with the Spanish stores becomes important if we consider that the basic Spanish version (3 / 32GB) costs 30 euro less less ...
What will we NOT see this afternoon?
There will be no Redmi Note 7 Pro. Some await it with trepidation, but we make this spoiler: nothing Notes redmi 7 Pro ... at least during Note 7 Road Trip. It is not said however that the version with Snapdragon 675 e Adreno GPU 612 will not arrive officially in Italy and, why not, with an event all for her!
The feelings that came to us through your requests and what you write about XiaomiToday facebook page they made us realize that above all the presence of two different processors (SD660 vs SD675) and of different generations aboard the two variants of Redmi Note 7 is making you hesitant.
Different speech for the internal memory: since the Redmi Note 7 does not provide an 128GB version like the Redmi Note 7 Pro, many of you would agree to buy a device with lower memory as they could take advantage of memory expansion up to 256 GB.
Last update was on: 21 May 2019 2: 40
I remind you that a few weeks ago Alex tried Redmi Note 7 for us and suggested some interesting indications. Then waiting to follow the Milan event in live streaming at this link, we leave you with the review by Redmi Note 7!