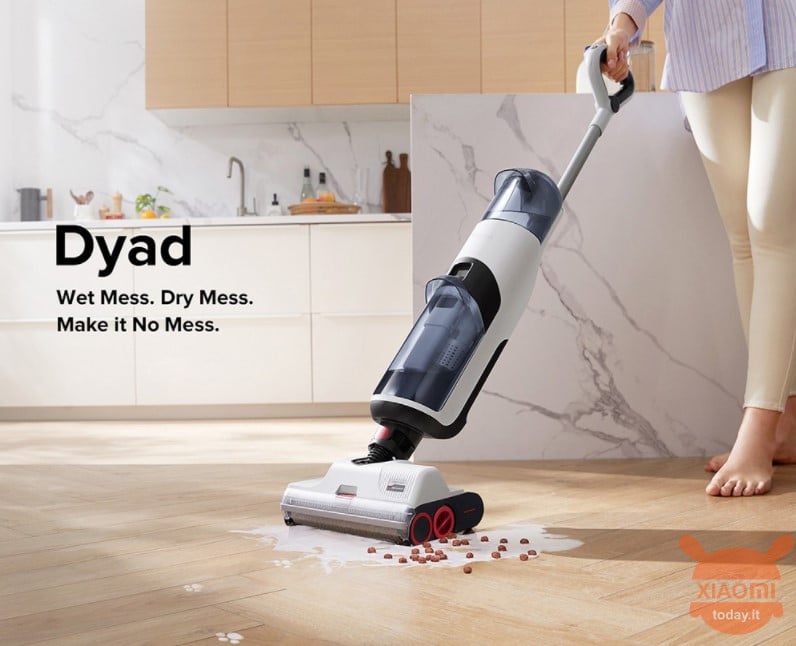 Roborock Dyad floor cleaner vacuum cleaner for solid and liquid dirt, with high efficiency self-cleaning brush system, 850ml tank, 35 minutes of autonomy and much more
€219 499
GSHOPPER
🇪🇺Fast Shipping INCLUDED from Europe (No Customs)
€281 499
GOOD BANG
🇪🇺Fast Shipping INCLUDED from Europe (No Customs)
€199 499
EDWAYBUY
🇪🇺Fast Shipping INCLUDED from Europe (No Customs)
We have all been waiting for it and finally here it is, already available at a super discounted price! The vacuum cleaner, vacuum cleaner and floor cleaner signed Xiaomi Roborock, the Roborock Dyad. Suction power 13000Pa, 5000mAh battery, autonomy about 35 minutes, brush self-cleaning and LED display. Here are the detailed technical characteristics
For wet and dry dirt
DyadPower removes wet and dry dirt in no time.
The only wet vacuum cleaner in the world with multiple rollers and two motors that drive them.
Cleaning while cleaning
As you clean the floors, the brushes clean themselves.
So you don't have to drag a dirty rag across the floor, but wipe it with fresh, clean brushes throughout the entire cleaning process.
Goodbye dirty water
The dirty water that is swirled is sucked in and then removed from the DyadPower system.
What remains are the clean and dry floors.
Better cleaning to the limit
Better cleaning with more rollers.
One front roller plus two rear rollers ensure an enormous cleaning performance.
They extend over both edges of the scrub head so that dirt does not come out.
Fast and smooth
With the manoeuvrable cleaning head, the legs of the chair and table can be easily moved.
And thanks to the two opposing roles, the dyad is very agile.
No cleaning after cleaning
Just press a button and dirty rolls turn into clean rolls.
After cleaning, solid dirt and dirty water are separated into the dirty water tank. All you have to do is empty it.
Smarter than expected
Better to work smart than hard.
In the fight against stubborn stains, adaptive cleaning automatically adjusts suction power and water.
At the same time, you can see how dirty the floor is with an on-screen display.
So you always know which areas to focus on.
Clear announcements
Save yourself by looking for error codes or looking in manuals.
Just pay attention to the voice outputs, which tell you everything important.
Not just for liquids and stains
850ml fresh water tank, 620ml dirty water tank, 35 minutes battery life, 280 m² cleaning interval.
With a range of up to 280 m², you can clean the entire floor with a single charge.
Is the bathroom floor wet after a shower? You can dry that too. With the special floor drying mode.
Even cleaner and fresher
A floor cleaner developed by Unilever for Roborock is available for even more thorough cleaning and a fresh scent.
This plant-based cleanser is scented with tea tree oil and can be used as a supplement.
All that remains is a fresh scent in your home.
Roborock Dyad Specifications
General
Brand: Roborock
Model: Dyad
Color: Black
Specification
Motor Power: 260W
Suction Pressure (KPa): 13Kpa
Battery Spec: 5000mAh
Working Time: 35mins (auto mode)
Charging time: 4H
Clean Water Tank Capacity: 0.85L
Dirty Water Tank Capacity: 0.62L
LED Display: Yes
Power cord length: 1.8m
Noise Level: 78dB
Weight & Size
Net weight: 5.1kg
Package Weight: 10.2kg
Product Size: 1112 * 270 * 191mm
Package Size (L x W x H): 822 * 357 * 218mm
Package Contents
1 x Wet and Dry Vacuum Clenaer
1 x Adapter
1 x Cleaning Brush
1 x Charging Base