Are you interested in OFFERS? Be smart and subscribe to our Telegram channel! Lots of discount codes, offers, pricing errors on technology from Amazon and the best online stores.
With the ROBOROCK H6, the company with years of experience in the production of robots for home cleaning, decides to get involved with the creation of acordless vacuum cleaner.
Excellent valid alternative to Dyson, this electric broom comes with a very compact design, in rigid plastic, which however does not disturb the handling.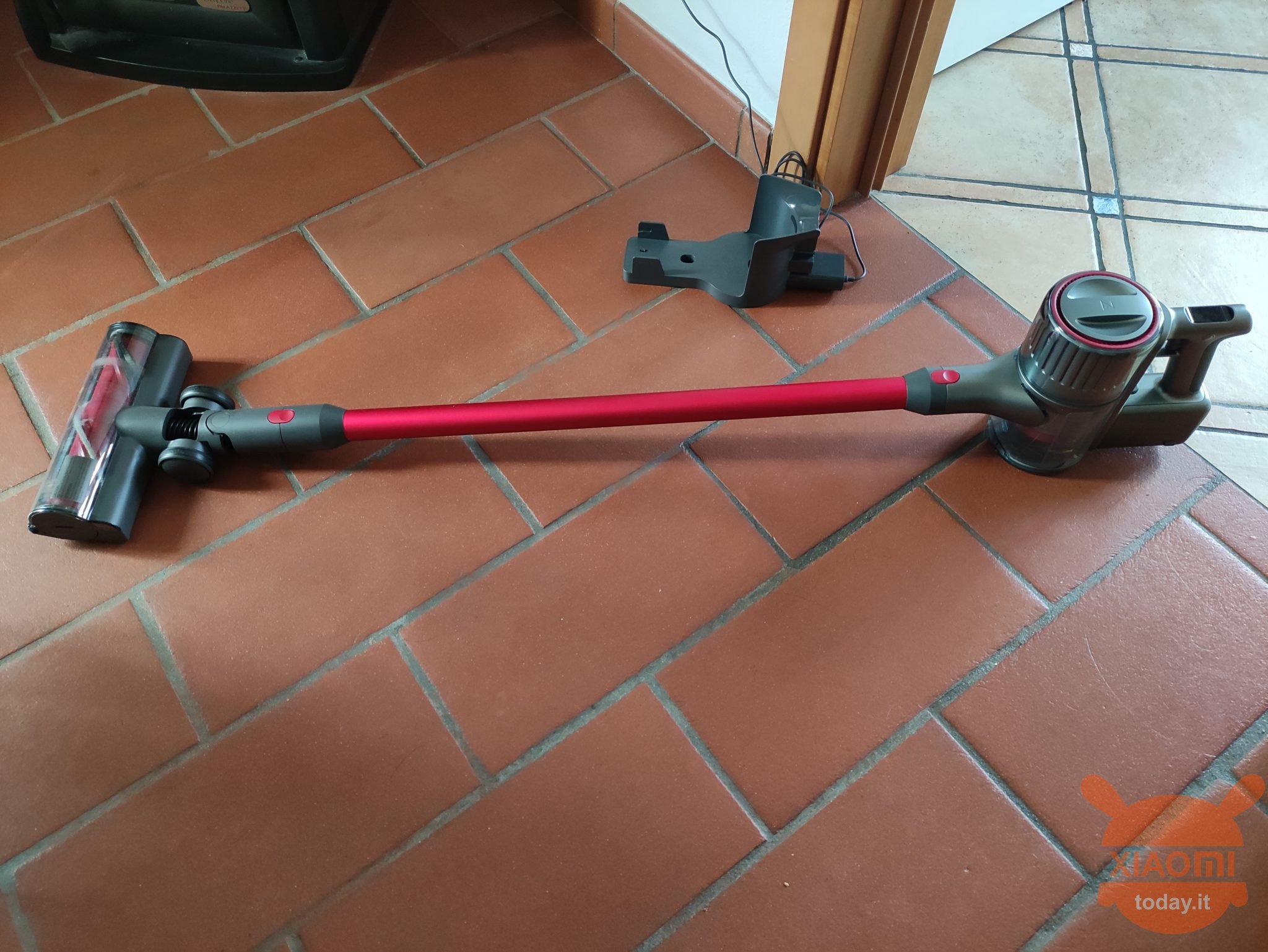 Il low weight of only 1,4 kg makes this appliance easy to use and daily management.
In the box we find:
Long rigid tube
Soft extendable tube
Large motorized brush
Hard nozzle (for small spaces)
Spout with brush
Docking station with to place accessories
Power pack
Main unit
Manual
This little gem mounts a 420w brushless motor and has a suction power of 150 aW, another great novelty, the fact is that this roborock, it has a sensor mounted on the brushes, which allows it to independently recognize rugs, carpets and similar materialsin fact, when it comes into contact with one of these materials, the suction power increases. The carpet boost (this is the name of the mode) thus allows for optimal cleaning of the fabrics.
This is the first electric broom to mount one lithium polymer battery, very light battery, but which offers a duration of about 90 minutes in eco and 10 minutes in max.
Unfortunately, the battery is not removable and needs 4 hours for a full charge, this does not cause particular problems if you use the normal mode, but if you wanted to continuously suck in max mode, having an interchangeable battery would have made it climb yet another step. on the scale of the best, but it is not essential since in any case in 10 minutes at maximum power, it cleans very well, several surfaces even quite large (for example, an apartment of 60 square meters can be done comfortably).
Il oled display integrated on the handle, it shows precise information on battery life, cleaning mode and alerts.
On the handle also, on the side, we find a very useful button that allows you to block active suction! And this is a big step forward since in other even more famous brooms, we must necessarily keep the trigger pressed to continue aspiration (which does not cause particular concerns on small surfaces but for a long time it becomes quite difficult).
Another really interesting and useful addition is his 5-stage air purification system which filters up to 99.97 percent of particles down to 0,3 microns, so even people allergic to pollen or fine dust will have far fewer problems!
Its cyclonic technology allows us to have all the dirt collected in the tank, thus saying goodbye to bags!
In fact the filter is removable and washable, and the tank, also washable, has a capacity of 500lml.
In summary, the parts that we cannot wash are: main machine, carpet brush, bed brush. (even if they are still removable, from the side with the help of a coin)
Roborock H6 - Conclusions and Offers
In short, my conclusions on this electric broom are positive for everything except for one thing, the emptying system, which uses only the force of gravity, is a bit uncomfortable, especially if you vacuum a lot of dust.
At the time of writing, there are interesting offers and discount codes available to buy it at a really attractive price.
It's available on BangGood at this address at the price of 258 € using the discount code BGCZRBH6 before payment. Shipping is fast and free from the warehouse in Europe.
Alternatively the Roborock H6 is on offer on GShopper at this address at the price of 254 € using the discount code EB21E57C13 before payment. Shipping is fast and free from the warehouse in Europe.
If you don't want to spend a lot or want to try an electric broom for the first time then, I recommend the purchase! Promoted!
Roborock H6
Roborock has put all its experience to good use in its ROBOROCK H6 which is rightfully one of the best cordless vacuum cleaners.
CONSTRUCTION AND MATERIALS
9
PROS
Design
Low weight
Suction
Display
Accessories supplied
Add your review