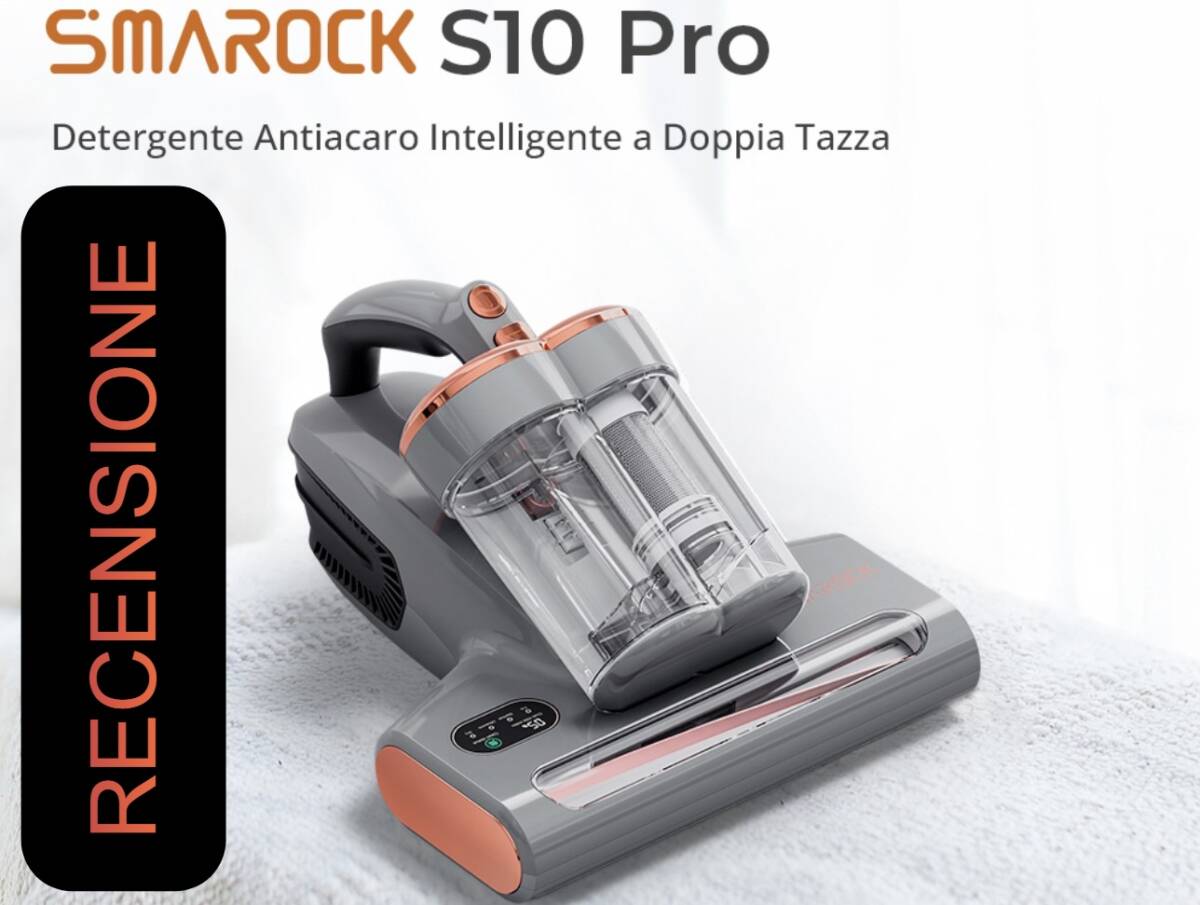 Are you interested in OFFERS? Be smart and subscribe to our Telegram channel! Lots of discount codes, offers, pricing errors on technology from Amazon and the best online stores.
Even if we don't realize it, we live and above all sleep in the midst of dust mites. I know, it's not a good thing .. and it is for this reason that today I am telling you about a product that will be able to free us definitively from these unwanted guests: the mattress protector Smarock S10 Pro, a real killer of mites and vacuum cleaners. Let's see what it is.
CONFEZIONE
The product will arrive well packed in a cardboard box and protected by polystyrene. Inside we will find:
Smarock S10 Pro vacuum cleaner
2 replacement filters
Brush for roller cleaning and various
Instruction booklet (English language only)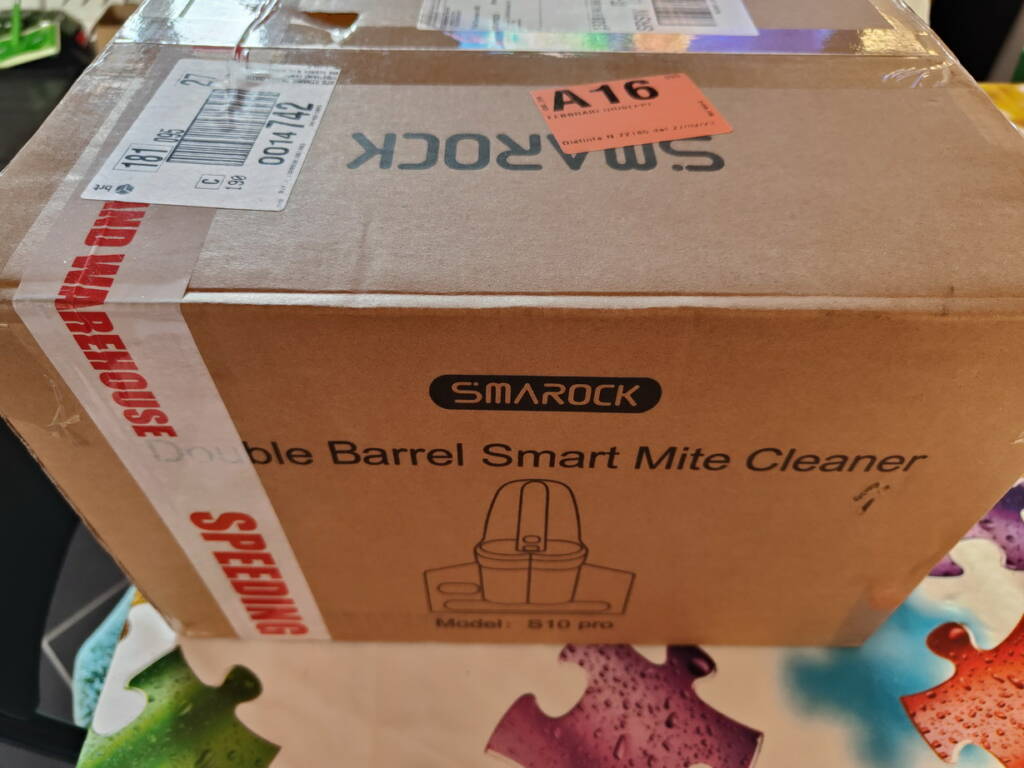 TECHNICAL FEATURES
Our vacuum cleaner that weighs approx 2Kg has and following dimensions: 32x27x19cm. Its engine delivers power up to 500 and boasts a suction power of 13Kpa. Its main feature, according to the manufacturer, is to exterminate the 99% of the mites and allergens present on/in our mattress, carpet, blankets, etc. thanks to the synergy of its UV lamp that we find under the suction roller, ultrasound and a multidirectional heating that produces up to 55° and is dispensed from the sides.
The UV lamp, the true exterminator of mites, works only if it is less than 3cm from the surface to be sterilized and if we do not go beyond an inclination of more than 30° during cleaning. Unfortunately it is not equipped with an integrated battery, so we will necessarily have to connect it to an electrical outlet. You will need a Shuko adapter but there will be no problem for the length of the cable it reaches 4m and will allow you to clean easily wherever you need it. In the photo below you can see the slide of the UV lamp and the sensor that will detect the amount of mites to kill.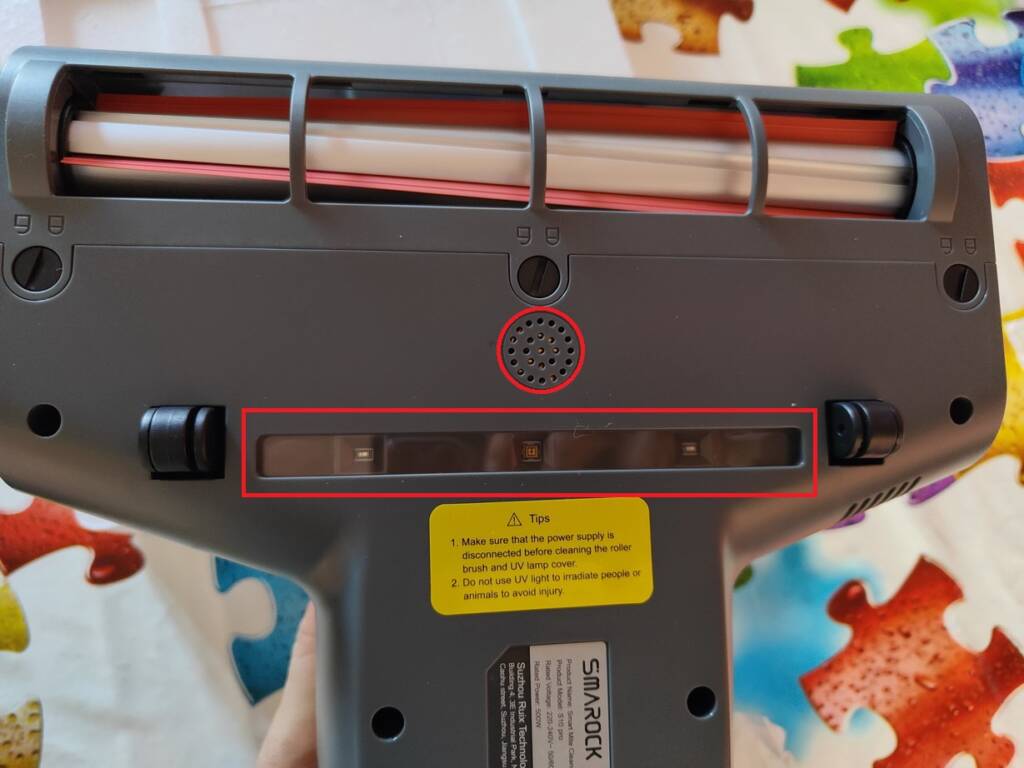 MAINTENANCE Smarock S10 Pro
Maintenance is quite simple and should preferably be done every time we stop using Smarock:
Empty the dust container clean the filter: there are 2 cylinders, one which holds the filter and the other where you will store the dust. To empty it is very simple, just press the release button (located under the power button), detach the container unit, remove the lid (here too you will find a hook/unhook button), empty the dust container, remove the filter, remove the filter and wash it under running water. You can also wash the container, the important thing is that you let everything dry well before using it again. I assure you it is easier to do than say.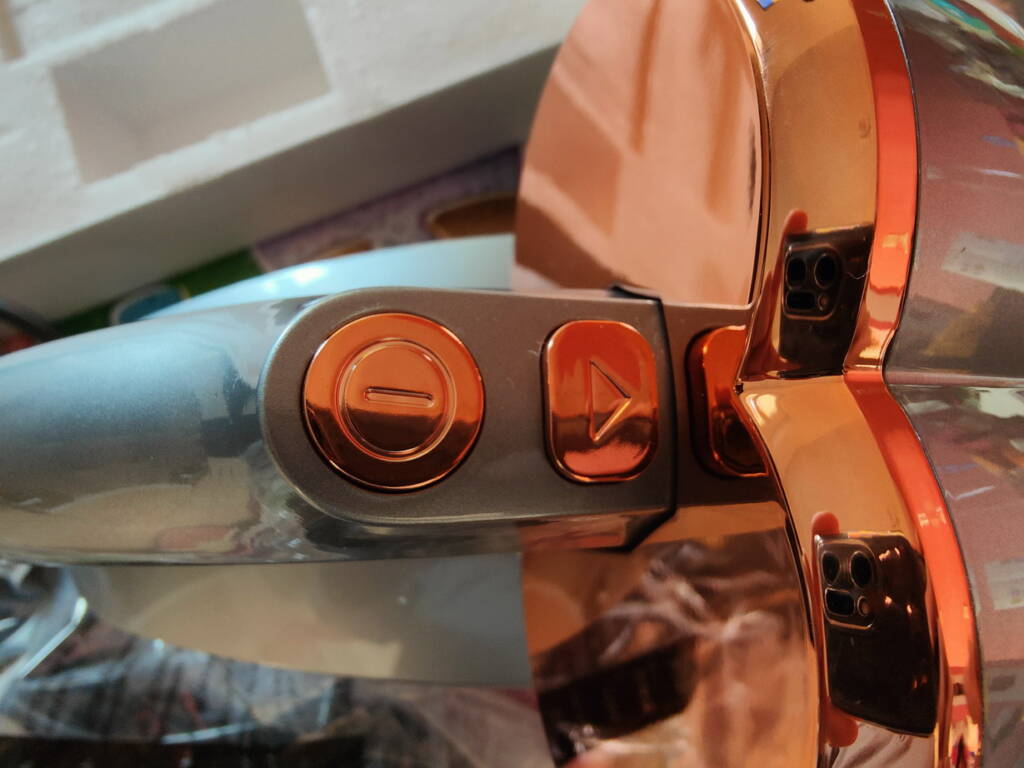 It is also recommended to clean the plastic slide that protects the UV lamp that you find under the main brush
Clean the main brush if it is dusty. You can remove it by removing the cover using the three screws on the sides and one in the central part. You will need a screwdriver with enough argon, or a dime.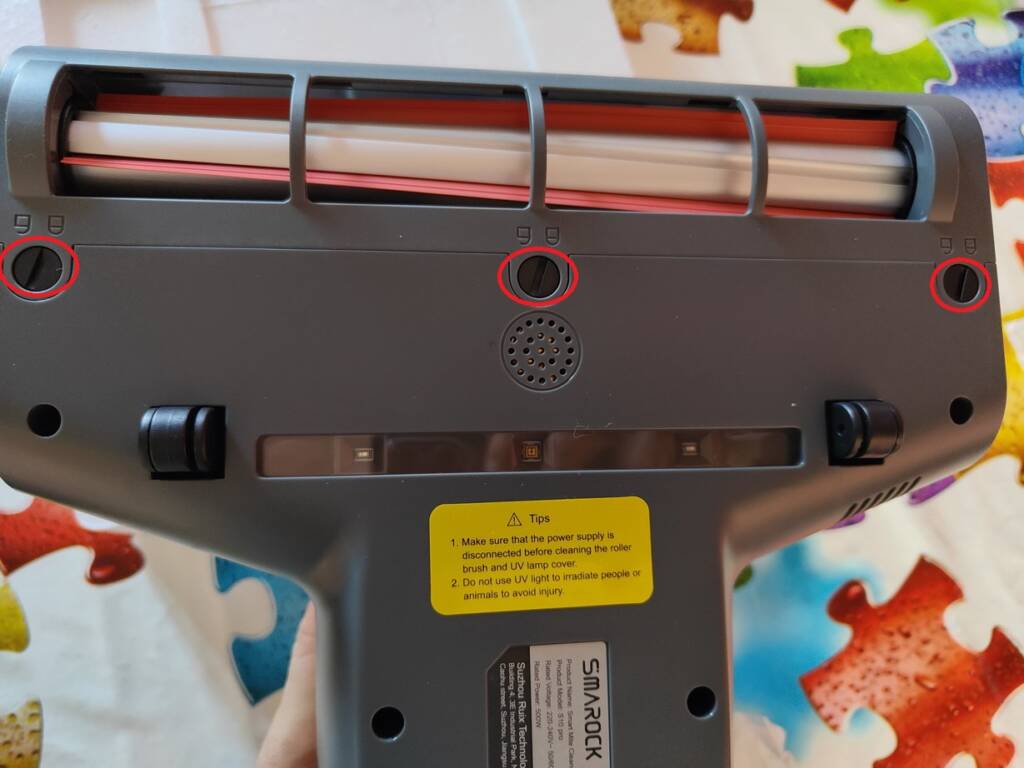 OPERATION Smarock S10 Pro
Operation is really very simple, in fact you just need to connect it to the electrical socket, press the power button (hold it down for a couple of seconds and then you can release it) and pass the mattress beater over the surface to be cleaned and sterilized. The advice is to perform slow back and forth movements to give time to suck up the dust well and exterminate the mites found. On the right we find a small display that will provide us with information on the percentage of bacteria detected, a red and green LED (in the shape of a mite) that will tell us if the area has been "reclaimed". Below we find another 4 LEDs, PAT-STERILIZE-ULTRASONIC-DRY which should indicate if these functions are active (sterilization, inhibition of the formation of other mites by ultrasound and further disinfection by hot air at 55°). In my case I've seen them always on, so I suppose they always work in synergy. You cannot manually enable or disable them.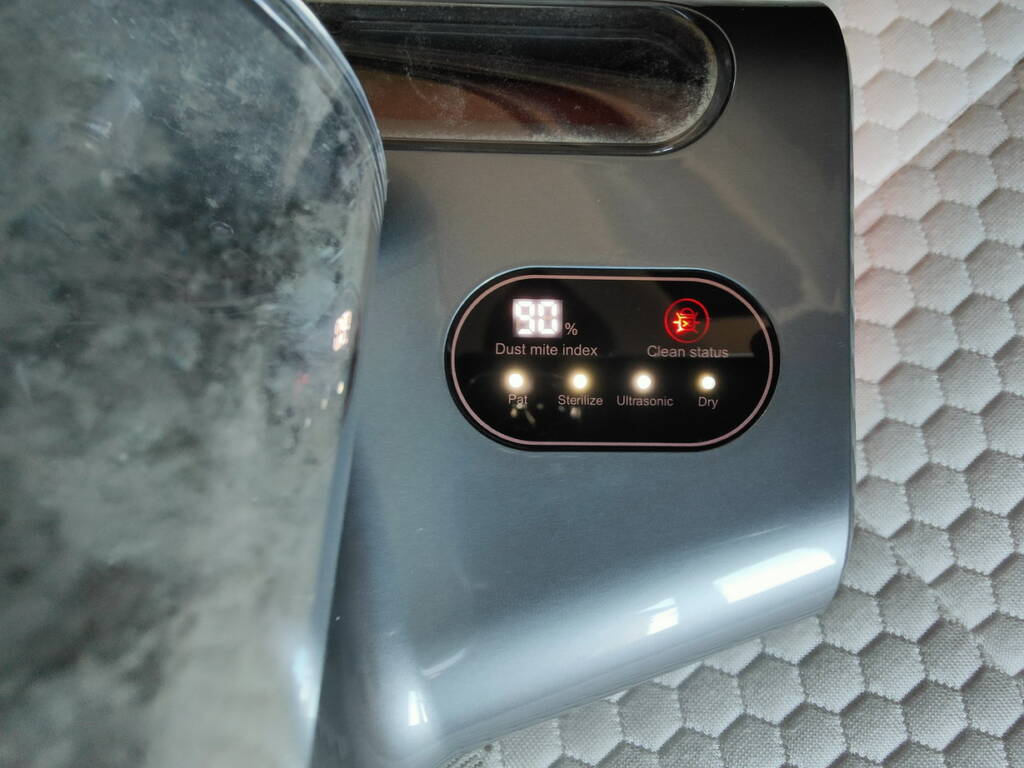 At this point you will ask me if sterilization works or not.. Obviously impossible to say and we can only trust the manufacturer. What I can assure you is that it removes an incredible amount of dust from the mattress, and in my case we are talking about a practically new mattress on a bed used only by myself.
FINAL CONSIDERATIONS
Let's start from the assumption that it is not a professional product, in fact we are talking about a device with a €150 price list compared to even €500 for tools used in industrial cleaning. Despite this I can confirm that the sensation is that of a remarkable cleanliness obtained on the mattress, given the incredible amount of dust collected. Ditto on the couch and the cat's blanket from where he removed practically all the hair! So if we then consider that thanks to GEEKMALL (which we thank for sending the sample) and you can take our coupon home for yourself €100, then with the 30% discount, the advice becomes obligatory .. buy it without harboring any doubts!
€100 €150
GEEKMALL
🇪🇺Fast Shipping from Europe Included (No Customs)
Smarock S10 Pro say STOP to mites!
For those who want to live in a clean and "de-charged" environment
PROS
High value for money
Ease of use
4m long power cable
Ease of disassembly and maintenance
Pack with 2 replacement filters
CONS
It has no built-in battery
Cannot make settings
Add your review