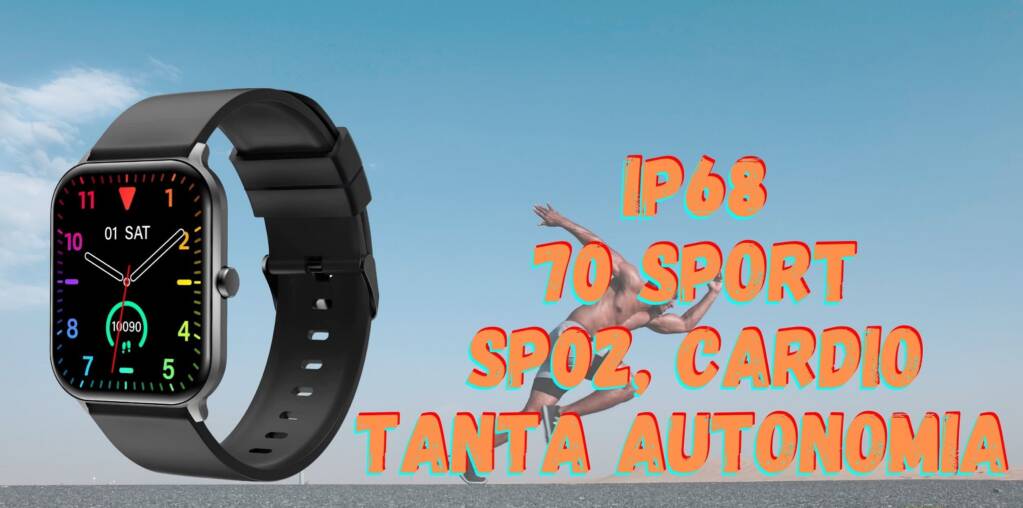 Are you interested in OFFERS? Be smart and subscribe to our Telegram channel! Lots of discount codes, offers, pricing errors on technology from Amazon and the best online stores.
We return with the review of a smartwatch, from a company from which we have already been able to test the goodness of the products made. Save this review in your favorite links, because if you are among those who are still undecided whether to buy or start using a smartwatch, on this occasion you will be able to convince yourself, because it will tell you about a very functional wearable and above all without making your wallet cry. Here you go Sound Peats Watch 3, the wearable that will not go unnoticed even because of a perfect design for your daily outfit.
Amazon offers
€45,99
available
to March 26, 2023 19:20
Last updated on March 26, 2023 19:20
SOUNDPEATS WATCH 3 is the smartwatch you are looking for
In today's market it becomes increasingly difficult to choose among the many smartwatch models on the market, especially if we give ourselves as a budget a value of around 50 euros. Many producers and many super offers that promise the impossible. Among the technological jungle, we have found the SoundPeats Watch 3 for you, an ideal device for several reasons.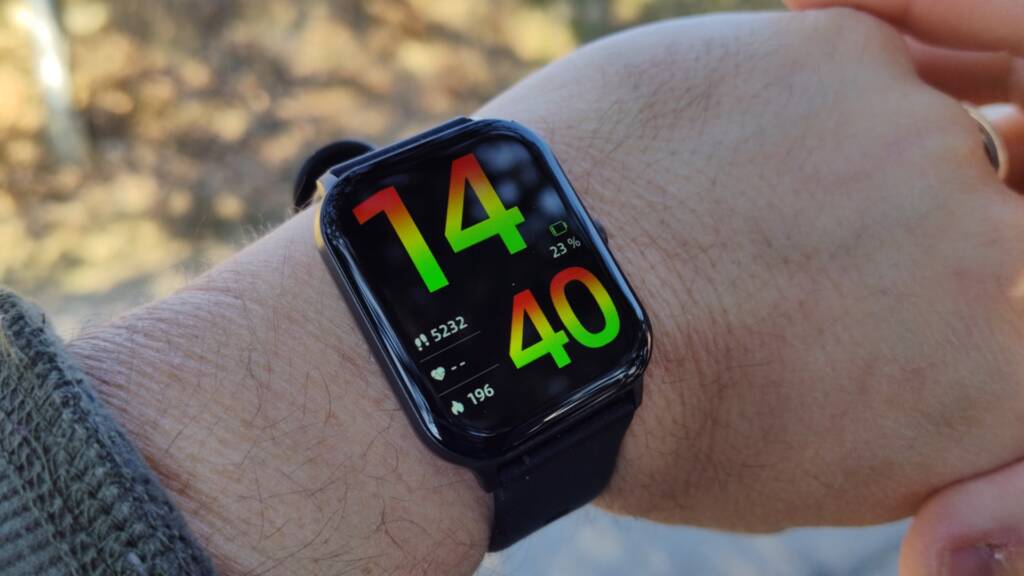 In addition to offering all the features we can expect from a current smartwatch, it is also convenient. He does not sin even for his own simple design and if we add that we can buy it on Amazon with free shipping and all the necessary securities, then we just have to find out in this review.
Unboxing
The has come moment of opening the box of SoundPeats WATCH 3, although one should not expect who knows what surprises. In fact, like other products in the same category, the company offers its product in a package made of recycled hardcover, inside which we naturally find the watch itself, which comes with the strap already inserted and a screen protector sticker.
Then we find the charging cable, proprietary type with hookup via magnetic pogo pins, which offer good magnet power, which should not be underestimated. Finally we have the user guide really well done, complete with drawings of the clock screens, all explained in Italian too.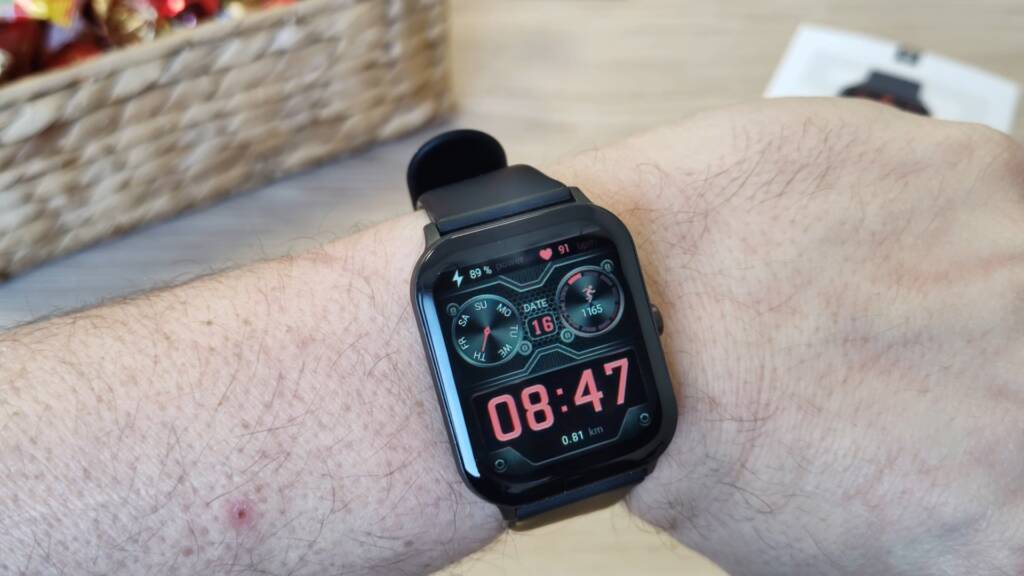 Design and construction
By wearing the smart watch on your wrist, you realize its economic nature, but overall everything was done perfectly. The overall design is classic, with a square-shaped case, similar to Amazfit products or Apple Watch, but here we have a body completely made of polycarbonate, that I was surprised by its resistance. In fact, despite having often bumped the watch on rough surfaces, the SoundPeats wearable has not suffered any damage, neither scratches nor dents.
Excellent then the strap, made of silicone skin-friendly, which with the many holes available allows you to adapt the watch to both slender and more chubby wrists. Good breathability and comfort in general, considering the size (43 x 35 x 8 mm) and low weight (36 grams), never creating that sense of annoyance that I have experienced in the past with other smartwatches. An ideal design for those who want a functional yet discreet, light and elegant watch. Finally always about the strap, this one has a 22mm pitch and enjoy quick release, so you can find spare parts to create a completely personal outfit.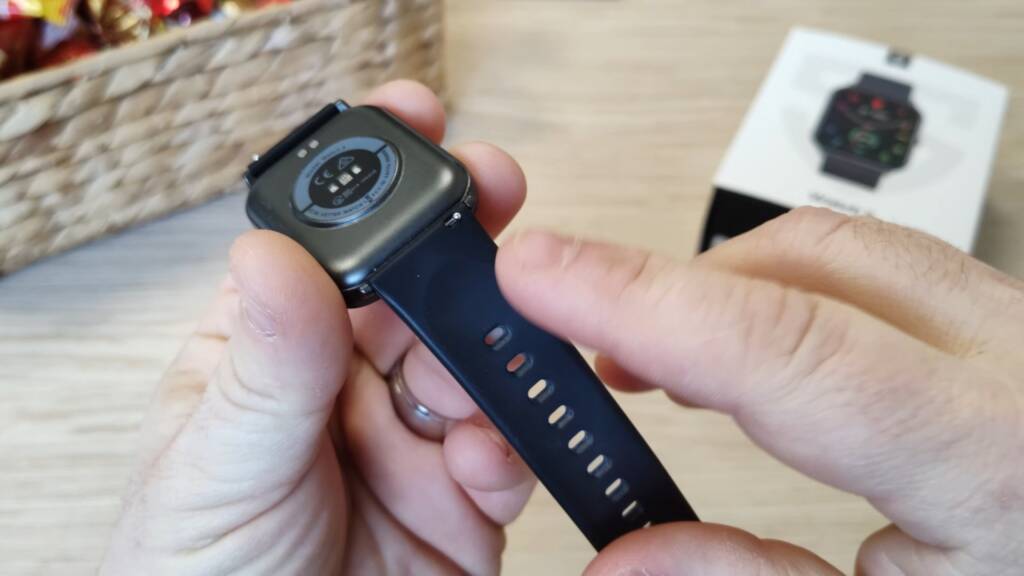 The SoundPeats WATCH 3 display is a real surprise
This wearable offers a large panel from 1,85 HD inches, with resolution 240 x 280 pixels. So far so good, but despite the fact that the screen does not benefit from AMOLED technology, nor from a sensor dedicated to lighting, SoundPeats Watch 3 looks great in direct sunlight and the contents reproduced on the screen, appear with bright and well-defined colors so much that you think you are dealing with a display of a higher category. Either way, they are 4 levels of brightness available.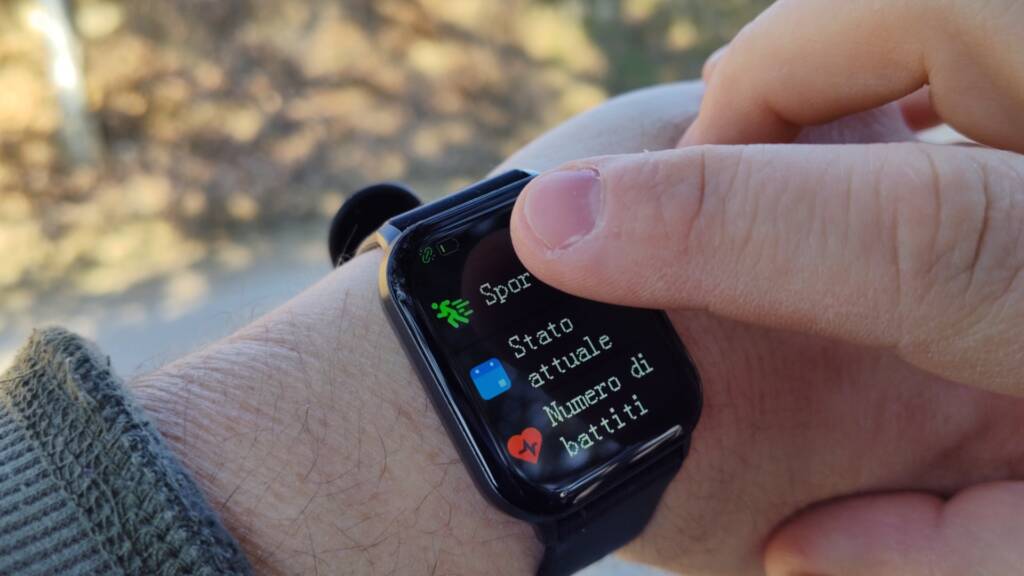 The screen revives via wrist gesture (function that can be deactivated from the app) or via the single physical button located on the right side of the case. This also serves as a return to the previous menu. The screen is protected by a Glass with 2.5D machining also ultra resistant, even if a Corning Gorilla Glass glass is not used. The beauty of the screen is also emphasized by the over 230 watchfaces available for free through companion apps, several animated and with information related to health data, but we can also customize your own skin through photos.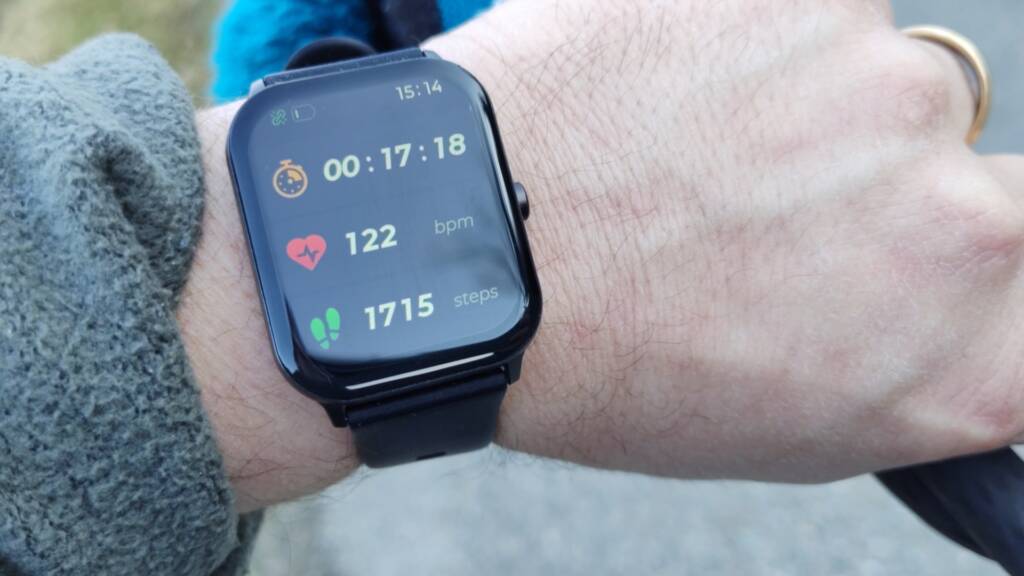 Excellent sensors for cardio and SpO2: dedicated and real
On the back of the watch we find the heart rate sensor which is also accompanied by a second sensor, dedicated this time to measurement of blood oxygenation value, SpO2 .I can say that both sensors work fine and that compared to other sensors of other more expensive watches we find comparable values. We are in the presence of real sensors, in fact if we don't wear the watch, no data will be shown to us, which instead happens on cheap devices from other brands. Among the health data that can be monitored, we also find that of sonno, which is also quite accurate although it is not possible to measure daily naps, but the values ​​of deep sleep, REM sleep, light sleep they conform to reality, so much so that it is reported in the report even when we get up at night.
On the other hand, there are 70 sports that can be monitored, but not all of them offer dedicated metrics. It should also be noted that the step count is not accurate, as the GPS is absent, returning a count lower than reality by about a good 9/10%. Overall we have a companion on our wrist that will allow us to monitor our state of health and for the female public, even the monthly physiological cycle.
SoundPeats WATCH 3 Data Sheet
| Brand | SOUND PEATS |
| --- | --- |
| Model | Watch 3 |
| Screen | 1.85 "HD |
| Resolution | 240 280 pixels x |
| Resistance to water / dust | IP68 |
| Connectivity | Bluetooth 5.2 |
| Battery | 220 mAh |
| Charging time | 2.0 hours |
| Autonomy | up to 7 days of use |
| Dimensions: | 43 x 35 x 8 mm |
| Weight : | 36 grams |
| Price | €45.99 |
| Purchase links | SOUNDPEATS WATCH 3 |
Well made native app
One of the things that makes the SoundPeats Watch 3 stand out from the competition is the presence of a companion app, SoundPeats SPORTS, really well done and available for Android systems but also iOS, to which you connect by means of Bluetooth 5.2 built into the watch. Here we find everything you need to customize the user experience of the wearable, such as the choice of applications to be notified, or the reminder of a sedentary lifestyle, the choice of watchfaces but above all a report on the statistical health data collected by the watch. Ease of use and efficiency are further strengths of the application. In order for you to exploit the full potential of Watch 3, we leave you the download links for its App.

Autonomy and smart functions
The wearable enjoys a battery from 220 mAh, Which is recharge in about 2 hours using proprietary cable. Considering the hardware under management, we manage to take home one general duration of about 7 days, a value that can go even further by setting energy consumption in the best possible way. However, you don't have to beg for energy every day.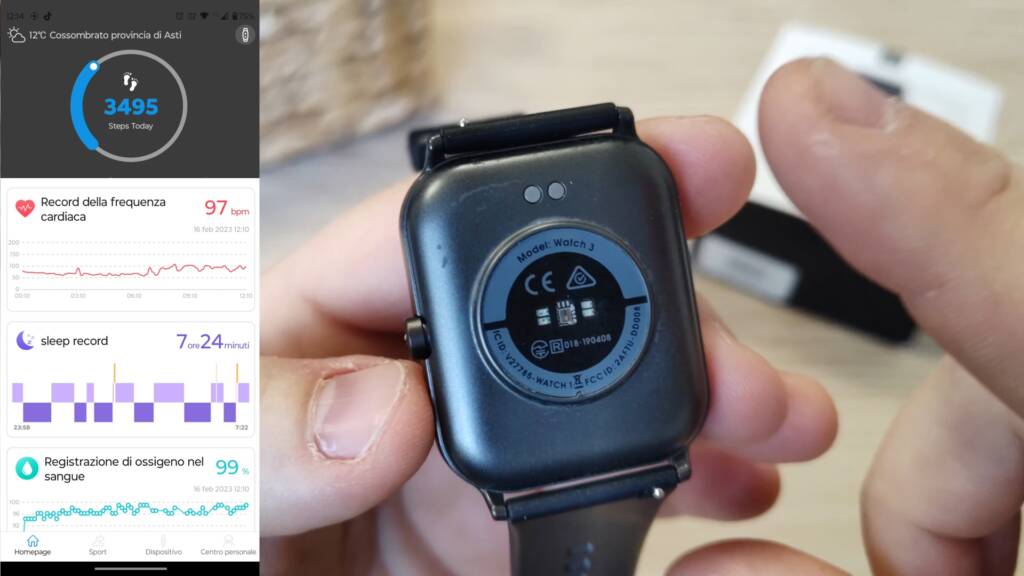 The smart part of the wearable in question is unfortunately in line with many other devices seen here on the blog, offering for notifications only the possibility of viewing on the display, without being able to answer. We can't even view emojis, while for calls we can only reject them and view caller ID, considering the absence of speaker and microphone. Notifications are announced by means of a non-adjustable vibration. Good synchronization with the smartphone, notifying apps in real time and without delays.
Naturally, there is no shortage of functions such as the breathing relaxation, weather vision, remote music control, timer, stopwatch, torch, phone finder and alarm clock, this can be set directly from the clock menu, in addition to the other functions already mentioned.
Amazon offers
€45,99
available
to March 26, 2023 19:20
Last updated on March 26, 2023 19:20
CONCLUSIONS
It's time to have our say on this smartwatch, which proved to be as simple as it is elegant, light and responsive. Always stable connection and the functions offered have all far exceeded the sufficiency of execution. In short, SoundPeats Watch 3 is not a best buy but for the price and the reliability it brings, I would like to promote it and recommend it to all those looking for an economic but complete smartwatch.
SOUNDPEATS WATCH 2
For those looking for elegance, simplicity but without sacrificing reliability and responsiveness on their wrist, SoundPeats Watch 3 is the almost perfect wearable. Lots of features for a small price.
PROS
WEIGHT AND COMFORT
ALWAYS WELL VISIBLE DISPLAY
DEDICATED CARDIO AND SpO2 SENSOR
PRICE
CONS
GPS ABSENCE
MENU TRANSLATION NOT ACCURATE
Add your review