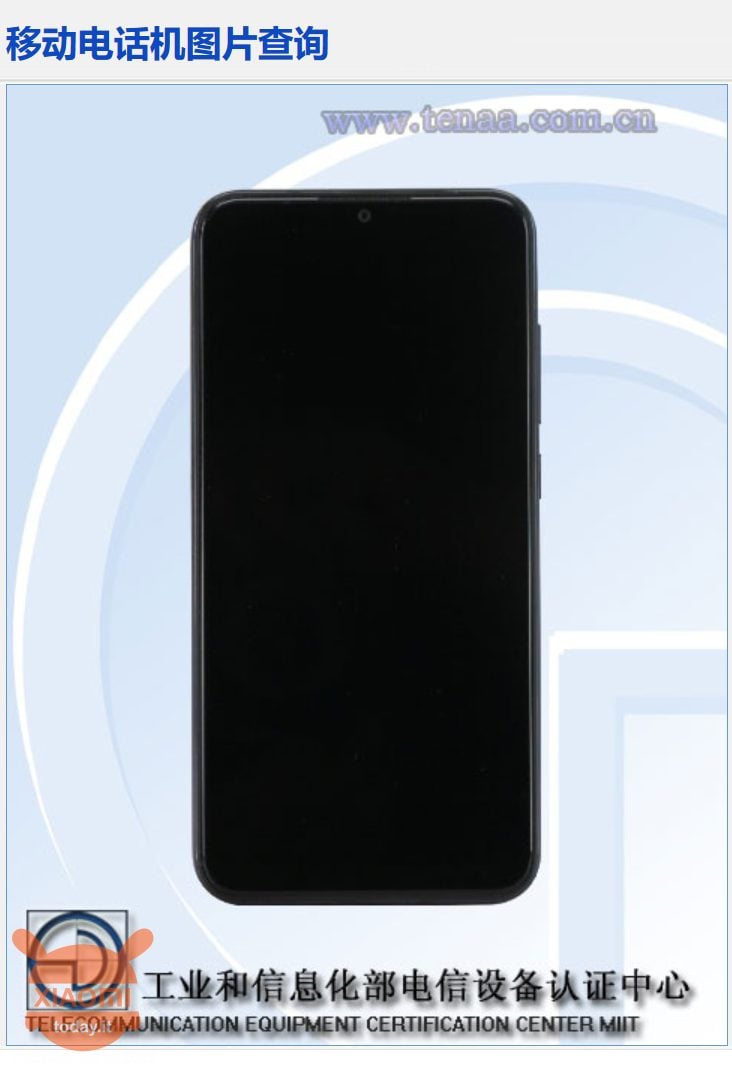 Are you interested in OFFERS? Be smart and subscribe to our Telegram channel! Lots of discount codes, offers, pricing errors on technology from Amazon and the best online stores.
Three days ago we told you that three Xiaomi devices have received 3C certification, or the certification that applies to products intended for consumption exclusively in Chinese soil. Today, however, has been spilled a new smartphone equipped with "Gotch"(Called by me), or the notch to drop, On the site Tena. Let's see what it is.
Spotted new smartphone with "gotch"
This new smartphone spottato on the site Tena appeared with the name M1901F9T and has some features that are really interesting. Similar to smartphones with code name M1901F7E, M1901F7T, and M1901F7C that we have described to you inarticle of last week, this could be a further variant of the Redmi 7 but we still have no certainties about it and we can not say anything. We know without a doubt that this device will be launched next year and we know it for two reasons: one, there is no more time even for Xiaomi that churns out devices at disproportionate speed and two, the initials of the codename M19 make us understand that it will be launched in the 2019.
Like the Redmi 6 Pro, this smartphone will be equipped with a display with the notch but drop and then bye bye problem of annoying notifications and horns: the screen from 5.84 '' and 19: 9 report It will therefore be cleaner and more streamlined. The dimensions shown are of 147,76x71,89x7,8mm and therefore in line with the telephones currently on the market.
Another news that is reported to us from the site Tena and the battery: under the body there will be mounted one not removable from 2900 mAh, capacity a bit 'disappointing if we think devices are baked until now, but that will still support the latest Android version and (we expect) the MIUI 10 with relative record optimization.
Last but not least is the photographic department: from the photographs it results to have one dual rear cam at vertical light with relative led flash, while in the front we find the single cam right inside the "gotch". Always in the part back we find the classic fingerprint reader.
[UPDATE]
From a few hours we have come to know the main technical specifications of the aforementioned smartphone, always through the TENAA website. We will list them below:
Frequency bands supported: 900MHz - 1800MHz - 850MHz - 1900MHz - 800MHz - 2GHz - 38 Band - 39 Band - 40 Band - 41 Band (2555-2575 MHZ - 2575-2635 MHZ - 2635-2655 MHZ) - 1 Band - 3 Band - 5 Band - Band 8 - 1.9GHz - 2 / 5 / 8 band;
Available colors: Nero – Bianco – Blu – Rosso – Giallo – Rosa – Verde – Viola – Rosa – Oro – Argento – Grigio;
Dimensions and weight: 147,76x71,89x7,8mm for 150 g (very light!);
Display: 5.84 "from 2280 x 1080 pixels (we still do not know what kind of display it is, but read to the end because we could guess what it is);
Headphone jack: present!
CPU frequency: 2.3GHz;
RAM: available in denominations from 3 / 4 / 6 GB;
Operating system: Android 8.1, but we are sure it will be upgradable to Android Pie 9.0;
Camera: the data is not yet accurate but it seems that there is one dual cam back from 12 + 8 megapixel and a single cam from 8 megapixel;
Internal Memory: available in cuts from 32 / 64 / 128 GB expandable via MicroSD up to 256 GB;
In short, a phone worthy of note but that does not revolutionize the world of telephony. We can imagine this though (and who knows if we even guess this time): the colors available are many and this has never happened with any Xiaomi smartphone, at most we have 4 for some devices that are part of the series Redmi and for this we can suppose that this terminal belongs to this series; if we also take the CPU frequency, we note that it is slightly higher than most smartphones and for this we could assume that it is the Xiaomi Play, announced a few days ago and that will be presented on December 24, which is a native Xiaomi smartphone intended for gaming even if only dedicated to China (from what they say the rumors).