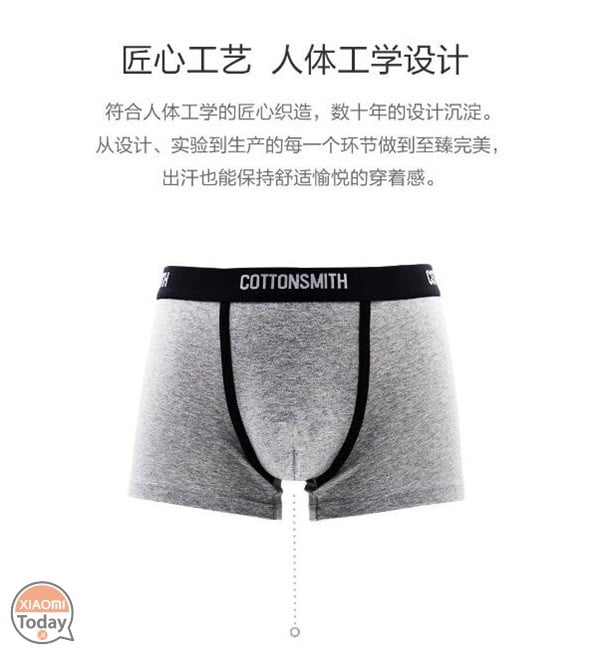 Are you interested in OFFERS? Be smart and subscribe to our Telegram channel! Lots of discount codes, offers, pricing errors on technology from Amazon and the best online stores.
Eh already fans friends of Xiaomi, la crisis it is by now one of those words that unfortunately have entered the daily life of millions who for a thousand reasons had to revisit their lifestyle and in many cases having lost everything they literally remained in their underwear.
Well it is not a theme to joke but smile is the only thing that is not taxed at the moment and it costs nothing, so on the underpants Mijia just today has released a product of underwear, a set made up of 3 underwear for both men and women.
The underpants proposed by Mijia are produced by the company CottonSmith, the leader in the underwear sector, applying the most innovative technology in the field of fabrics. In particular, the technology used is named Miniature Window, state-of-the-art and certified, which improves the product drying phase of the 40% and also improves the abrasion hazard of the 50%.
The Mijia underpants are Made for 95% of American Natural Cotton high quality and 5% Spondex, totally antiallergic and with high comfort. There male version is offered in gray, dark gray, black and blue, in sizes ranging from M to XXL, and will be sold at a price of 99 yuan, approximately EUR 13 containing three units while the female version will be proposed in light gray, light pink, black and white in sizes ranging from S to XL, at the price of 69 yuan, about 9 euros containing three units.
At the moment, however, you have to wait for it shipments will begin from June 19 so we just have to use the last pair of panties we have at home.