Is house cleaning your concern? Still stuck with the classic corded vacuum cleaner? Is a Dyson your dream but the budget doesn't allow it? Then read this article which could be very useful! Here is the Xiaomi Dreame V10
⭐️BANGGOOD
✨Xiaomi Dreame V10 Vacuum Cleaner at 180 € from EU warehouse
💰 Coupon: BGCZDRMV
Compra➡https://xiaomi.today/2LVFL55
🇪🇺 Shipping EU Priority Mail (NO customs) ✈
Today we are talking about yet another product Xiaomi that improves our lives, the cordless cyclonic vacuum cleaner Dreame V10, today on offer on shipping included from Europe to get it in a few days.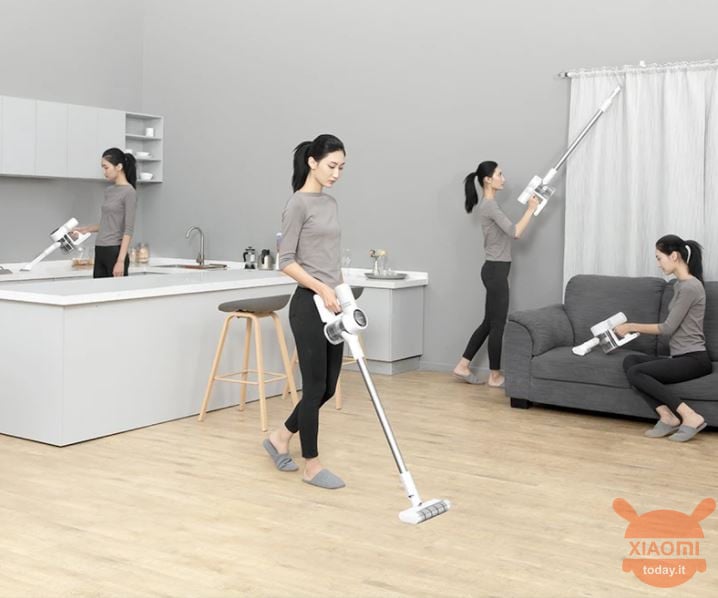 The vacuum cleaner, with motorized brushes (2 pieces included) is comfortable for one fast cleaning the house, floor, furniture, carpets, sofas and much more.
But what are the main features of this product? Definitely light (weighs only 1.5Kg), good autonomy, various accessories for thorough cleaning of many surfaces, a filter HEPA, a wall bracket included where you can leave it even when charging.
The Dreame V10 fully meets the needs of 90% of people, and will surely be a great purchase that will make you and your partner happy.
The Dreame V10 vacuum cleaner comes carefully packaged and all accessories are individually packed in protective bags. You will find a complete kit for cleaning the house: many types of accessories, extensions, additional brushes and the wall support where you can also insert the additional brushes.
The Dreame V10 is sold with two motorized brushes (the main one is wide and narrow for furniture), an extension tube, two narrow brushes for hard to reach places. The motorized main brush has a soft roller, ideal for cleaning hard surfaces (laminate, parquet, ceramic tiles, also suitable for linoleum). This brush also cleans soft surfaces well (short-pile rugs, carpets, etc.). This can be easily disassembled for cleaning, the roller can be washed but always remember to let it dry well.
By detaching the long hose you can use it as a portable vacuum cleaner for cleaning furniture, cars, hard to reach places. The small motorized brush is designed to clean upholstered furniture, mattresses, pillows, etc., definitely recommended for people allergic to dust.
The two narrow brushes of the set can be used for different. The nozzle has a moving part, you can pull out a block with bristles for thorough cleaning of various places: corners, furniture, baseboards. The flexible nozzle together with the extension tube and in combination with one of the narrow nozzles allows you to clean cabinets, ceilings and other hard to reach places.
The tank that contains the powder opens at the bottom with a simple button, it is really convenient to empty it into the waste bin. As for the filters, they are all removable in 30 seconds and washable with water. Absolutely mandatory to dry them well before using the vacuum cleaner again.
Definitely handy is the kit for mounting the vacuum cleaner on the wall. Indeed, without this, we will not know where to leave it! I, who am not really practiced in DIY, managed to assemble it without major problems. A drill is enough to make 2 small holes in the wall and that's it. The possibility of attaching all the accessories is really excellent, so as to avoid having to search every time where we have left the various brushes.
In summary, the points in favor of this Dreame V10 are really many: low price, very good suction power, easy cleaning of all parts, wall support and many accessories that will help us to clean 100% of our home . So if you are looking for a similar product you can only go for this one.
Among other things, today you can buy it at a really amazing price. As always, we remind you that these offers are very limited, so if you are interested we advise you to proceed quickly with the purchase.
25 July 2021 5: 55

Amazon.it
Price updated on: 25 July 2021 5:55
⭐️BANGGOOD
✨Xiaomi Dreame V10 Vacuum Cleaner at 180 € from EU warehouse
💰 Coupon: BGCZDRMV
Compra➡https://xiaomi.today/2LVFL55
🇪🇺 Shipping EU Priority Mail (NO customs) ✈
Are you interested in OFFERS? Follow our TELEGRAM Channel! Many discount codes, offers, some exclusive of the group, on phones, tablet gadgets and technology.