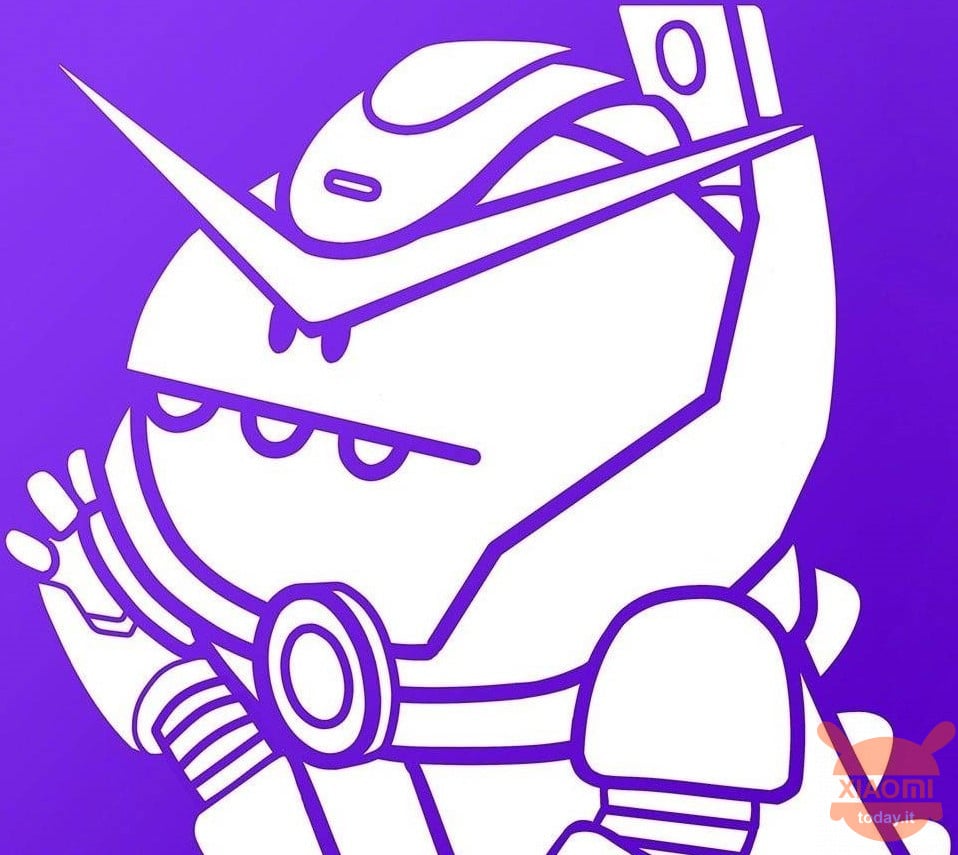 Sometimes there is confusion when it comes to devices Redmi e Xiaomi as it happens that the same version, but with a different name, is put on the market of different countries. It is the case of the Xiaomi Mi 9T Pro and Redmi K20 Pro: they are the exact same smartphone (except for the presence of the 20 band in the first one, which is missing in the second) but placed in different markets. But apparently a third version of the Redmi in question would be about to be released from the house and this time under the body is positioned an engine enhanced and much more efficient than that of the "standard" Pro: let's talk about Redmi K20 Pro enhanced.
The "Great Prince of Demons" Redmi K20 Pro will have an enhanced version
Not everyone knows that in China this device was advertised with this nickname "Great Prince of Demons"Precisely because of his fearful specifications that kept him in top 10 of the chart compiled by AnTuTu in August. But from now on Redmi K20 Pro it will be even more powerful as it will come pumped up with an upgrade in different parts: first the processor that will be changed will switch from a Snapdragon 855 to a Snapdragon 855 + (what is also in the Black Shark 2 Pro in order to understand each other). To tell us is Lu Weibing through a post on the Chinese social media Weibo.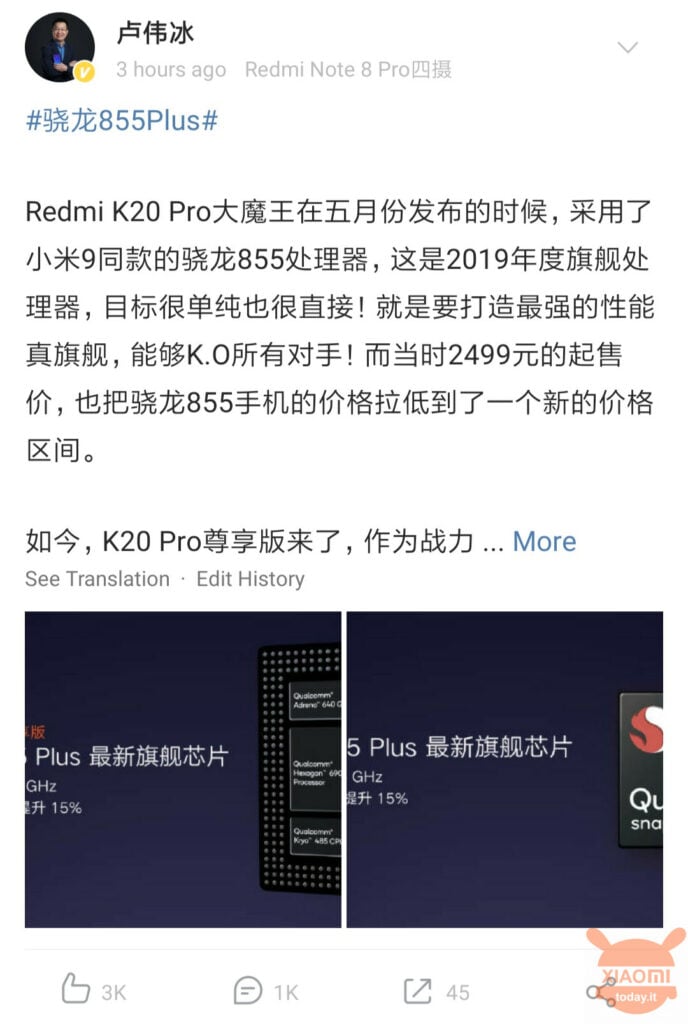 With regard to the CPU always remains the Andreno 640 (even if enhanced) ma configured differently, as the current one octa-core formed by 1 x 2.84 GHz Kryo Gold 485 + 3 x 2.42 GHz Kryo Gold 485 + 4 x 1.78 GHz Kryo Silver 485 will see a upgrade in terms of frequency for the 2.84 GHz core it will change to 2.96 GHz. As we said, even the GPU is enhanced and compared to the "old" Snapdragon 855 le graphics performance has improved by a good 15%

. Besides all this Redmi K20 Pro enhanced will boast of a fourth generation AI engine which allows the processing of 70.000 operations per second (three times better than the Snapdragon 845 present on Mi 8).

Having this processor under the body we can also say, with enough confidence, that the device can take advantage of the 5G connection since it is a chipset that fully supports this technology. If you're wondering, we don't know if an enhanced version of the Mi 9T Pro with the same characteristics; I personally believe that it is not necessary with the new We 9 Pro 5G that is about to come out: the two devices would be the same and a move of this kind is not good for the image of the brand nor for the coffers of the same. For the moment this is all we know to tell you about the demon, indeed, it remains to say that Redmi K20 Pro enhanced will do his This month's 19 debut, practically in two days. Unfortunately we are not yet able to know the price but we trust that it will not exceed 3000 yuan, at the current exchange rate around 385 €.

It is also important to know that not all configurations will be available for this smartphone: only a "top version" will be placed on the market which will have under the hood 12 GB RAM supported by 512 GB of internal memory. Currently this capacity is, not only for the device in question, the largest on a mobile device.
📱 DESIGN
🔍 DISPLAY
⚙️ HARDWARE
🤖 SOFTWARE
🔋 BATTERY
📞 NETWORK
📡 CONNECTIVITY
📷 CAMERA
🔈 AUDIO
ℹ️ MISCELLANEOUS
Are you interested in OFFERS? Follow our TELEGRAM Channel! Many discount codes, offers, some exclusive of the group, on phones, tablet gadgets and technology.