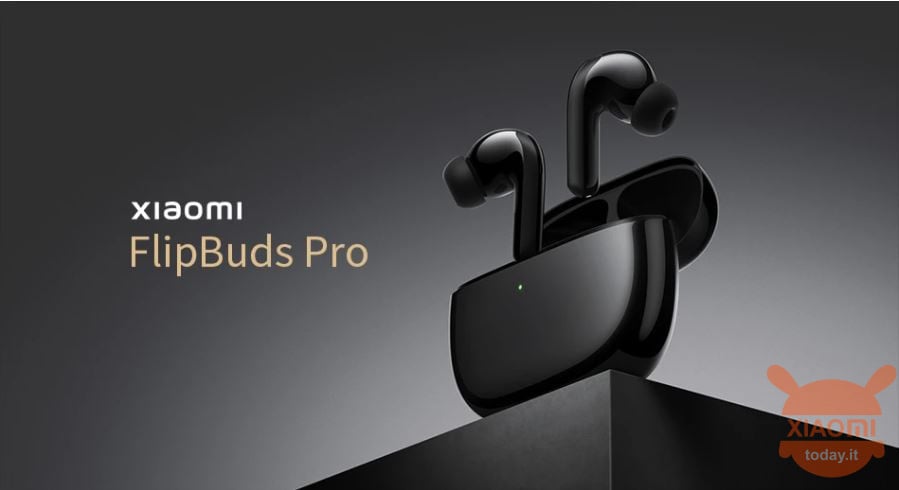 Are you interested in OFFERS? Be smart and subscribe to our Telegram channel! Lots of discount codes, offers, pricing errors on technology from Amazon and the best online stores.
If you want the maximum of the current TWS headphone technology you can only go straight to the Xiaomi FlipBuds Pro!
⭐️GOBOO
🎧 Xiaomi FlipBuds Pro headphones at 114 €
💰 Coupon: GOBOO995
📌 Buy https://s.zbanx.com/r/OaC1OqBdsXHc
🇪🇺Fast Shipping INCLUDED from Europe (No Customs)
Features:
ACTIVE NOISE CANCELLATION 40Db
The Xiaomi Flipbuds Pro supports 40dB active noise cancellation. You can choose from three levels of ANC such as daily, office and travel, depending on your environment for optimal noise cancellation performance.
THREE MICROPHONES FOR NOISE REDUCTION
Xiaomi Flipbuds Pro is equipped with three Call Noise Reduction microphones, along with the ultra-low-power QCC5151 audio chip, which precisely processes external ambient sounds and voices. It can accurately capture human voices by reducing noise. Words are clear and no interference during calls.
LOW LATENCY GAME VIDEO AND AUDIO
Based on QCC apt Adaptive Dynamic Codec protocol and bluetooth 5.2 technology, it offers a low latency gaming and video experience, synchronizing audio and video for playing games and watching movies.
11MM ULTRA DYNAMIC AUDIO DRIVERS
Xiaomi Flipbuds Pro is built in 11mm ultra dynamic audio drivers, the audio unit adopts the high diaphragm and centering piece design, the voice coil vibration system is balanced and powerful, and the sound control is increasing and powerful, bringing an immersive and shocking experience.
BlueTooth 5.2
BlueTooth 5.2 is on the Xiaomi Flipbuds Pro. It consumes less power and offers a longer range with less impact of Wi-Fi signals than previous versions of Bluetooth.
DOUBLE MODE OF TRANSPARENCY
Transparency mode allows you to enjoy your music while keeping an eye on the ambient sound around you. Voice enhancement can be set individually to keep your voice clearer, so you can comfortably communicate with friends even with your headphones on.
INTELLIGENT DUAL DEVICE CONNECTION
Xiaomi FlipBuds Pro can seamlessly switch from your smartphone to your laptop (Dual Device Intelligent Connection). You can also connect two pairs of these earbuds to a single smartphone or laptop to share the audio output between two people.
AUTOMATIC CONNECTION
Xiaomi Flipbuds Pro comes with an auto connect feature when the earphone lid is opened, but it may be limited to MIUI devices only. After that, the phone will automatically open a window and finish pairing and bluetooth connection, meanwhile, the window shows the power of the headset and charging box.
SUPPORT XIAOAI VOICE CONTROL
Support Xiao Ai voice control. When you need to cut songs, turn up the volume, check the route, set an alarm, make a phone call, just double tap the left side of the earphone or say the alarm "XiaoAi", you can give the corresponding Instructions.
WIRELESS CHARGING
It supports both wired and wireless charging. It offers up to 7 hours of playback on a single charge and 28 hours of total battery life with the charging case.
⭐️GOBOO
🎧 Xiaomi FlipBuds Pro headphones at 114 €
💰 Coupon: GOBOO995
📌 Buy https://s.zbanx.com/r/OaC1OqBdsXHc
🇪🇺Fast Shipping INCLUDED from Europe (No Customs)
⭐️GSHOPPER
🎧 Xiaomi FlipBuds Pro headphones at 119 €
💰 Coupon: 52B606FC4B
📌 Buy http://shrsl.com/39cve
🇪🇺Fast Shipping INCLUDED from Europe (No Customs)