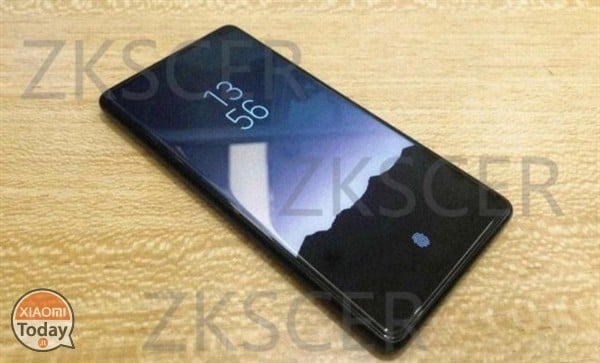 We were waiting for a possible presentation in these days on the occasion of the MWC 2018 in Barcelona, but the Xiaomi Mi MIX 2s will wait for a few more weeks. The Chinese company has already announced the day of its official launch and we can not help but deceive the wait hoping that some indiscretion or communication from Xiaomi provide us with interesting details about what is one of the most anticipated smartphones of these first beats of the year.
Lo Xiaomi Mi MIX 2s the next 27 will be presented in March, the same date on which the new Huawei P20 will be launched; a declaration of strength perhaps, as if Lei Jun wanted to make known as his company does not fear the competition of a giant like Huawei.
Of course, the Mi MIX 2s will not suffice Snapdragon 845 to assert itself on the rivals, and that's why it seems that the Chinese company wanted to focus once again on design and some important features.
Presumably Xiaomi Mi MIX 2s appears in photos, really a lot of stuff!
To confirm this, today we have shown a new photo appeared on the net, the one you see on the cover, in which a presumed Xiaomi Mi MIX 2s is immortalized.
In it we can only see the front of the smartphone, a view more than enough to realize how this is characterized no longer by a tri-bordeless design, but by very small frames that this time run through the perimeter of the device. You can not glimpse the front camera, perhaps really relegated to the upper right corner as recent leaked images had suggested.
The icing on the cake, finally, is that further precious detail provided by the photo, a fingerprint represented on the screen, or a presumed confirmation of all those rumors that indicate the Xiaomi Mi MIX 2s be equipped with a Fingerprint recognition sensor integrated under the display.
Unfortunately we are not in possession of material or knowledge that allow us to express ourselves in favor of the authenticity of the photo shown in this news, we will therefore have to wait for new rumors that could confirm, or even disprove completely, what we have just seen.
Xiaomi Mi MIX 2s: the expected specifications
I greet you by reminding you once again that Xiaomi Mi MIX 2s will be presented the next 27 March and that the following key specifications are expected:
curved ceramic body on all four sides;
SoC Qualcomm Snapdragon 845;
8 GB of RAM of type LPDDR4X
256 GB of internal storage of UFS type
the aforementioned fingerprint reader below the display;
global 4G bands
dual rear camera from 12 megapixel with optical zoom.
---
[Source]
Are you interested in OFFERS? Follow our TELEGRAM Channel! Many discount codes, offers, some exclusive of the group, on phones, tablet gadgets and technology.