Last 2 April the Xiaomi company invited the Chinese media to visit one of the most important production lines at the moment, at the Foxconn plant located in Langfang, the current "parent company" of the top of the range Mi 9. It was therefore possible to admire the production processes of the smartphone that is almost completely made in this establishment.
The tour starts with the positioning of the various circuits and capacitors that make up the terminal board, all assembled by robots that also carry out the welding operation accurately but above all quickly, considering that in one day a single production line can make about 8000 motherboards, and the Foxconn plant that gives life to the Mi 9 owns 10 well.
Of course the assembly takes place in steps, where displays, battery, wireless charging coil, camera, etc. are inserted. Furthermore, during each step, an employee checks the functioning of the individual components.
This is how Xiaomi Mi 9 is produced at the Foxconn plant
We are not going to list all the individual actions that make up the assembly of the Xiaomi Mi 9, but as it is easy to understand the last step is reserved for the installation of the glass body that will be covered with a surface with nanometer coating P2i. Only this process lasts 3 hours. Once the technological composition is finished, the smartphone remains in the factory to be subjected to rigorous tests. And it is precisely because of these stringent quality tests that at the launch (and perhaps still now) the stocks of Mi 9 are scarce.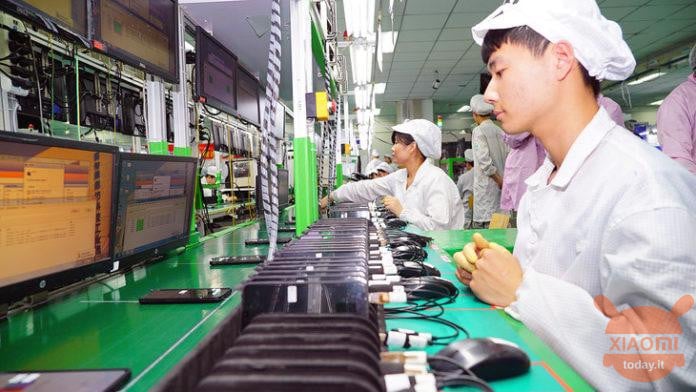 In fact, Xiaomi has organized this tour to demonstrate that the production process is very long, delaying the final stocks. In special laboratories, the various Mi 9s that have completed the production phase will be subjected to stressful tests with the specific intention of simulating the use of a user, thus highlighting hardware and software anomalies. Only once all the tests performed on the smartphone have obtained a favorable outcome, the Mi 9 can reach the packaging, ready to satisfy the cravings of a real Mi Fans. It seems to you also an episode of How is it Done?
-19%
Sale
Shipping Italy Express 2.56 € (10 / 15 days, no customs) selectable under "priority line"
Are you interested in OFFERS? Follow our TELEGRAM Channel! Many discount codes, offers, some exclusive of the group, on phones, tablet gadgets and technology.