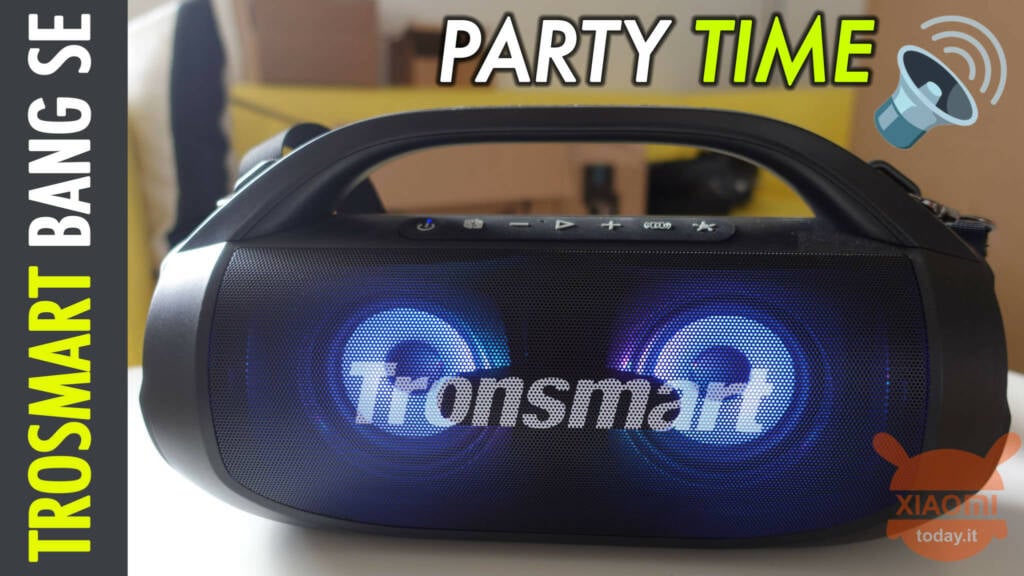 Are you interested in OFFERS? Be smart and subscribe to our Telegram channel! Lots of discount codes, offers, pricing errors on technology from Amazon and the best online stores.
We have already tried other speakers like Tronsmart Bang SE, for example the Tronsmart Force SE, but the company is very prolific and continues to improve its outdoor speakers to the point of having become a reference for consumer electronics with good value for money.
Tronsmart Bang SE Portable party speaker, Bluetooth 5.3, 40W stereo sound, time ...
2 February 2023 5: 05

Amazon.it
Price updated on: 2 February 2023 5:05
Tronsmart Bang SE data sheet
Tronsmart Bang SE
Color
Black
Bluetooth version
5.3
Bluetooth coverage
15 m / 49 ft (open area)
Input power
5V / 2A, via type C port
Output power
40W
Microphone
Integrated
IP certification
IPX6
Play time (varies by volume and content)
Up to 24 hours
Charging time
≤5 hours
Frequency range
60 Hz – 20 kHz
Playback mode
Bluetooth
Aux-in
TF card
U-Disk
Voice assistant
Support Siri, Cortana, Google Assistant
Product size
298 x 164,5 x 118,8mm / 11,73 x 6,48 x 4,68inch
Product weight
2,10 kg / 4,63 lbs
Package Contents
1 x Bang SE Portable Party Speaker
1 x Aux-in Cable
1 x Type-C cable
1 x SoundPulse® card
1 x User Manual
1 x Warranty Card
1 x Watchband
Design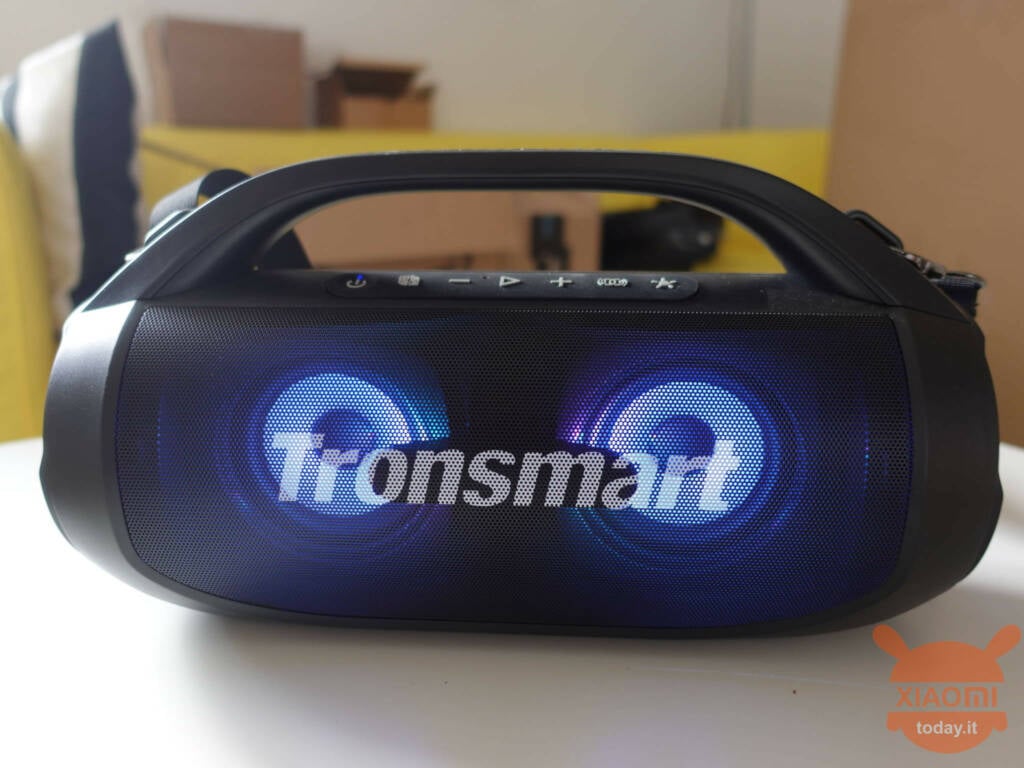 Il Tronsmart Bang SE, made in good quality plastic with the exception of the protection grille which is made of aluminium. It is therefore very robust but portable enough (2,10kg) thanks to the supplied shoulder strap which simplifies transport. Even the dimensions, all in all, are contained: 298 x 164,5 x 118,8 mm.
From the front you can see i two 40W "full range" speakers while I 2 subwoofers are placed laterally. All 4 speakers are illuminated by colored LEDs which are activated with three different animations: circular, pulsating and in time with the music.
In the upper part we find a sturdy and practical handle under which the push-button panel is accessible, complete with buttons made of rubber to ensurewaterproof IPX6.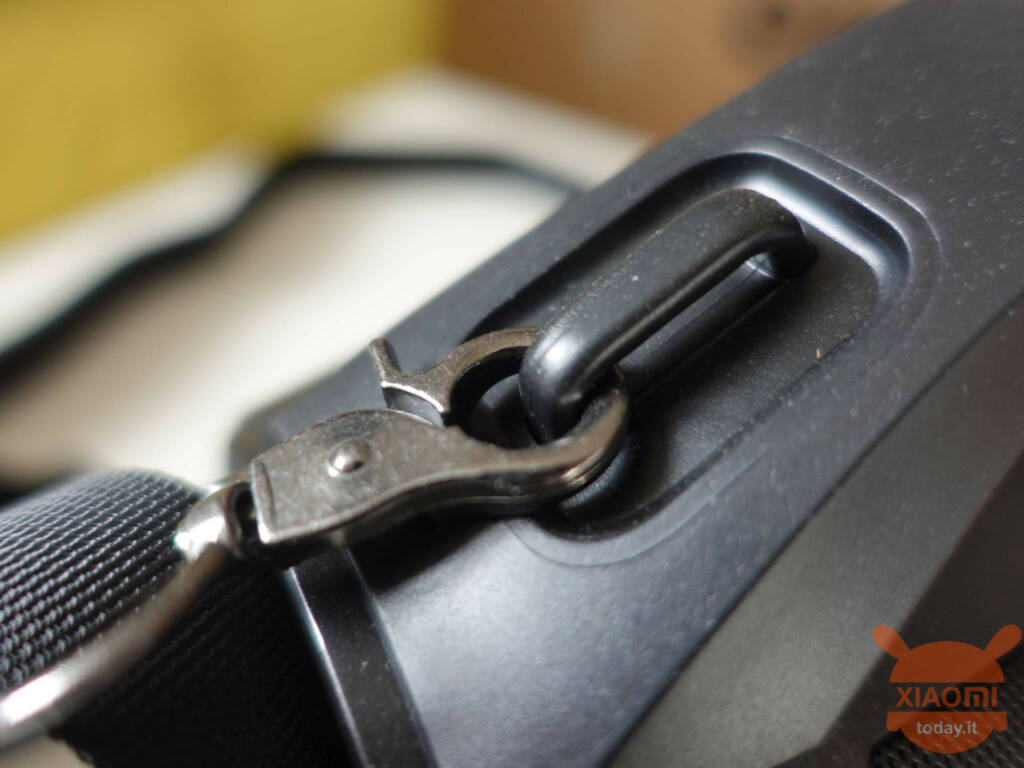 I buttons they are the one for turning on Power, the one for activating SoundPluse, button for volume down and rewind playback, another one for play/pause, the button for volume up is also the same one for going forward next music, there is also a button for stereo pairing and a last one to choose between the three lighting modes.
In addition to the buttons, there are also some buttons in this area luminous indications, such as the battery indicator, the bluetooth indicator, the SoundPulse indicator under the respective button, as well as stereo pairing. Even the microphone it is housed between the buttons.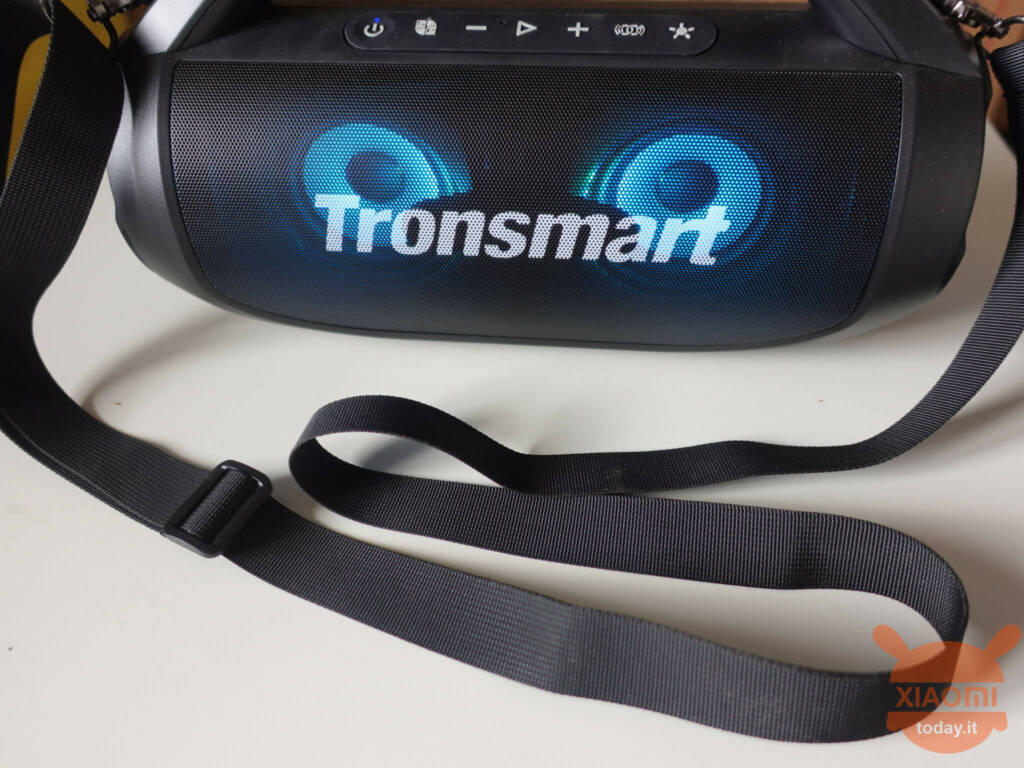 On the back are the various connection interfaces protected by a robust rubber, thus ensuring protection against the ingress of water. It has a USB-A port, a USB-C port, an aux-in port and a microSD card slot.
In package we find the strap to carry the speaker on the shoulder or on the shoulder, the manual (translated into 7 languages), type-c cable for recharging, cable with 3,5 jack for the augio input.
Connectivity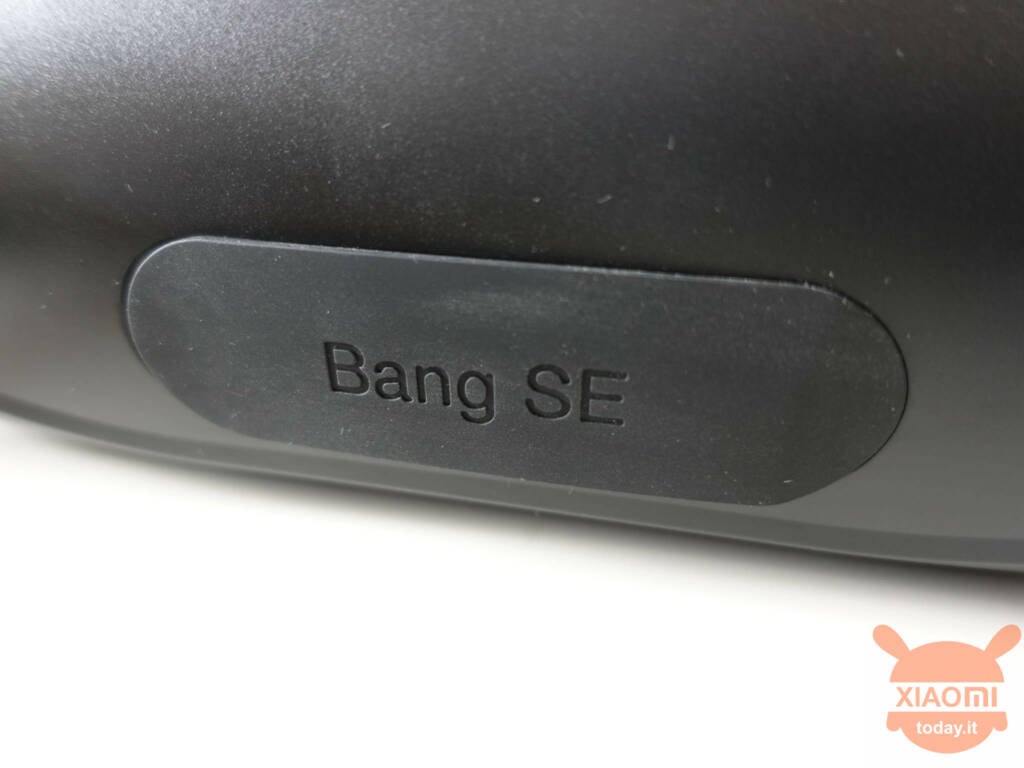 The Bang SE supports Bluetooth 5.3 which is used for both music playback and calls thanks to the microphone that is present. On the other hand, NFC connectivity is missing and also a support application for any update or for advanced configuration.
On the other hand, the connection method is fantastic "Stereo pairing" which allows you to associate a second Tronsmart Bang SE to play the same song simultaneously and without delays.
Audio quality
Tronsmart Bang SE is a speaker born to be used outdoors or in large party spaces, so it must balance power with sound quality.
The two "full driver" front speakers they reproduce all sound ranges cleanly up to almost 80% volume. Beyond this threshold, the first distortions are felt, especially on the highs.
The two lateral Sub Woofers add powerful and full-bodied bass giving a truly exciting listening experience, perfect for parties.
Activating the technology SoundPulse there is a moderate increase in power and quality. SoundPulse was in fact designed to decrease distortion in the 2K-3K range, increase the amplitude of the audio stream, increase bass performance.
Autonomy
The house guarantees a good 24 hours of playback which can vary according to the volume, the type of music and the light effects. In our tests the battery reached an autonomy of about 20 hours, with a typical use of ambient music and volume at 50%. In a scenario similar to that of a party, therefore with volume at 75% and LED lights on, we did not go beyond 12 hours which is still a remarkable achievement.
To preserve autonomy, the loudspeaker turns off automatically after 30 minutes of inactivity.
Interesting that the Bang SE can function as one Powerbank, allowing us to recharge the smartphone while playing music.
Tronsmart Bang SE conclusions and price
Tronsmart Bang SE it is an excellent outdoor loudspeaker, well made and which offers an excellent acoustic performance almost up to the maximum volume.
The portability and the play of LED lights make it an ideal companion for any occasion you want to celebrate with good music.
Il price is certainly another point in favor of this product that is offered to €69,99 on Amazon Italy and is a reasonable considering the quality and functions proposed.
For other offers and info, we invite you to visit the Official site.
Tronsmart Bang SE Portable party speaker, Bluetooth 5.3, 40W stereo sound, time ...
2 February 2023 5: 05

Amazon.it
Price updated on: 2 February 2023 5:05
Tronsmart Bang SE
Tronsmart Bang SE is an outdoor bluetooth speaker with an excellent quality/piece ratio and which will be a trusted companion at any party
PROS
PORTABLE
POWERFUL
EXCELLENT AUTONOMY
STEREO MODE
CONS
MISSING NFC
NO COMPANION APPS
Add your review