Are you interested in OFFERS? Be smart and subscribe to our Telegram channel! Lots of discount codes, offers, pricing errors on technology from Amazon and the best online stores.
For those who don't know it, Tronsmart is a Chinese brand that produces speakers and earphones. If I can't tell you much about the latter, I can instead guarantee you that the loudspeakers are truly TOP level, a real point of reference in the sector for those who are attentive to the quality and price of what they are buying. Today I will tell you about Halo 100, the spearhead of Tronsmart, a very powerful speaker with a really convincing sound.
In the package you will receive:
Halo 100 speakers
USB A – USB C cable for recharging
3.5mm jack cable
Instruction booklet
Additional warranty card (6 months)
SoundPulse card
TECHNICAL FEATURES Halo 100
| | |
| --- | --- |
| Model | Halo 100 |
| Color | Black |
| BlueTooth version | 5.3 |
| Audio codecs | SBC |
| Bluetooth compatibility | A2DP, AVRCP, HFP, HSP |
| Transmission distance | 15 meters |
| Frequency range | 40Hz - 20KHz |
| Autonomy | 18 Hours (depends on volume and effects) |
| Battery | 6.000mAh – 7.4V |
| Input power | 5V/2A via USB Type C |
| Power output | 60 |
| impermeability | IPX6 |
| Frequency band | 2402 - 2480MHz |
| Maximum transmission power | 4dbm |
| | |
As you can see from the table the features are really high level, by class BT 5.3 passing through the excellent autonomy up to 18 hours to arrive at the incredible power output of 60 . Of course the other technical details are bread for audio experts, of course poco useful to rattle them off here. But I can assure you that you will hardly find them on speakers in this segment.
INPUTS
Another absolutely complete thing is the connectivity that our Halo 100 offers us. In fact, in addition to the best connection BlueTooth currently on the market (5.3) you can also listen to music via an external device with Jack 3.5mm, pendrive/HD USB A, TF / SD Card. You will find all these entrances behind them, protected by a rubber cover which will guarantee their impermeability to any splashes of water. So perfect for our pool parties too!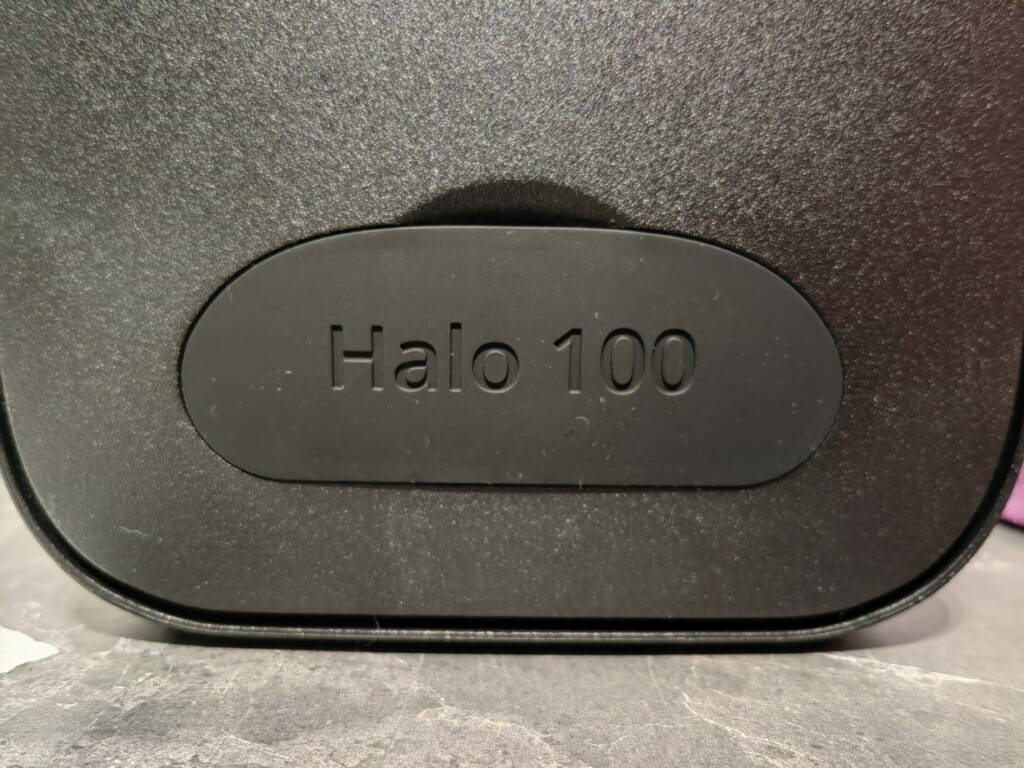 FUNCTION KEYS
Right on the top of our speaker we will have 8 physical keys that will allow us to take advantage of the many functions we have available:
Power Button: to turn the speaker on and off, the backlight will also indicate the low battery level (from blue to red)
SoundPulse/Eq Button: to activate the equalization curve that best suits our musical tastes
Mode Button: to switch between inputs – BlueTooth, TF/SD card, USB A, Aux in (jack 3.5mm)
Play / Pause: this key will have multiple uses – one click for play/pause, double click activates the voice assistant, during an incoming call, one click to answer and during a call, one click to end the call, double click to reject a call, press and hold it for 3 seconds to disconnect from the connected BT device
Plus/Minus key: a single click to increase or decrease the volume, double click to skip forward or backward the piece of music being listened to.
Stereo Paring Button: one click to enter pairing mode with another Halo 100 speaker, one click to exit pairing mode
light switch: one click to change the light effect (there are 5 available), hold it down for 2 seconds to turn off the LEDs.
Halo 100 APPLICATION
The ability to connect via application and manage our Halo 100 remotely is really very interesting. To do this, proceed as follows: enter the store of your smartphone and search for the "Trosnmart" application, install it and register. At this point enable BlueTooth and location and go look for the device under "speakers". At this point a search animation will appear and the device will be shown to you.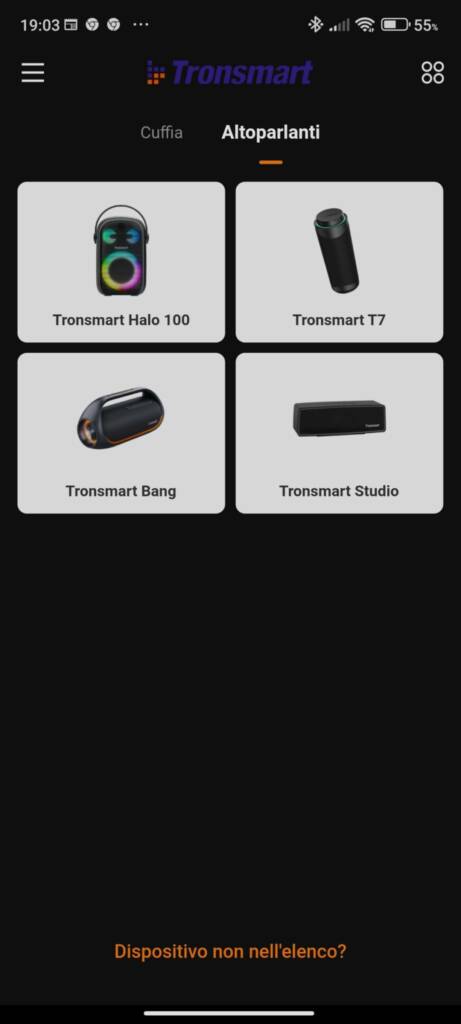 You will immediately be notified of a firmware update, another decidedly fantastic thing about this Tronsmart speaker. Click on the "settings" icon to proceed with the update!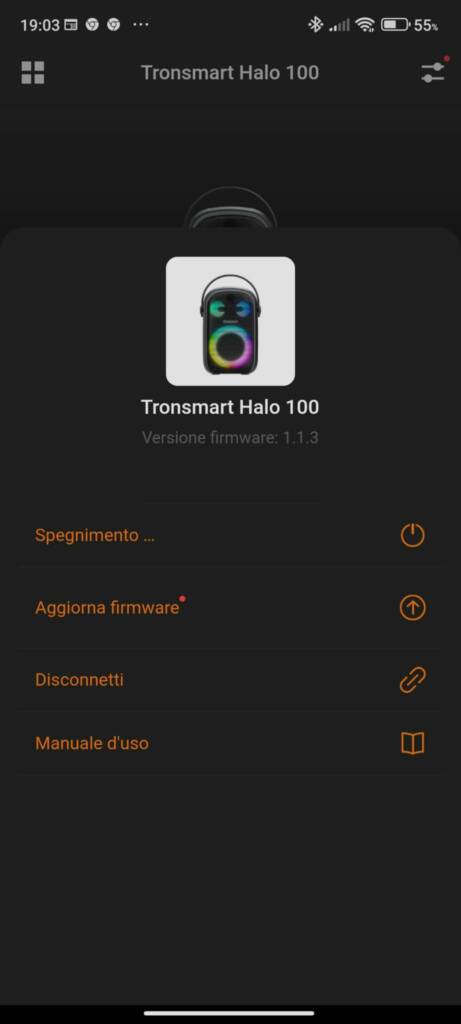 Once the update has been performed we will be ready to use it remotely. There are many commands available, obviously from volume adjustment, to setting the preferred lighting effect, the audio input to select, the stereo paring mode and the equalization curves to choose. The possibility of manually modifying the flat one with 5 reference points (bass, medium low, medium, medium high, high) is also excellent.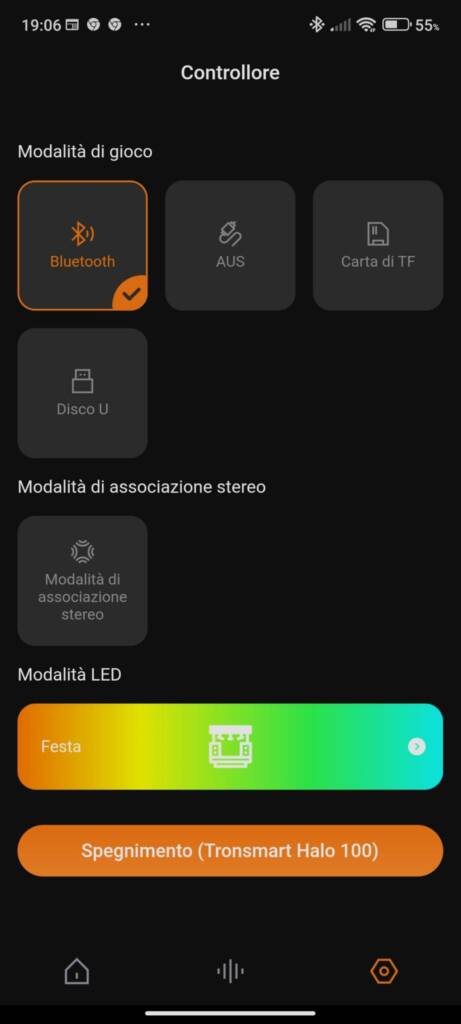 LIGHTING EFFECTS
For the party to be total we will also have the possibility to select a series of light effects that will be performed to the rhythm of the music played. Naturally, even if LED, they will affect battery consumption and therefore the autonomy of the speaker. I honestly keep them off also because they are really very flashy, then everyone has their own tastes. Surely if the sound is disco and the evening with friends will have its own why even keep them on! To switch from one to the other, just click on the appropriate button on the speaker or enter the appropriate application menu. Even from the latter it will be possible to turn them off.
Halo 100 PAIRING MODE
And if you are a fanatic of volume, sound pressure, power, you can then connect 2 Halo 100 and transform them into a single powerful speaker! In fact, they will play in TWS (true wireless stereo) and will reproduce the right and left channels separately to have a true and incredible stereo effect, as well as obviously doubling the power. But how does it work? all very simple.. get 2 speakers, check that they are NOT connected to any BlueTooth device. Just click once on the "pairing" button on both speakers. At this point they will start flashing (white color) and once connected the LED will turn solid white. Now you can really get the party started!!
HOW IT SOUNDS
This is the fifth Tronsmart speaker I try, none have disappointed me. But actually this is the best I've tried. The audio quality is very high thanks to the fact that we are talking about a 3-way loudspeaker (for the less experienced it means that there are 3 loudspeakers which divide the bass-medium-high sounds). The ability to adjust the equalization is certainly an incredible advantage, because if you are not satisfied with the default setting you can adjust it to your liking. But what I like most, as indeed on all Tronsmart products, is the depth of the bass. The 40Hz that reaches our speaker is a truly remarkable value to give us an excellent performance on the bass, as indeed the 20KHz on the high frequencies are remarkable to guarantee us a perfect performance even on these frequencies. The build quality is impeccable, as soon as you pick it up you immediately understand that it is a robust and well-made product. The upper handle, in my opinion, takes away a bit of its beauty but gives it great practicality for transport. In fact, this is a product clearly indicated to those who want to take it with them both indoors and outdoors (remember that it is IPX6 waterproof). If we want to find a negative note there is, and it is that not all keys are backlit so if used in the evening or in dark places it will be difficult to identify them. However, remember that all the functions can be used via the APP, consequently this remains a "workaround" problem.
But let's get to the question of price, which is certainly fundamental: the price list costs around €220 (a price that I consider appropriate) but as an introductory offer you can find it for less than half on the official website, Amazon and GeekMall. Below we put all the offers, the choice is yours!
GEEKMALL: Tronsmart Halo 100 a €99 with fast shipping from Europe included (use coupon:Q9EHN263) - CLICK HERE
AMAZON: Tronsmart Halo 100 a €100 - CLICK HERE
OFFICIAL SITE: Tronsmart Halo 100 a $100 - CLICK HERE
At this point we just have to wish you good shopping!
The ULTIMATE Speaker ++
A speaker that will really make you enjoy (musically speaking..)
PROS
Impeccable construction
Very good audio quality
Immersive bass
Fully controllable from the application
True Wireless Stereo
Infinite autonomy
Waterproof IPX6
All the most used audio inputs are present
Manual equalization
Light effects
CONS
Some non-backlit physical keys (difficult to find in the dark)
Add your review