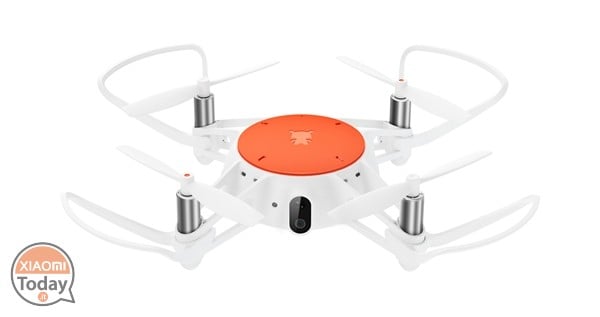 The drone mania is increasingly becoming popular but not everyone is willing to spend hundreds of euros on semi-professional models that maybe will use once a month. Without renouncing quality and technology, however, companies like DJI have put on the market so-called "toy" models as for example the recent Tello, but it is not necessary to be deceived by the term because the small drones offer many functions on a professional level.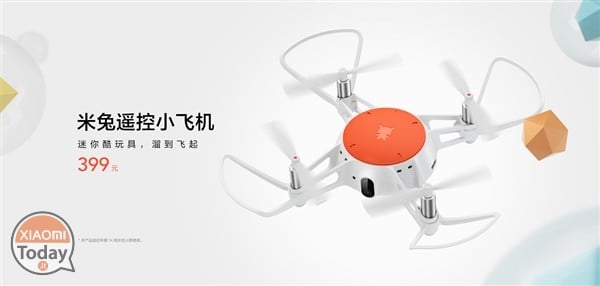 And the same road is also going along it Xiaomi who has recently presented a mini drone, from the weight of 88 grams and the dimensions of 11 cm that make the same ultra portable but at the same time does not give up stability provided mainly by the frame structure which takes into account the light weight of the fuselage. The bottom of the fuselage has a large area of ​​ventilation holes to guarantee the heat dissipation of the internal circuits during the flight. The mini drone of Xiaomi is made of plastic PP modified material making it more resistant to any falls. The propellers are made of fiberglass instead highly resistant and at the same time from the aerodynamic shape.
All pilots with the new Xiaomi mini drone
At the price of only 399 yuan, about 52 euros, the small drone of Xiaomi is equipped with a quad core processor to 1,2 GHz able to quickly process the data coming from the various integrated sensors, such as a kind of pressure gauge but also other sensors that contribute to making the drone stable in flight. To be commanded the Xiaomi drone uses the 5.0 GHz high frequency Wifi signal and low latency with distance of remote control up to 50 meters, maximum flight height of 25 meters but able to transmit FPV images format HD is 720p and 1600 X 1200 resolution photographs with the possibility of memorizing via internal storage from 4 GB. However, the integrated chamber is not orientable but fixed. The battery can be removed from the body and has one capacity of 920 mAh able to perform up to 10 minutes of flight.
Among the functions we find the headless mode, take-off from the palm of the hand, gravity detection, 360 ° acrobatic flight and other basic functions but one in particular is linked to the smartphone application, which provides a kind of virtual game. The small Xiaomi drone will be virtually placed in a three-dimensional scene where the aerial struggle is the basis of the game. Availability starting from the 26 April directly at the official Xiaomi store and various affiliates.
Are you interested in OFFERS? Follow our TELEGRAM Channel! Many discount codes, offers, some exclusive of the group, on phones, tablet gadgets and technology.