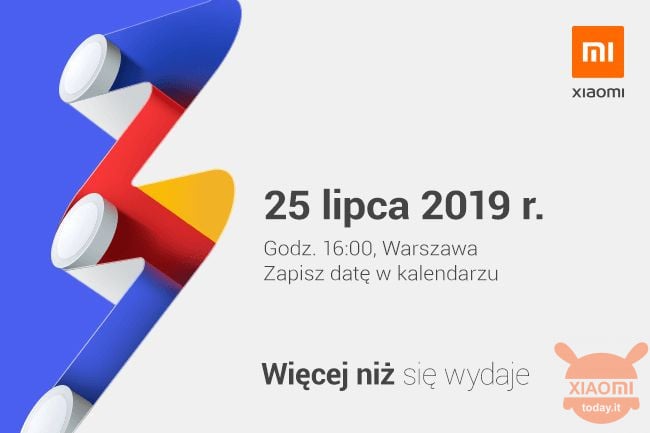 The time is ripe for the presentation of the company's next Android One smartphones, which this time will see Poland as the official location, where a dedicated event for 25 July 2019 has been set. In the widespread invitation to the Polish press, in reality there is no explicit mention of the Mi A3 but the formatting and design of the teaser are identical to what appeared instead on the net, where instead the references to Mi A3 are rather full-bodied.
So 10 days are missing to see the new Android One unveiled and only then could we have an answer to all the doubts about the new Xiaomi device. First of all there is no mention of a possible Mi A3 Lite even though the existence of the latter is actually quite evident, since everything seems to point to the fact that Mi A3 and Mi A3 Lite will have CC9 models as their basis for hardware and design. CC9E.
The video that appeared on the company's social media channels does not definitively confirm what has just been stated, limiting itself to showing the presence of a triple camera and a drip notch. Fortunately, Roland Quandt thinks about eliminating any doubts about this aspect, posting a series of images related to the next Xiaomi Mi A3, confirming that the device will be a global version of the recent Mi CC9, considering also that the latter will never see a Global ROM.
We will therefore have all the hardware base of the most powerful CC9 series, even if there might actually be some surprises at the processor level. In fact, many would make a Snapdragon 710 available while previous rumors move towards the direction of an 730 SD. Apparently the new Snapdragon 665 would seem to be confirmed, which could therefore invalidate the existence of the Lite variant of Mi A3.
In fact from the last images appeared on the net, they don't really seem to be doubts. Xiaomi Mi A3 will not have a partner (Lite) and will derive in all respects from the Xiaomi Mi CC9e, with the only difference that the AMOLED panel equipped on Mi A3 will boast a Full HD + resolution and not HD +. Some might be disappointed because they counted on the more powerful Snapdragon 710 but the change of SoC could bring a great advantage linked to a particularly aggressive selling price, equal to 229 euro in the basic variant.