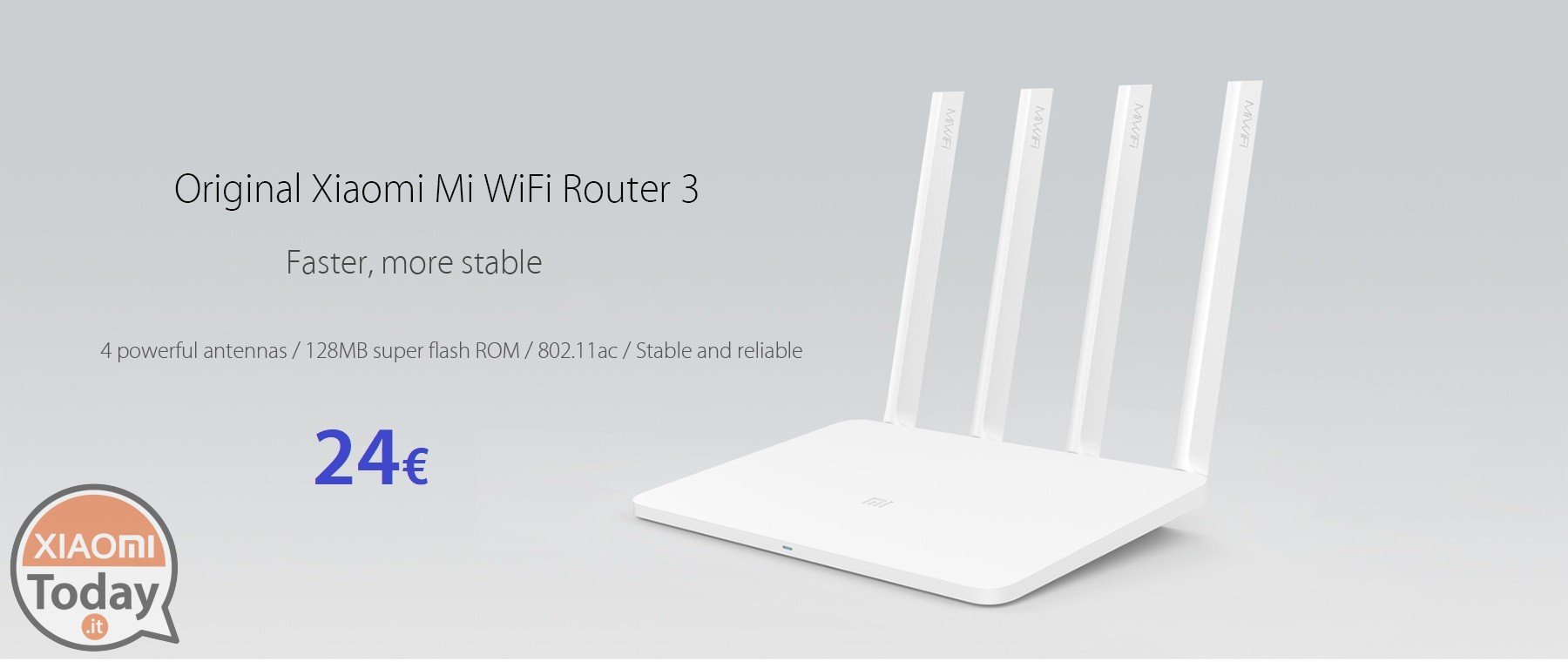 As you surely know, at the end of last month Xiaomi presented the third generation of Mi Router (along with other products) Xiaomi Mi Router 3, Mi Water Purifier 2 and Me Bluetooth Speaker Official |. Thanks to a user registered in the official MIUI forum, we are able to show you a photo unboxing of Xiaomi Mi Router 3, the current top networking device in the manufacturer's catalog.
Starting with the basic technical features, let's remember that the Xiaomi Mi Router 3 comes with:
802.11 ac connectivity (maximum theoretical speed of 1167 Mbps);
CPU Mediatek MT7620A;
Internal memory of 128 MB
RAM Memory of 128 MB;
4 external antennas;
Now, with the qualitative analysis of the product, we can not noticed the aesthetics of antennas that, unlike normal routers, have been rendered flat in order to make the set with the router more harmonious. Obviously, the antennas can be folded to suit the direction of the signal.
On the underside of the Xiaomi Mi Router 3 we find a large grid of aeration, ideal for keeping the internal hardware at not too high temperatures.
As for wired connectivity, we find an Internet WAN input, a USB port for HDD or pen drive and 2 Gigabit Ethernet ports. From the configuration it is known that Xiaomi's goal was to push users to use WiFi connectivity.
In order to configure it in the simplest way possible, Xiaomi has made available a QR code on the bottom of the Mi Router 3 which, if framed, will allow you to download the Mi WiFi app from the store (both Android and iOS). The configuration is quite simple, even if the Italian language is not present in the app.
Finally, we are talking about a device that, at the exchange rate, is costing, with our discount code, just Euro 30. In the coming days we will also look at the software configuration of the Xiaomi Mi Router 3, so stay connected with us.
via | Xiaomi Fans Italia
-49%

Coupon
Shipping Italy Express 0.7 € (Delivery 10 / 15gg, NO customs) selectable under "priority line"
Are you interested in OFFERS? Follow our TELEGRAM Channel! Many discount codes, offers, some exclusive of the group, on phones, tablet gadgets and technology.