Once upon a time people just called: the only trick was to have a field, or rather the "notches", but over time the technology has made it possible to make use of improvements such as VoIP or VoLTE, not to mention the possibility of calling via WiFi, so without having any "notch". In this regard, we remind you of the VoWiFi technology in this article, but the technology is always evolving and now VoNR is added to the many calling protocols.
Let's start by saying that VoNR stands for Voice Over New Radio, a particular technology for voice and video that works under the 5G SA network infrastructure. This allows for less than favorable latency and better picture and sound quality. Technology very similar to VoLTE, but using the new 5G connectivity, the quality in general is superior and without interruptions. And why do we talk about it? Why Xiaomi has begun to implement this standard within the MIUI to come.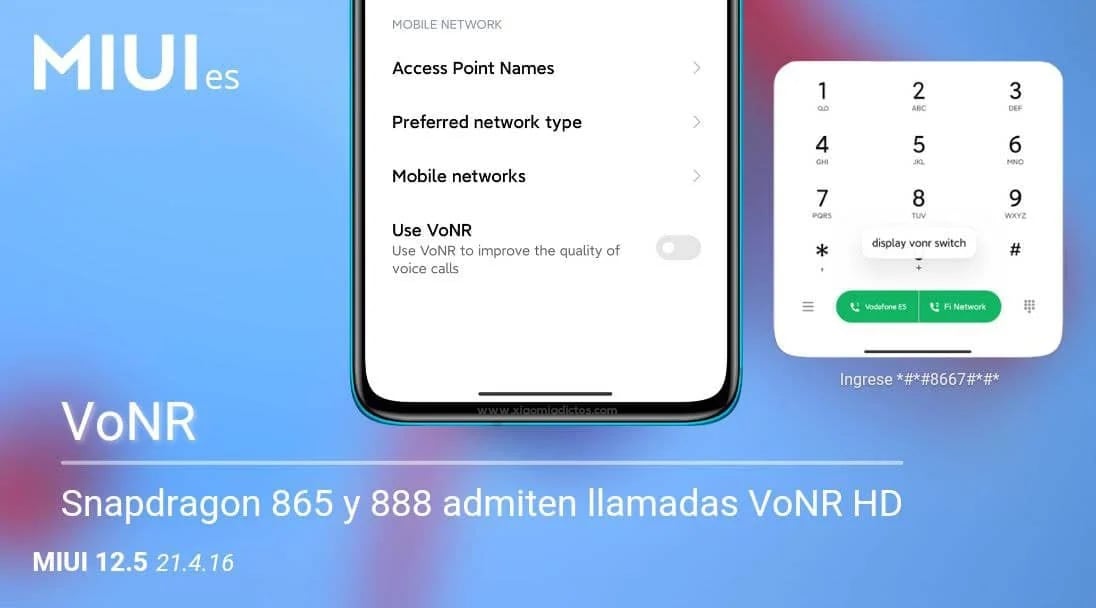 VoNR: what it is and how to activate it on your smartphone with MIUI ROM
However, we specify right now that while the VoWiFi technology is practically accessible to everyone, the new standard of VoNR calls from Xiaomi will be available exclusively for devices with Qualcomm Snapdragon 800 series processor. Specifically, VoNR has made its appearance in the MIUI 12.5 Beta and to be even more precise, Xiaomi has made VoNR available for devices with Snapdragon 865 and Snapdragon 888 processors, although the arrival is also rumored on models equipped with SD 870, such as the POCO F3.
In any case, to activate the function it is necessary to enable the developer mode, in which you will find the relative item in the vast menu, but even more immediate is the possibility of activating the function simply by typing the command from the telephone dialer: * # * # * # * # 8667, following which you will see a new window appear with the option to activate VoNR calls.
As already mentioned, this feature is currently only available through the latest MIUI 12.5 beta and for devices equipped with the aforementioned CPUs. In any case, we should wait some more time to understand the potential of VoNR, but if any of you have already experienced it, do not hesitate to have your say in the comments box below.
Are you interested in OFFERS? Follow our TELEGRAM Channel! Many discount codes, offers, some exclusive of the group, on phones, tablet gadgets and technology.