WeMax Says 1080P is the Xiaomi projector that aims to conquer this market too thanks to the support of Google Android TV and an unsurpassed quality / price ratio.
Design
Aesthetically it is almost a cube and measures 155x125x160 for a weight of only 2.2kg. It has a refined and minimal design, interrupted only by the leather carrying handle since the WeMax Dice has a 16.000mAh built-in battery which allows the vision of about 2 hours even outdoors.
Frontally the lens is off-center and flanked by a small optical sensor that allows the auto focus. In the back we find the inputs for the power supply, the USB 2.0 port and HDMI 2.0. There is also an analog audio output to connect headphones or other audio media.
At the bottom it is present a convenient threaded connection useful for fixing the projector to the ceiling but also compatible with photo tripods.
On the sides, the "honeycomb" design hides a large amount of holes that guarantee excellent heat dissipation while maintaining noise levels at acceptable levels (<32dB).
The WeMax Dice is equipped with a bluetooth remote control customized for use with Android TV, there is therefore a microphone for giving voice commands and dedicated buttons for accessing the apps.
Video
The video sector is very respectable. There resolution is Full HD with 4K downscaled support and allows a clear and uniform view of high definition content. The RGB + BP LED reaches a brightness of 550ANSI Lumens, sufficient even for viewing in a partially illuminated environment. The LEDs are certified for an average life of 30.000 hours. We also have the 3D support for lovers of the genre.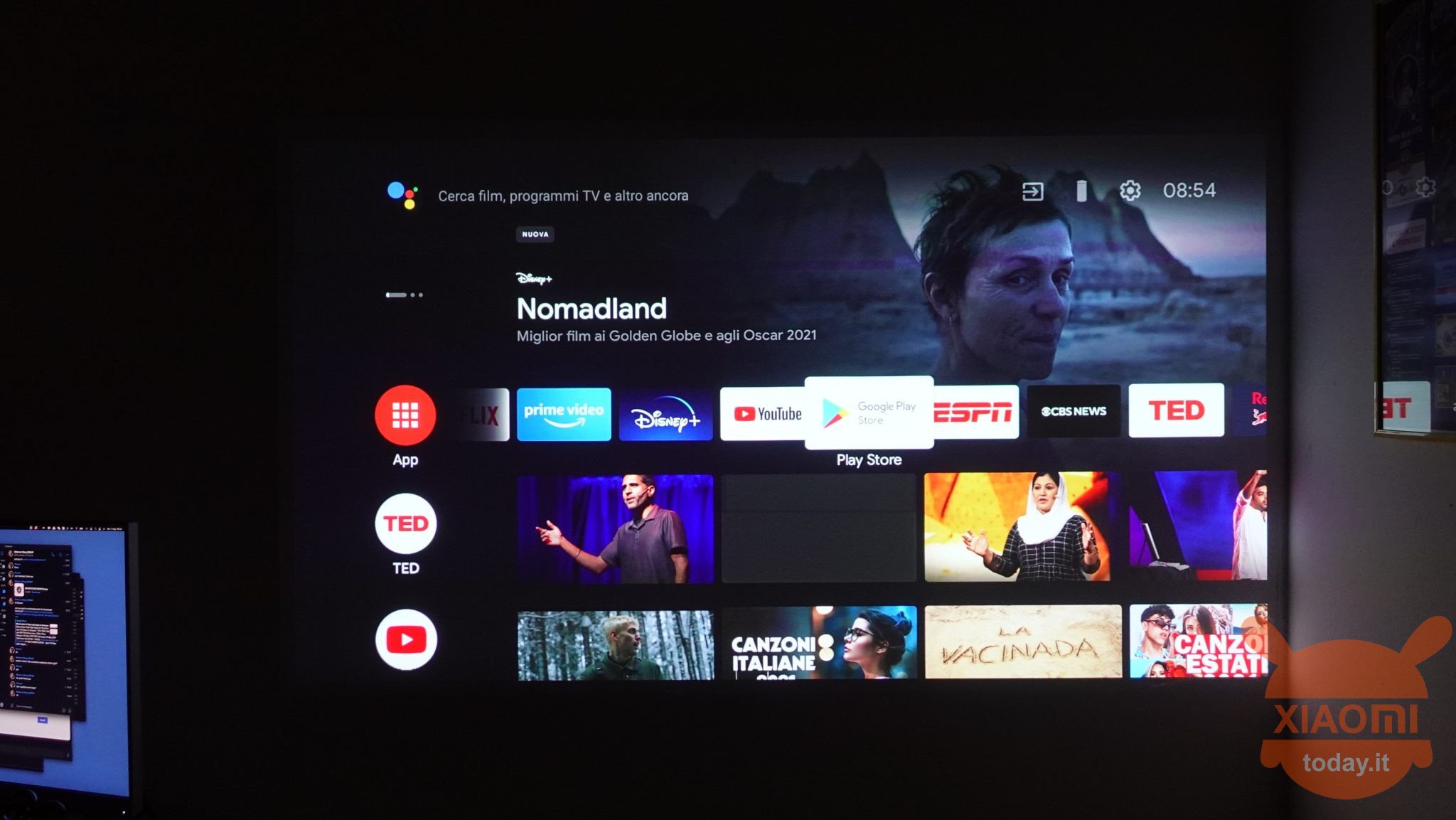 Although the WeMax Dice can project images up to 200 ″ optimal vision, both in terms of definition and brightness, is obtained between 60 "and 120" between 1 and 3 meters away.
La focusing occurs automatically at every start, when you move it, but there is also an option in the Android TV interface to run it while in use. It is possible to adjust the keystone correction (Keystone) both vertically and horizontally very accurately and up to + -45 °.
It is also possible to make the necessary corrections based on placement: classic or ceiling, in front or behind the projection screen.
Also for the image we find a series of presets: standard, vivid movie, sport, child. As well as you can customize the brightness, contrast, saturation, sharpness, hue and temperature. I personally found it in the preset "film" the best color rendering.
Finally you can choose between three brightness modes. Office mode, which offers a more powerful light suitable for presentations. View mode, which is the most balanced and preferable choice for multimedia content. Eco mode, which offers greater autonomy at the expense of brightness.
Audio
The audio of the WeMax Dice is truly spectacular. Great power thanks to two speakers from 5W, but above all great quality thanks to double DTS + DOLBY certification
Always clean sound and very powerful bass, makes watching movies a real pleasure and always engaging.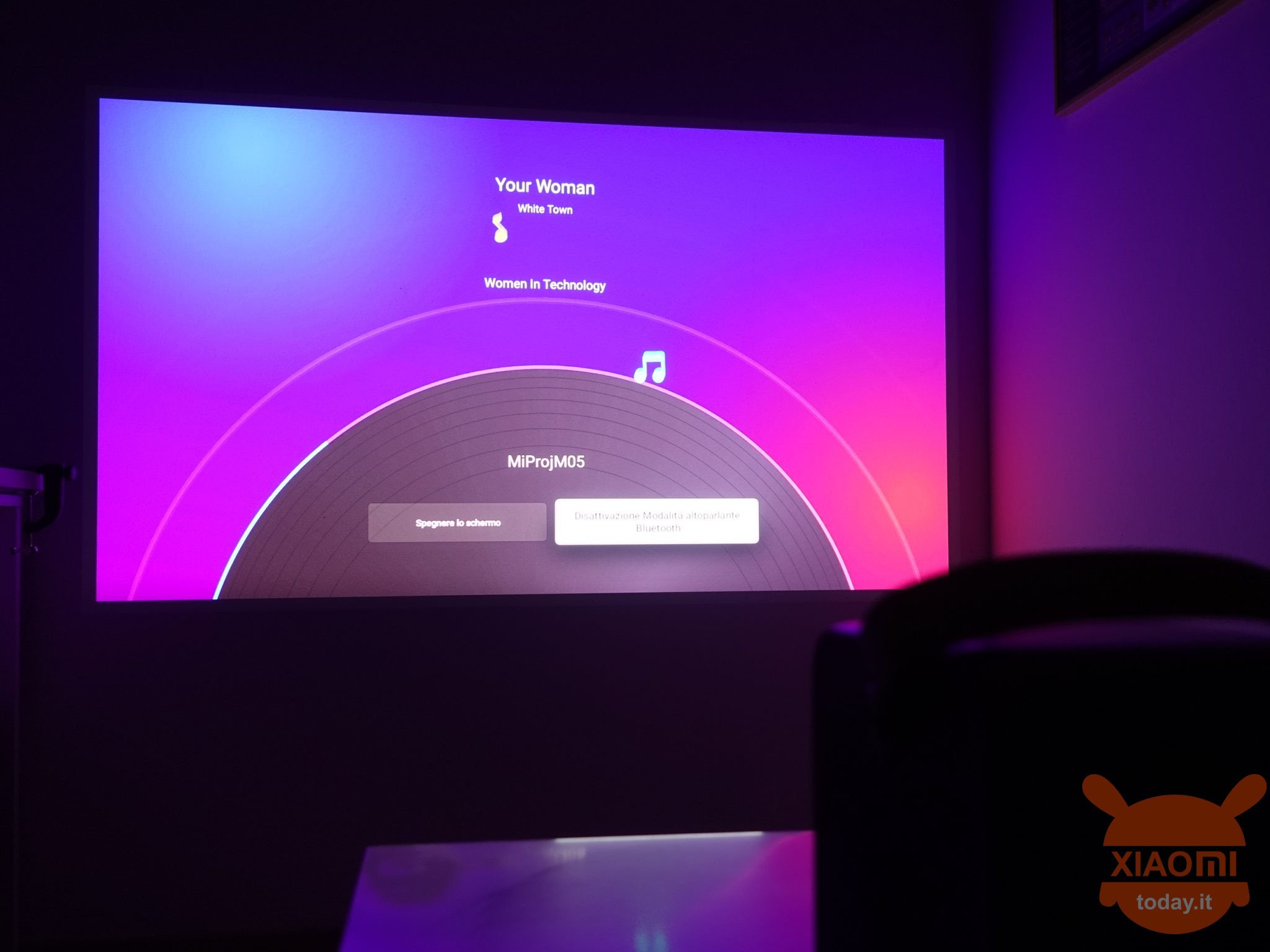 There is even a function that allows you to use the projector as bluetooth speaker exploiting. Just press the on / off button to access it.
Interface
Compared to its Fengmi clone, in this Global version we find Android TV google instead of Xiaomi's MIUI TV.
We therefore have a familiar operating system with support for the playstore and most of the titles available. On the other hand, there is no support for Netflix and Prime Video which, however, can be installed via USB key or alternative stores such as Aptoide Tv.
Under the hood of the WeMax Dice we find a great hardware: Amlogic T968-H SoC, 2GB of DDR3 RAM and 16GB eMMC of ROM. In fact, the interface is sufficiently fluid and the decoding of 1080P movies is always flawless. The 16GB of ROM are instead a limit, especially considering that some of the pre-installed apps (ESPN, TED, CBS, Red Bull) are not removable and leave 11gb available to the system, however more than enough if you do not intend to install games.
Support is also present chromecast with which we will be able to send video broadcasts from the apps that support it from our phone.
WEMAX DICE - Conclusions and Offers
The WeMax Dice proposes itself with interesting features, able to satisfy even demanding users. More than good video quality and brightness combined with immersive audio, offer a truly enjoyable experience.
But the thing I liked most was ease of use. The autofocus and Google interface allow you to be up and running in minutes and enjoy our favorite entertainment without many settings or problems, even on the go.
Il price of 372 € gives it an unbeatable price / quality ratio and makes it an unbeatable product in this market segment.
It is possible to buy it on offer on BangGood at this page a 372€ using the discount code BGE343 before payment (top right). There shipping is free from CZ warehouse in Europe and delivery takes about 4 days.
Are you interested in OFFERS? Follow our TELEGRAM Channel! Many discount codes, offers, some exclusive of the group, on phones, tablet gadgets and technology.
WEMAX SAYS
Beautiful, compact, bright and with Android TV. The WEMAX DICE is the best projector you can buy for 370 €
PROS
COMPACT
ALSO WORKS ON BATTERY
GOOD BRIGHTNESS
ANDROID TV
Add your review