Yes ok, it's not a Xiaomi device, but when we find some useful or noteworthy devices in our hands, we like to report it to you. This is the case of the WXLight YM a table mushroom / light that has become a perfect complement to my stay.
The WXLight YM is first and foremost a design element since it contains all the characteristics in a pleasant mushroom shape that is well suited to incorporate all its functions: Light - 5 USB Charger - Dock for Smartphones and Tablets. Made of ABS plastic (maybe a little light) does not disfigure at all even if placed in a living area, ensuring a nice effect "that's what?!?!" To your guests.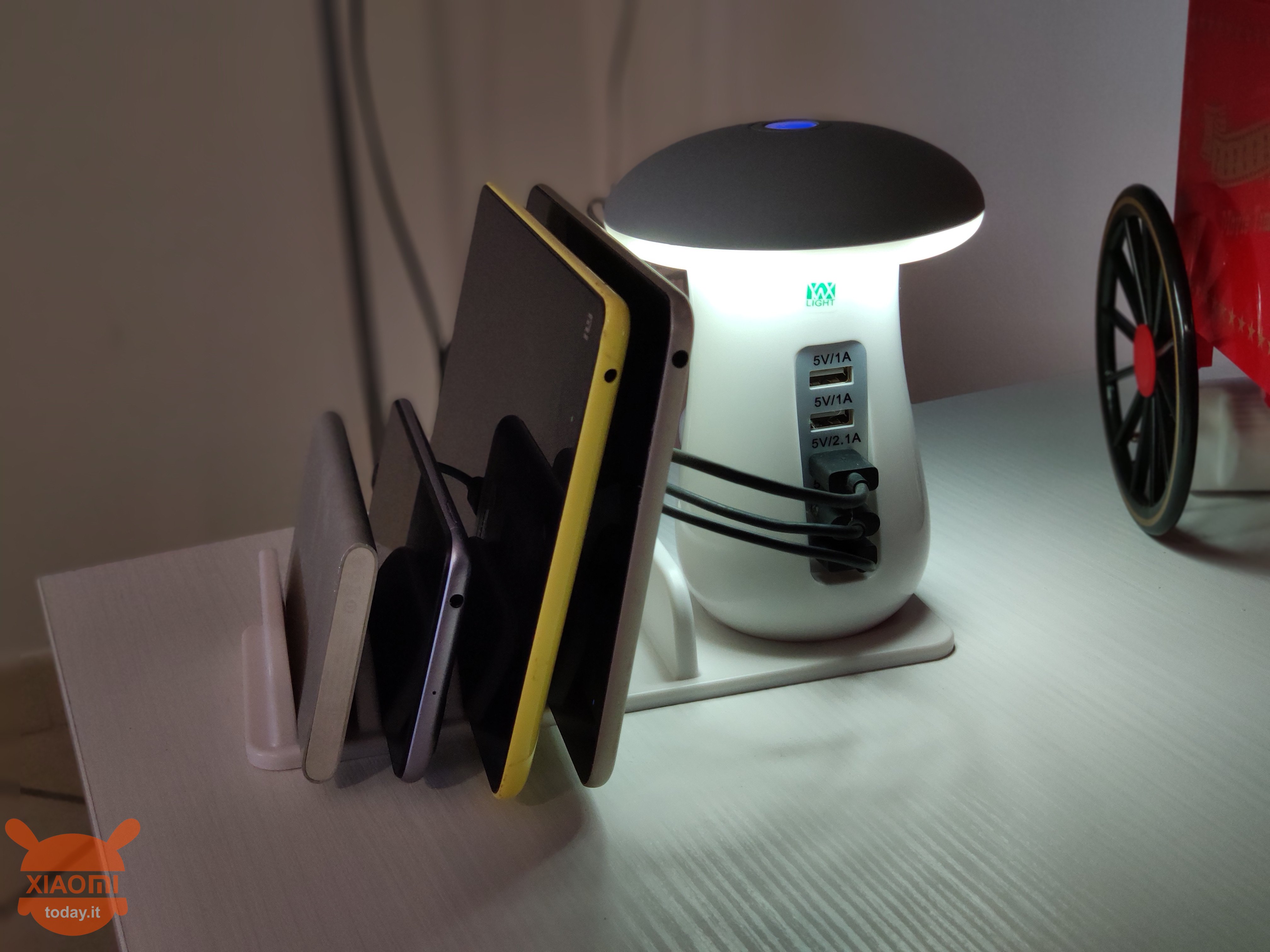 From a technical point of view, it is a real one multiporte charger capable of feeding / loading 5 devices at the same time. The supplied ports are distributed as follows: 2 x 5v / 1A - 2 x 5V / 2.1A - 1x Qualcomm Quick Charge 3.0.

If on the one hand the two 1A ports, although still useful, are a bit outdated, the presence of a Quick Charge 3.0 port is definitely a plus compared to other more famous and expensive chargers. The power cord for that comes with the "Italian" plug

and we will therefore not need additional adapters.

In addition to these five doors, there is also an additional one in charge of housing the hat of the mushroom that lights up with a soft and pleasant light. Nothing prevents you from using this door as an additional source of recharge.
Incorporated with the body of the mushroom, there is a rack that acts as a However, for your devices during the charge. 5 are the housings, one for each USB socket, all able to accommodate different types of devices: from the powerbank to the tablet.
Coming to conclusions, I confess that initially I was a little puzzled about the quality of the product to the point of hesitating almost two months before proposing it. But now, after a long time, I have to change my mind and I can still confirm its perfect functioning. If we consider the price of only 19 € I can not recommend the purchase.
Are you interested in OFFERS? Follow our TELEGRAM Channel! Many discount codes, offers, some exclusive of the group, on phones, tablet gadgets and technology.