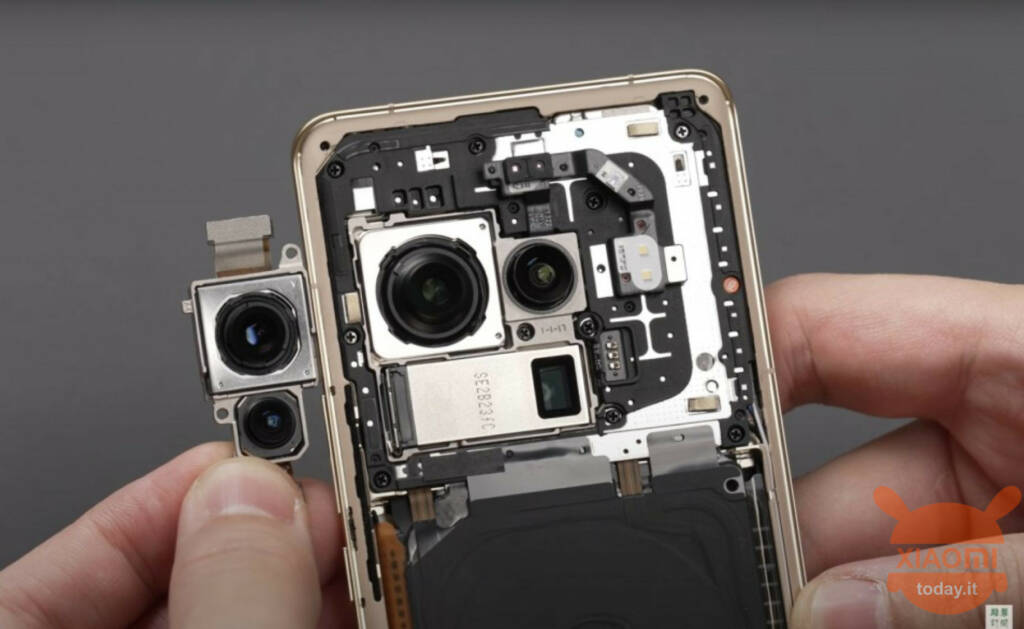 Xiaomi 12S Ultra he debuted a few days ago with his younger brothers 12S e 12SPro. This smartphone is characterized not only by a design that is decidedly distinguishable from the crowd, but also by a photographic sensor among the largest (if not the largest) in circulation. Let's talk about a Sony IMX989 50 megapixel camera with Leica Summicron optics, which has an area of ​​1 ″. Today, shortly after the launch in China, we are going to see the first video teardown of the smartphone by a well-known blogger from Middle-earth. Watch out: the video is not for the faint of heart!
The Xiaomi 12S Ultra video teardown shows us from the inside how the smartphone with the largest photo sensor in the world is made (for now)
One of the key features of the new Xiaom 12S Ultra i flagship is the main camera with an industry-leading sensor. The bloggers of the YouTube channel of Weki Home they were among the first to look under the "hood" of the smartphone and to evaluate them live sensor size, also studying the original design. It is worth noting that the optical format does not reflect the physical dimensions of the image sensor. In other words, the IMX989 sensor is actually less than the declared diagonal inch. However, it has an impressive size compared to the 50 megapixel (1 / 1,28 ″) Samsung GNV. The authors of the video measured the maximum thickness of the smartphone's rear camera module - it was an impressive one 11.06 mm.
Read also: Xiaomi 12S: the series will not be Global but nothing is lost!
To incorporate such a large component in the body of the smartphone into the body, the Xiaomi engineers have positioned two printed circuit boards on top of each other: When viewed from the side of the back cover, the processor, RAM and storage are underneath. For heat dissipation they are used copper plates and thermal paste, as well as a specially designed evaporation chamber. At the same time, inside the device there was room for a large battery from 4860 mAh.
Xiaomi 12X | 8 GB - 256 GB | Grey
1 used by 474,11 €
512,25

€

699,90

€
available
6 December 2022 23: 55

Amazon.it
Price updated on: 6 December 2022 23:55