Xiaomi has always accustomed us well with their devices, distinguished by theexcellent value for money, but in the last period it seems that there are too many compromises which the user has to submit to and which inevitably have diverted them to other shores, such as Realme which increasingly seems to be gaining ground and popularity. Well, with the latest smartphone Xiaomi 12t, Lei Jun's brand has put things back into context, churning out a specimen that has literally bewitched me, not only for the specifications but also for the price, one of the lowest if we look at the high end of the market. So I'm talking about it in this complete review, which as you can read from the title is already a whole program.
Xiaomi 12T 5G - Smartphone 8 + 128GB, 6,67 "120Hz AMOLED CrystalRes Display, MediaTek Dimensity 8100-Ultra, ...
3 used by 473,87 €
515,89

€

599,90

€
available
Xiaomi 12T 5G - Smartphone 8 + 128GB, Display AMOLED CrystalRes 6,67 "120Hz, MediaTek Dimensity 8100-Ultra, Camera ...
1 used by 494,90 €
Xiaomi 12T 5G - Smartphone 8 + 128GB, Display AMOLED CrystalRes 6,67 "120Hz, MediaTek Dimensity 8100-Ultra, Camera ...
1 used by 523,33 €
532,56

€

599,90

€
available
Price updated on: 10 December 2022 6:02
XIAOMI 12T : WHO ENJOYS THE DISPLAY
We should applaud Xiaomi for what concerns the aspect linked to the display, whether it is an entry level or top-of-the-range smartphone, as what it manages to pull out in terms of color rendering is always excellent and superior to many competitor. Having said that, I want first of all to reassure you that on this Xiaomi 12T, the company has reported the physical proximity sensor and no longer virtual, thus eliminating any problem during calls or when listening to voice messages.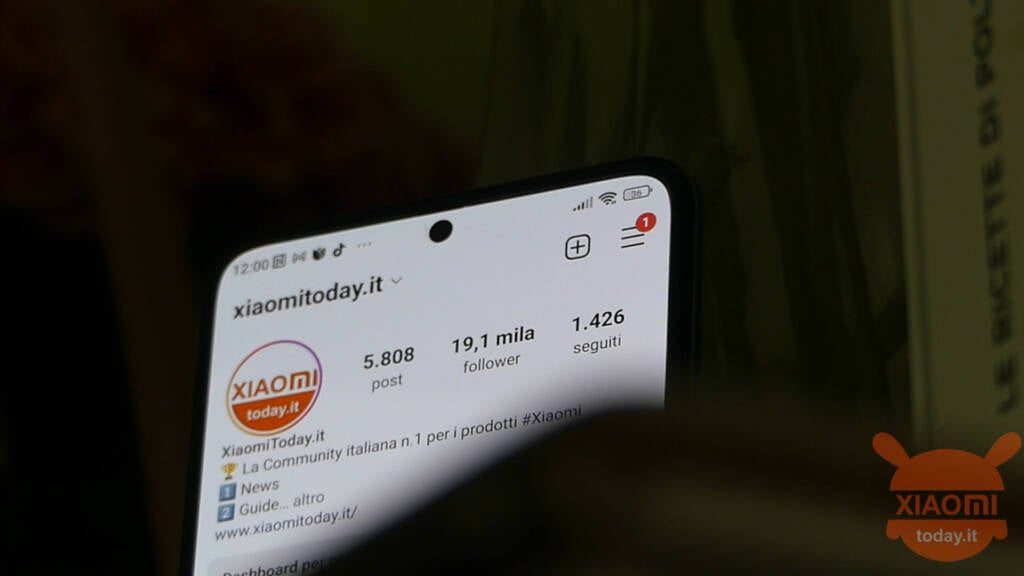 Moving on to the specifications, the Xiaomi 12T screen is a panel from 6,67 inches diagonal format 20:9, with resolution 2712 1220 pixels x, 446 ppi and technology AMOLED. There is no shortage of all the supports for the quality standards of multimedia content viewing, such as DRM Widevine L1 recognized by all streaming platforms, HDR10 +, Dolby Vision but above all the color profile DCI-P3 and technology TrueColor.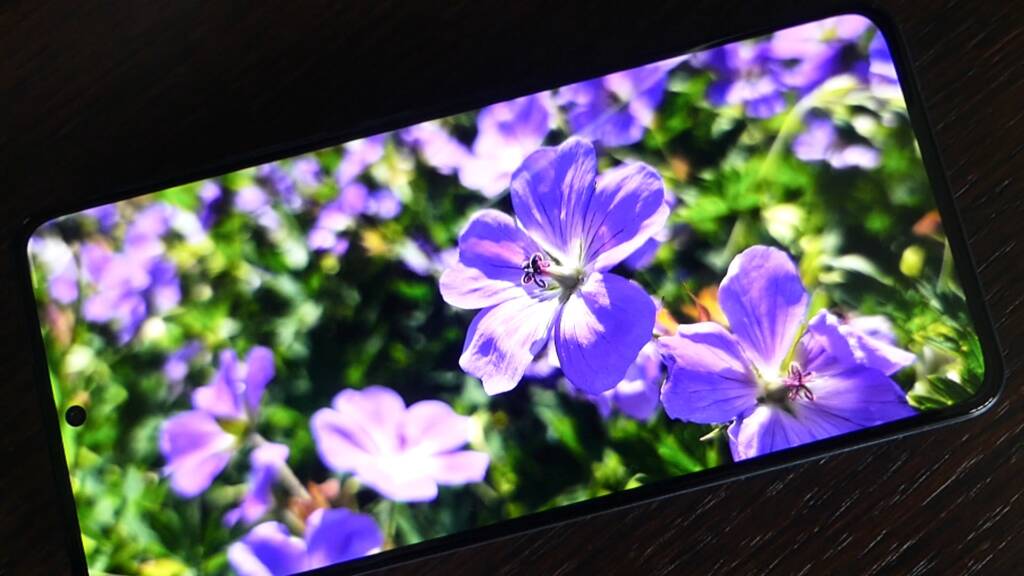 The display is protected by a glass Corning Gorilla Glass 5, but what is appreciated at first sight is the extreme fluidity thanks to a refresh rate up to 120 Hz with function AdaptiveSync from 30 to 120 Hz already native, as well as a peak brightness that reaches 900 nits, making it possible to view content on the screen even under direct sunlight. It goes without saying that we are in the presence of colors so well reproduced that it seems to look at reality through a window on the world... in short, without making it too long, the Xiaomi 12T display is exceptional, a pleasure for the eyes, for the mind and also for the hands, because the presence of a touch sampling rate up to 480Hz, makes every gesture fluid and responsive, a godsend for players.
There is also an excellent biometric sensor under the display, to make the whole experience related to design even more enjoyable, which responds well to fingerprint recognition, unlocking the smartphone quickly without ever missing a beat.
BETTER MEDIATEK THAN QUALCOMM
Also on the hardware front there is really nothing to complain about, although someone may turn up their nose in the presence of the CPU used on this 12T. In fact, compared to the older brother 12T Pro that brings with it the new Qualcomm chip, the Snapdragon 8+ Gen 1, on the Xiaomi 12T we find ourselves in the presence of the brand new MediaTek Dimension 8100 Ultra, SoC with production process a 5nm and clock up to 2,85 GHz which is accompanied by the Mali G610 MC6 GPU.
First of all, compared to the big brother, the 12T never overheats, because beyond that to rely on a liquid cooling system with larger vapor chamber, MediaTek's solution appears less energy-intensive and better optimized at the software level. Everything is then enriched with one 8 GB RAM of LPDDDR5 type e 128/256 GB UFS 3.1 internal storage not expandable. With the new processor from MediaTek no benchmarks are needed to demonstrate the brute force with which this device tackles the toughest tasks, such as gaming, but above all and I repeat, during the day there are no significant temperature problems or strange bottlenecks due to thermal throtteling.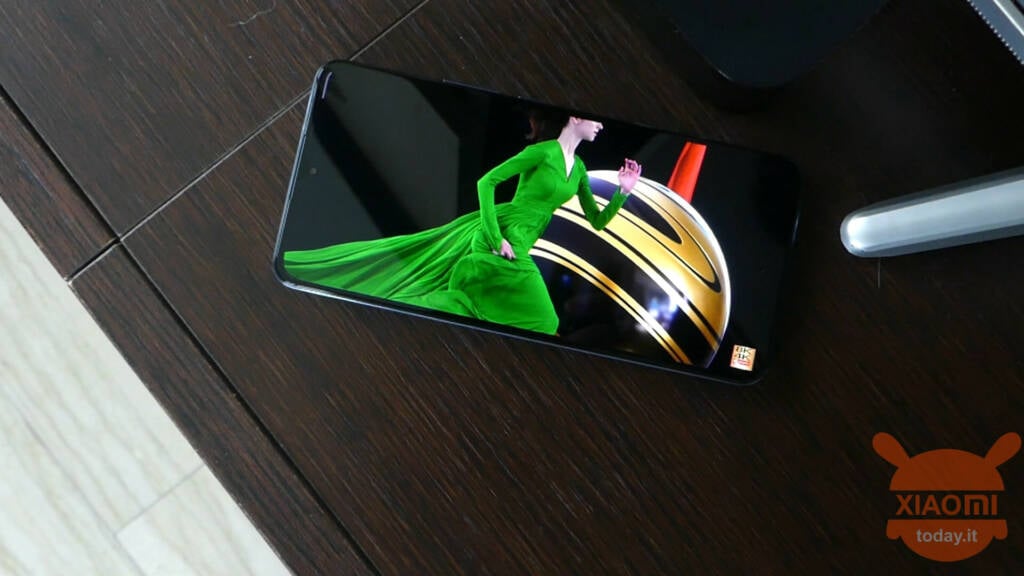 The rest of the hardware and connectivity consists of NFC, Dual SIM 5G NSA / SA, WiFi 6, Bluetooth 5.3 with dual LDAC and GPS codec support. Top performance and connectivity, without ever any jamming, make MediaTek's solution preferred to Qualcomm's pumped CPU, considering that we can save a lot of money compared to the Pro model.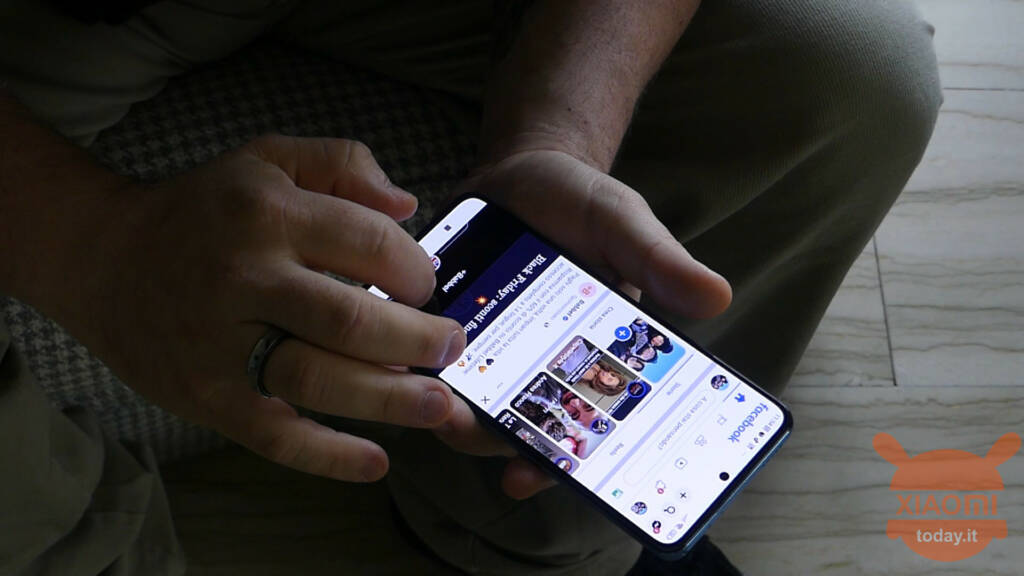 DESIGN AND MATERIALS OF TECHNOLOGICAL EXCELLENCE
Probably Xiaomi 12T is not the most iconic and original smartphone on the market, but his assembly and construction are perfect under every single millimeter analyzed. The slightly curved profiles help in grip, as far as the dimensions (163,1 x 75,9 x 8,6 mm for a weight of 202 grams) are not really designed for absolute ergonomics., but still can also be used with a single hand. Overall, however, the feeling at the first try is quite pleasant also due to a body with an opaque treatment that does not attack neither dirt nor fingerprints, thus enhancing the 3 different colors which Xiaomi 12T is available, that is silver, blue and black.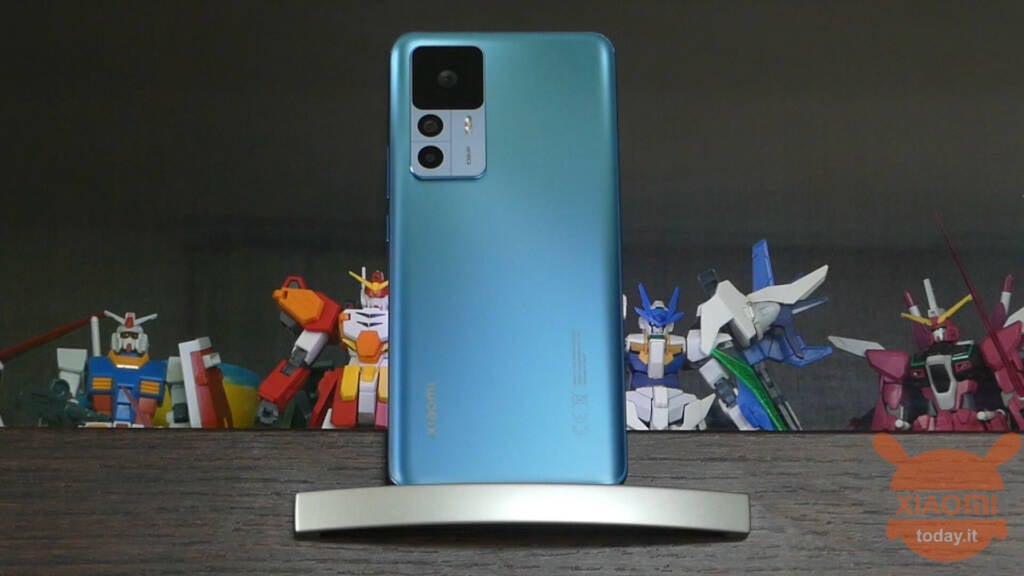 The frame, unfortunately, is made of plastic, but still rich in elements, such as the IR transmitter and a dual stereo speakers with content support Dolby ATMOS. The only absent is the 3,5 mm jack for wired headsets, as well as an additional slot for micro SD cards, as the one present only supports 2 SIM in nano format.
What does not go unnoticed is certainly the bump room, albeit the insertion in a rectangular module does not weigh down the aesthetics too much, but the protrusion of the same must be considered, which levels out with the cover to protect the device, supplied in the sales package. In this regard, a launch in favor of Xiaomi 12T, is that despite him it is a top of the range, does not lack anything in the equipment of the sales box, such as a charging and data transfer cable, a 120W battery charger, a pin for removing the SIM tray, the cover and a pre-applied film to protect the display. If we consider that top of the range from over 1000 euros, they limit themselves to providing themselves and nothing else, I would say that a round of applause to Xiaomi goes all out.
For the sound that comes out from the double speaker I can only congratulate the brand, which has managed to perfectly calibrate the sound spectrum, with well-present, warm and vigorous basses but without ever distorting.
XIAOMI 12T : 120W TURBO RECHARGE
Xiaomi 12T, net of what we have told ourselves, could suggest that it is not able to offer adequate autonomy for a whole day of use, but even in this area it does not disappoint at all, behaving at its best in every situation. In fact, we find one 5000 mAh battery, with clear improvements in terms of energy optimization compared to the previous generation, such that they would also allow us to reach a two full days with less stressful use.
However, even with more demanding use, the smartphone always reaches evening with excellent results and badly you can always give a recharge on the fly, or rather, I say, do the full of energy in just 19 minutes thanks to a turbo charging from 120W with technology HyperCharge proprietary, naturally with charger supplied.
MIUI 13 BUG FREE BUT NOT BLOATWARE
Although I still have many words to spend on this smartphone, at the software level I have poco to add, as we are faced with the usual MIUI, here in version 13.0.8 of type Global based on Android 12 and patch is September 2022. MIUI is one of those software interfaces that overshadows the real operating system, relying on a strong customization in terms of graphics and functionality. Spesso poco optimized on the top of the range, but on this 12T, I did not see any problems, nor slowdowns of any kind. Unfortunately, however, the Chinese brand did not miss the opportunity to be criticized, inserting a huge amount of bloatware at the first start, all of which can be uninstalled but still a nuisance for the user who has to spend the first few hours eliminating unwanted apps, instead of enjoying. this technological gem. For the rest, the company guarantees two major updates for the operating system and 4 years of security patches.
TOP CAMERAS AND VIDEOS BUT NOT FOR THE NIGHT
As you well know it is not the megapixels that make a photo a beautiful photo, but on Xiaomi 12T we can still count on a 108MP primary sensor (pixel binning 9 in 1), with good data supplied for focal aperture, equal to f / 1.7 and dimensions of the 1 / 1.67 ″ sensor, whose further advantage is that of being optically stabilized.
So the 200 MP of the older brother 12T Pro but also of devices like Motorola's Edge 30 Ultra, do not scare the photographic and video performances of the 12T, capable of also shoot in RAW mode and of course the mode dedicated to professionals, with which to set every single parameter of a shot. There is also a lens ultrawide 8MP f / 2.2 with 120 degree FOV and further optics dedicated to macro mode, from 2MP f / 2.4. Someone defines such optics disappointing, but having them does not hurt and in certain situations it is fun to take out very particular photos.
Broadly speaking, the performance of this smartphone is good, with captures great details by day and truly lifelike colors, while it is with the dimming of the lighting that the software in combination of the sensors, which is going to get some smudging. Excellent videos that can be captured with resolution up to 4K is 30fps not to mention the many modes supplied with the software, both for video and photos, allowing you to take home memories worthy of a professional.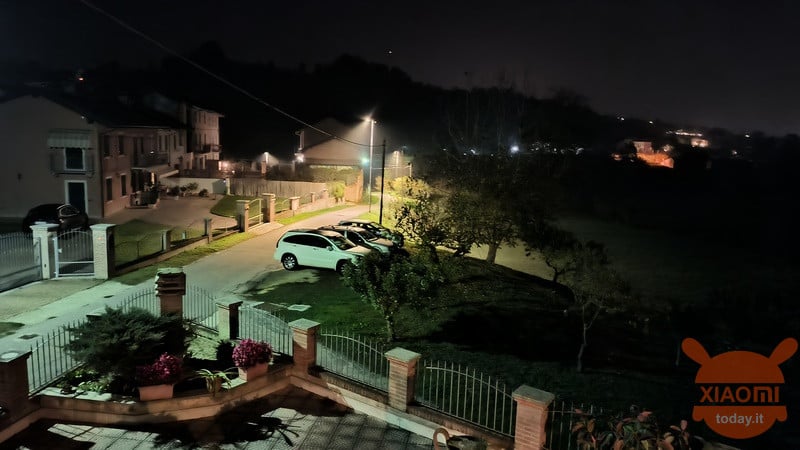 The selfie sensor is 20MP with f / 2.24 aperture, also capable of capturing video up to 1080p 60fps, which does its job excellently, as long as you remember to deactivate any beauty effect. For the portrait mode you do not realize that this is of the software type and in general, although it is not and does not claim to be a camera phone, Xiaomi 12T is a cut above in terms of quality compared to many direct competitors.
XIAOMI 12T - PRICE AND CONSIDERATIONS
It must be said: Xiaomi 12T is a smartphone not to be missed if found at the right price, as the launch one could be, equal to 499 €. At the moment the official price is slightly higher, but on our Telegram channels We are punctually ready to amaze you with last minute street prices.
Apart from that, even the official list price still seems attractive, if we consider that top-of-the-range smartphones for over 1000 euros already disappoint from the unboxing experience, due to the absence of basic accessories such as the charger. Xiaomi 12T is a complete smartphone in every area and future software updates can only further improve this specimen. I can recommend it with my eyes closed, because he doesn't disappoint in any area and these days finding a smartphone that you don't have to settle for just for the high price you paid is a lot of stuff.
Xiaomi 12T 5G - Smartphone 8 + 128GB, 6,67 "120Hz AMOLED CrystalRes Display, MediaTek Dimensity 8100-Ultra, ...
3 used by 473,87 €
515,89

€

599,90

€
available
Xiaomi 12T 5G - Smartphone 8 + 128GB, Display AMOLED CrystalRes 6,67 "120Hz, MediaTek Dimensity 8100-Ultra, Camera ...
1 used by 494,90 €
Xiaomi 12T 5G - Smartphone 8 + 128GB, Display AMOLED CrystalRes 6,67 "120Hz, MediaTek Dimensity 8100-Ultra, Camera ...
1 used by 523,33 €
532,56

€

599,90

€
available
Price updated on: 10 December 2022 6:02
XIAOMI 12T
Finally a top of the range without any compromise and limitation. Xiaomi listened to its users and reintroduced the physical proximity sensor ... no more accidents in listening to messages and answering phone calls, but above all Xiaomi 12T is unrivaled at the price it is offered.
PROS
STEREO SOUND
FAST CHARGE 120W
120 HZ DISPLAY
AUTONOMY
VIDEO IN HDR10 +
GENERAL PERFORMANCE
STABLE SOFTWARE
PRICE
CONS
PHOTOS AND VIDEOS AT NIGHT
Add your review