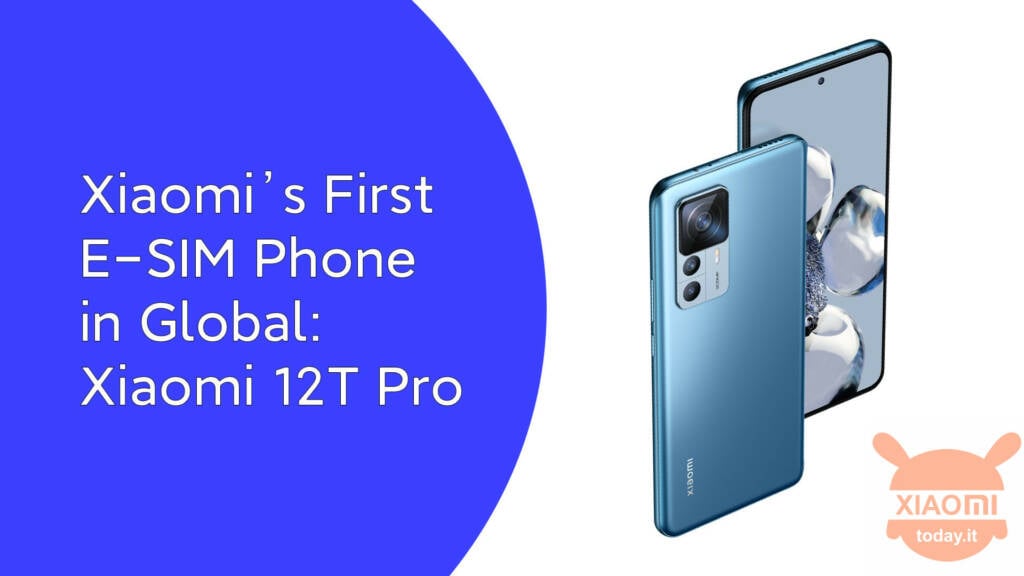 Just today we told you about a comparison between Xiaomi 12T and Xiaomi 11T, but with this article I want to pay attention to the super top of the range Xiaomi 12T Pro. However, I will not talk about performance nor about technical specifications of a "technological gymnast", but I will focus on the eSIM functionality, which is now increasingly gaining ground .
To tell the truth, it has undergone a surge with the launch of the iPhone 14 series, which in America is sold exclusively without a SIM tray precisely because the management of the mobile connection passes through eSIM support. For the uninitiated, eSIMs are virtual SIM cards and soon the various OEMs will replace physical cards with electronic ones.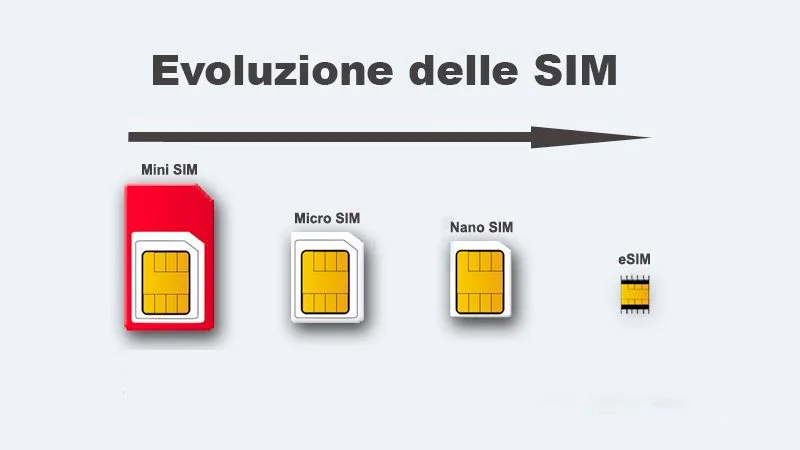 There is no rush and do not worry about having to change your smartphone on the fly, considering that there are still few devices with this technology on board and especially few managers to offer it.
In any case, the problem does not arise for Xiaomi 12T Pro, which not only supports eSIM technology, but this is compatible globally, even in Italy and therefore you could take it into consideration if you were also aiming for this feature.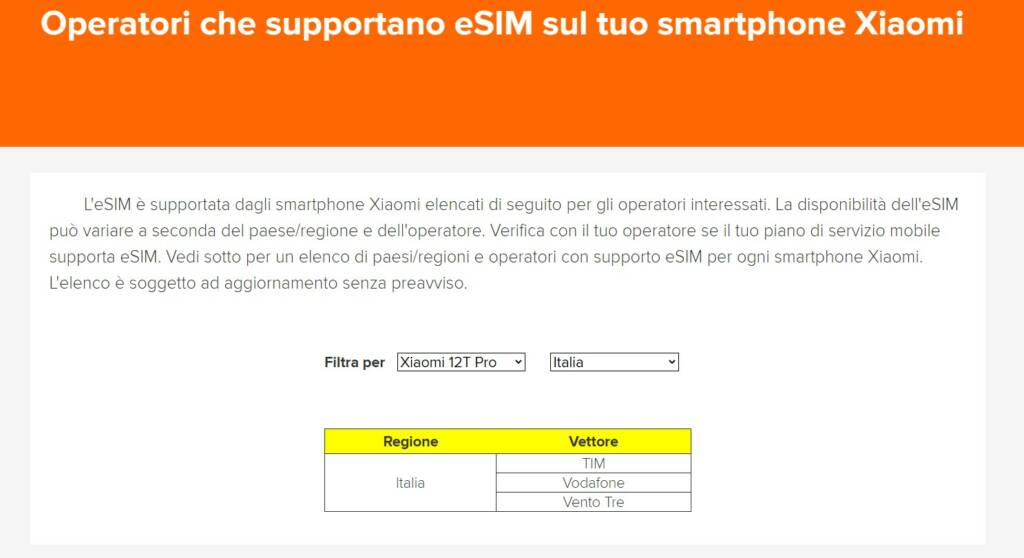 Of course there is also support for the classic physical SIM, in nano format, but be careful where you will buy the device, as there are two configurations of Xiaomi 12T Pro, namely nano SIM + eSIM and nano SIM + nano SIM. Basically, if your new top of the range comes from countries like Germany, Italy, France, Japan and Malaysia, you can use the eSim.
In reality, eSIM support is not a first for Xiaomi 12T Pro considering that the eSIM functionality is also available on Redmi Note 10T but only in Japan. Furthermore, some rumors report that the upcoming Xiaomi 12 Lite NE will also support this function.
Just as a memorandum, we summarize the specifications of Xiaomi 12T Pro, a smartphone that boasts a 6,67-inch AMOLED screen with a resolution of 2712 × 1220 pixels and a maximum refresh rate of 120 Hz. The phone is powered by the Qualcomm Snapdragon chipset 8+ Gen 1, 12GB of LPDDR5 RAM and 256GB of storage.
It is also one of the few specimens to boast a new 200 megapixel primary sensor that has received a lot of acclaim even on the current competitor Moto Edge 30. Finally, the 12T Pro has a 5000 mAh battery and supports 120 W fast charging. Not bad at all. ? Perhaps the price a little too out of tune compared to the good habits of the Chinese brand, but if you are not interested in swashbuckling specifications and not even in eSIM support you can consider the Xiaomi 11T Pro, which at the moment you find at a super price to be seized on the fly .
Xiaomi 12T Pro 5G - Smartphone 12 + 256 GB, 6,67 inch AMOLED CrystalRes display 120 ...
1 used by 718,33 €
779,22

€

899,90

€
available
5 December 2022 8: 47

Amazon.it
Xiaomi 11T Pro 5G - 8 + 128GB Smartphone, 6.67 '' AMOLED Display at 120Hz, Snapdragon 888, Camera ...
57 used by 376,32 €
557,97

€

649,90

€
available
5 December 2022 8: 47

Amazon.it
Price updated on: 5 December 2022 8:47
Before making the final decision, also know that Xiaomi 12T Pro brings a further novelty or rather a welcome return. In fact, the proximity sensor that in the past has caused a lot of discussion about fans and not about the brand, on 12T Pro goes back to being of a physical type and not ultrasound. A welcome return that does not seem to be destined only for the top of the range such as 12T Pro, but which, for example, we also find on POCO M5 which we will talk about shortly in an accurate review.
The hope that Xiaomi and similar companies remain firm on this decision could however be nullified by the fact that a few days ago Lei Jun's company signed or rather renewed the contract with the company Elliptic Labs, which for Xiaomi is the supplier of virtual sensors . Xiaomi what are you up to?