In 2019 we saw an exponential increase in the resolution of smartphone cameras from an average of 12MP / 16MP to 48MP. A few months later we saw the bar rise up to 64MP thanks to the Samsung ISOCELL Bright GW1 sensor. The year ended with the Xiaomi CC9 Pro, known in Italy with the name of Mi Note 10, and its 108MP Samsung ISOCELL Bright HMX sensor.
Xiaomi working on smartphone with 256MP camera?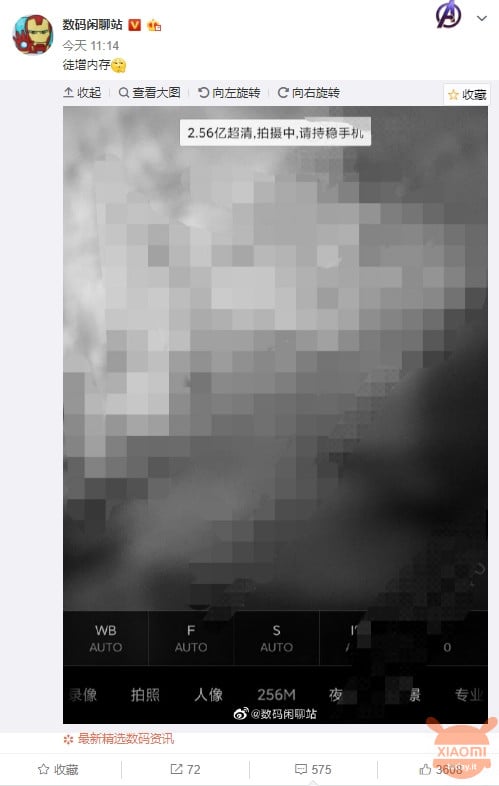 Well, today from China comes a speculation that almost makes the 108MP seem few, we are talking about a smartphone with a 256MP camera. As we can see in the image above, everything is based on a screenshot taken inside the camera application. Obviously you already know that it is a Xiaomi smartphone since we are on XiaomiToday, but if you have investigative spirit you will have noticed that we have the same MIUI user interface when we go to take a photo (in the Chinese version, it is clear).
The news comes from a fairly authoritative source in China, so we believe there may be something real behind this leak. Having said that, as we said earlier, the maximum resolution reached on a smartphone is 108MP, a jump up to 256MP seems exaggerated to say the least.
In addition, there is currently no image sensor manufacturer who has ruled on the existence of a future sensor with this resolution. We speak clearly of brands such as Sony and above all Samsung which in this period seems to focus everything precisely on the amount of pixels.
Alternatively, there is always the possibility that it is a Xiaomi software feature to reach 256MP and not a real sensor resolution. So for example we can have the 64MP sensor like the one we find on the latest Redmi K30 5G, which manages to multiply the resolution four times; not surprisingly 64 x 4 does 256.
What do you think about it? Do you believe there is a 256MP sensor ready for launch? Let us know in the comments section below!
Amazfit GTS
🇨🇳 EU Priority Line Shipping (15 / 20gg, No Customs) ✈
Are you interested in OFFERS? Follow our TELEGRAM Channel! Many discount codes, offers, some exclusive of the group, on phones, tablet gadgets and technology.