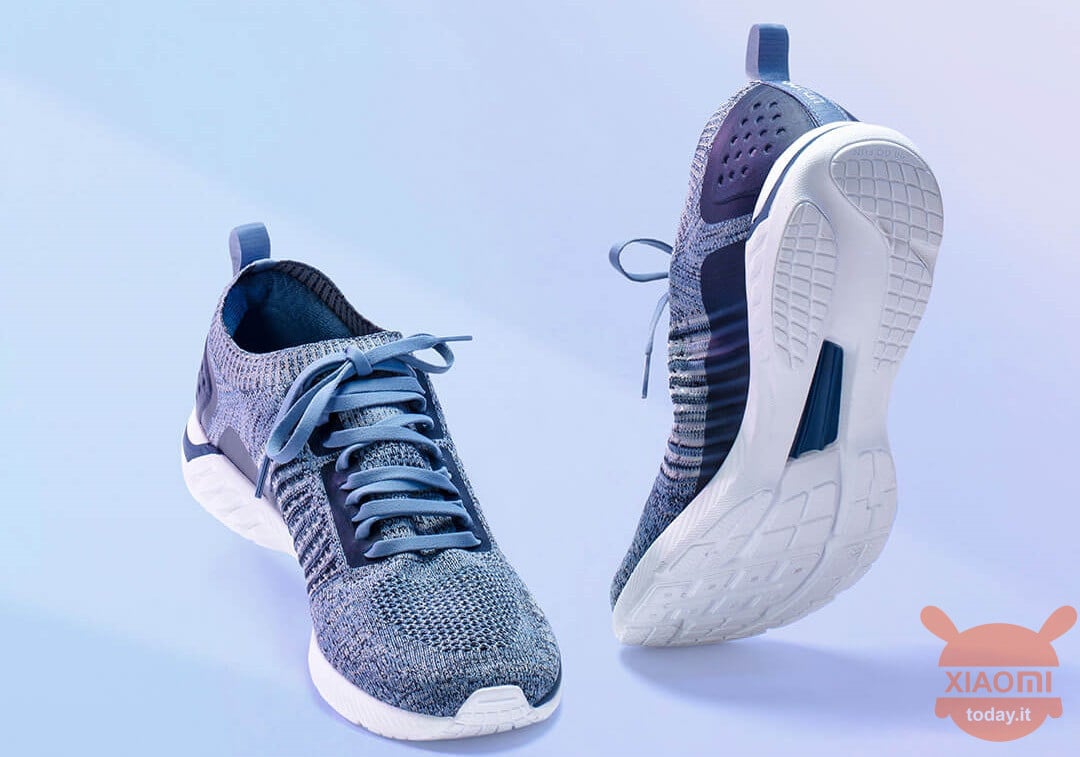 Xiaomi and sport are now two inseparable words. In fact, the Chinese technology giant has in its portfolio hundreds of products dedicated to various sports activities, be it bike, treadmill or whatever, Xiaomi does not miss anything.
The product presented today and already in the crowdfunding campaign on the official Xiaomi website is part of the running category, it is in fact a new pair of shoes produced by the 90 Minutes brand, the Ultra-light Running Shoes. The new shoes have lightness, materials that absorb vibrations, antibacterial treatment and other breathability.
Xiaomi 90 Minutes Ultra-light Running Shoes presented, rather than read!
So let's start with the outermost part, or the soles. These are made of light rubber and EVA, a lighter material than ordinary rubber and which offers a soft and comfortable feel. The material helps to make the run easier, by consuming less energy.
The EVA material section is also large enough to absorb the various vibrations, while the part on which we exert force is covered in rubber. The design of the outer sole also has segments in anti-twist TPU material to prevent any slipping.
As for the rest of the shoe, this was created using a mixture of MONO material, an ultra-light fabric and an anti-bacterial one. This mix of materials allows to control the weight of the shoe, combining lightness with comfort, durability, breathability and protection from bacteria.
The upper is entirely woven instead to improve the wrapping of the shoes and adapt to different types of feet. The mesh structure helps air to circulate in the shoe cavity and is more comfortable to wear during exercise.
Next to the section in contact with the ankles we find a design similar to that of the stockings. So the Xiaomi 90 Minutes Ultra-light Running Shoes will wear more like a sock than a pair of shoes.
Finally, the insole of these shoes created by 90 Minutes were inspired by the shape of the honeycomb, with a large number of small holes that serve to reduce the contact area, effectively increasing the deformation for a more comfortable feeling.
The Xiaomi 90 Minutes Ultra-light Running Shoes are now in the crowdfunding campaign on the official Xiaomi website (in China). It is possible to buy a pair in presale at the amount of 169 Yuan, or about 22 euros at the exchange, while once the campaign is over they will go on sale at 229 Yuan, around 29 euros. In any case, we Italians have to wait until one of the many Chinese stores decides to sell them to the rest of the world.
Are you interested in OFFERS? Follow our TELEGRAM Channel! Many discount codes, offers, some exclusive of the group, on phones, tablet gadgets and technology.