Just a few minutes ago we broke up with the news (unconfirmed) that Xiaomi is going to continue the production of the Mix series up to device number 10 and the development of MIUI up to the 15th release. If before we catapulted into the future, now let's take a trip back and go back to the present. The next top of the range device that awaits us is Xiaomi Mi Mix 4 which seems to have appeared in a very fake photo a few days ago. In this regard, a yield of the same device that does not make us happy at all.
A new render that represents Xiaomi Mi Mix 4 appears on Weibo: enough with these curved edges, we got tired of it ... or not?
The author of this is unknown yield and therefore if you wanted to offend or thank for the work done, unfortunately you cannot. Irony aside, the device in question is advertised by Chinese bloggers as a papabile Xiaomi Mi Mix 4. The resemblance to the brother Xiaomi Mi 10 it is a lot, but the differences make themselves visible. Let's take them together.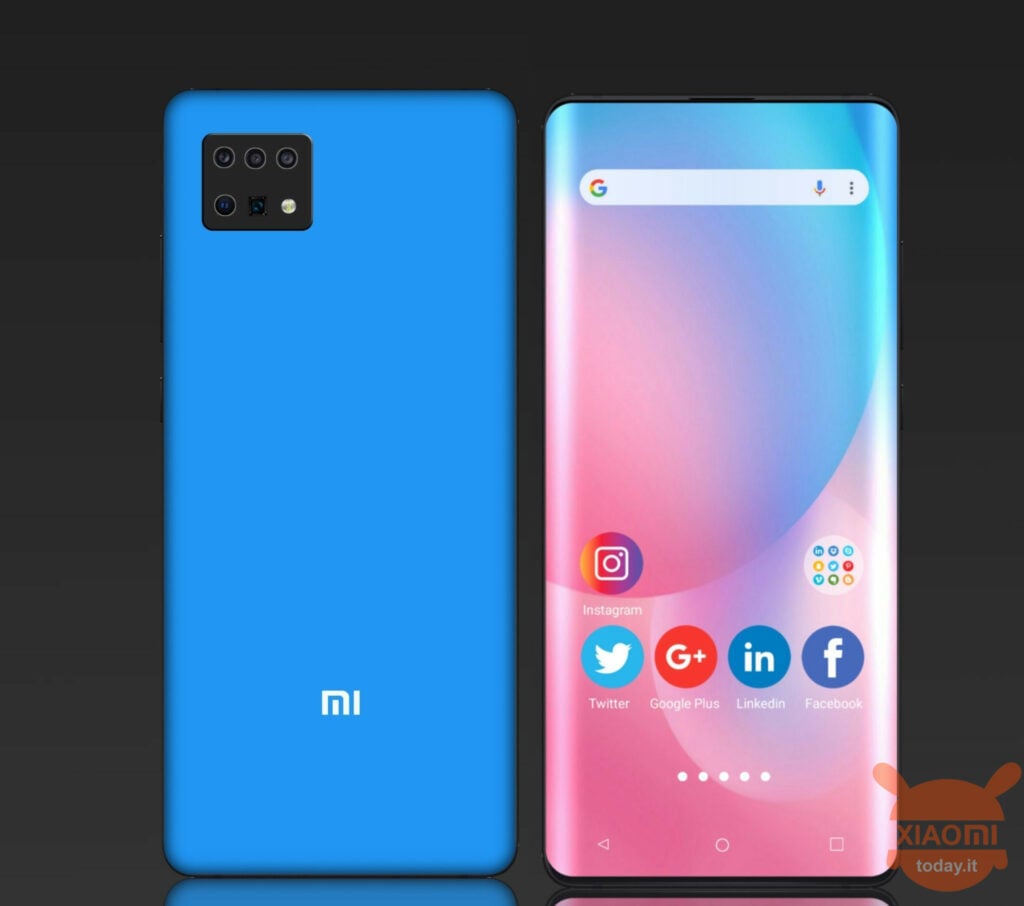 Let's start from the front: the device in question is characterized by a TRUE full screen, with top edge absent e reduced bottom edge really idle. The top edge is what catches our attention as it we do not see any notches or holes

. Assuming that the technology for the camera under the screen is complete, this new Mix could integrate it otherwise the only possible way is the pop-up mechanism that we have seen on Redmi K20 and K20 Pro. As for the front panel, it seems to have an aspect ratio 19: 5.9 given the elongated shape: this suggests a display by 6 " or higher (for those who wanted a We are MAX 4). Finally we see, unfortunately, gods curved edges, very curved, which belong to the category waterfall. A trait not too popular but to which we must get used.

As for the back, the author did not want to commit too much: the photographic form it is spartan and also a little ugly to look at. We find a rectangular "traffic light" to the Samsung S30 that it contains five sensors, but oriented horizontally instead of vertically.

Recall that this is not an official render and therefore the final design of the Mi Mix 4 it may differ from this (we actually hope so), but what do you think anyway? Do you like this kind of smartphone?

-45%

Coupon
🇨🇳 Standard Priority Shipping FREE (8 / 10gg, No customs) ✈ 🎁 Tempered glass + Cover + FREE film
🇨🇳 Standard Priority Shipping FREE (8 / 10gg, No Customs) ✈
🇨🇳 Priority Direct Mail Shipping (Delivery 10 / 15gg, NO customs) ✈
Shop
Use discount codes:
BGM35G
Expired
Are you interested in OFFERS? Follow our TELEGRAM Channel! Many discount codes, offers, some exclusive of the group, on phones, tablet gadgets and technology.