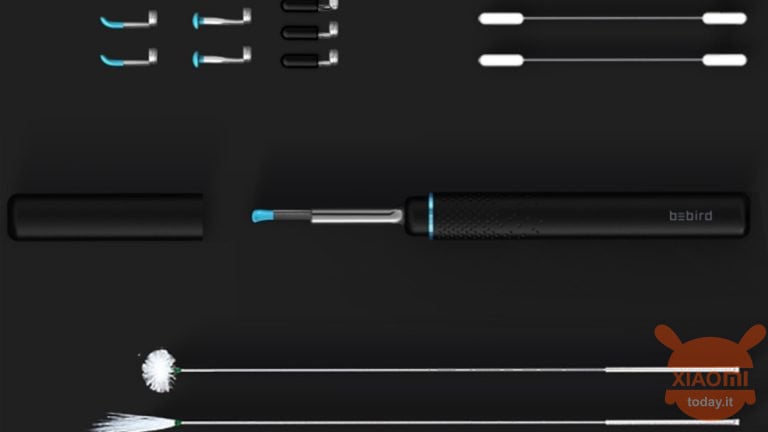 Today Xiaomi seems to be really unleashed, in fact after having thrown one on Youpin toy excavator in Lego style and a new version of the smart dustbin, here comes a useful and smart gadget. The Chinese company is always ready to incorporate new start-ups, not always of a technological nature, but still capable of revolutionizing the daily life of the end user in their own small way. This is the case of the new gadget designed for ear hygiene, the Xiaomi Bebird M9 Pro, proposed on the market at the price of 289 yuan, about 37 euros at current exchange rates.
Looking at it well, the minimalism of this product reigns supreme, with a completely black color except for a light blue ring at the top of the gadget. It looks like an electronic cigarette, and instead Bebird M9 Pro represents a really smart ear cleaning system. Once the cover has been removed, we find an invitation in which to insert various accessories to remove dirt from the ear canal of our ear: accessories that have a soft rubber tip to avoid irritating the internal parts.
Xiaomi Bebird M9 Pro: cleaning your ears will be fun and smart
Among the accessories we also find an endoscope that allows the vision in real time of the area to be treated with the gadget, so as not to arrive in delicate areas that could compromise the ear itself. Of course you can't miss the connection with your smartphone via companion app, to view the images. Given the small size of the area to be treated, we also find an LED with power from 300W. It is possible to work with the tips supplied with 360 °, inside the ear, so as to remove all the excess dirt even better.
Operation is guaranteed by an 350 mAh battery which is recharged using the special base supplied, but it is not clear how much the total autonomy is. However, now you will have no excuse to play deaf when your wife or husband asks you to go out for dinner.