On Xiaomi's crowdfunding platform we have seen every fate, cooked and raw, indeed I should say CRUDO, because the new product appeared on Youpin is just a high quality ham, specifically the Spanish company 5J which has signed an agreement with Xiaomi for the sale of Spanish national bone-in hams to the Asian market. We speak of a culinary delicacy to envy the best international masterchef.
It is not the first time that Xiaomi has relied on the 5J company and therefore for the Chinese market this is a guarantee. This time, however, Xiaomi has taken a premium step, as if in the past it was limited to the sale of packs of sliced ​​ham, this time on Youpin the Chinese user will be able to grab a whole ham to be boned and tasted in his own home. We are talking about blocks that vary from 6 to 7 kg of total weight.
Xiaomi better than the "pizzicarolo": 5J ham for sale for over 1200 euros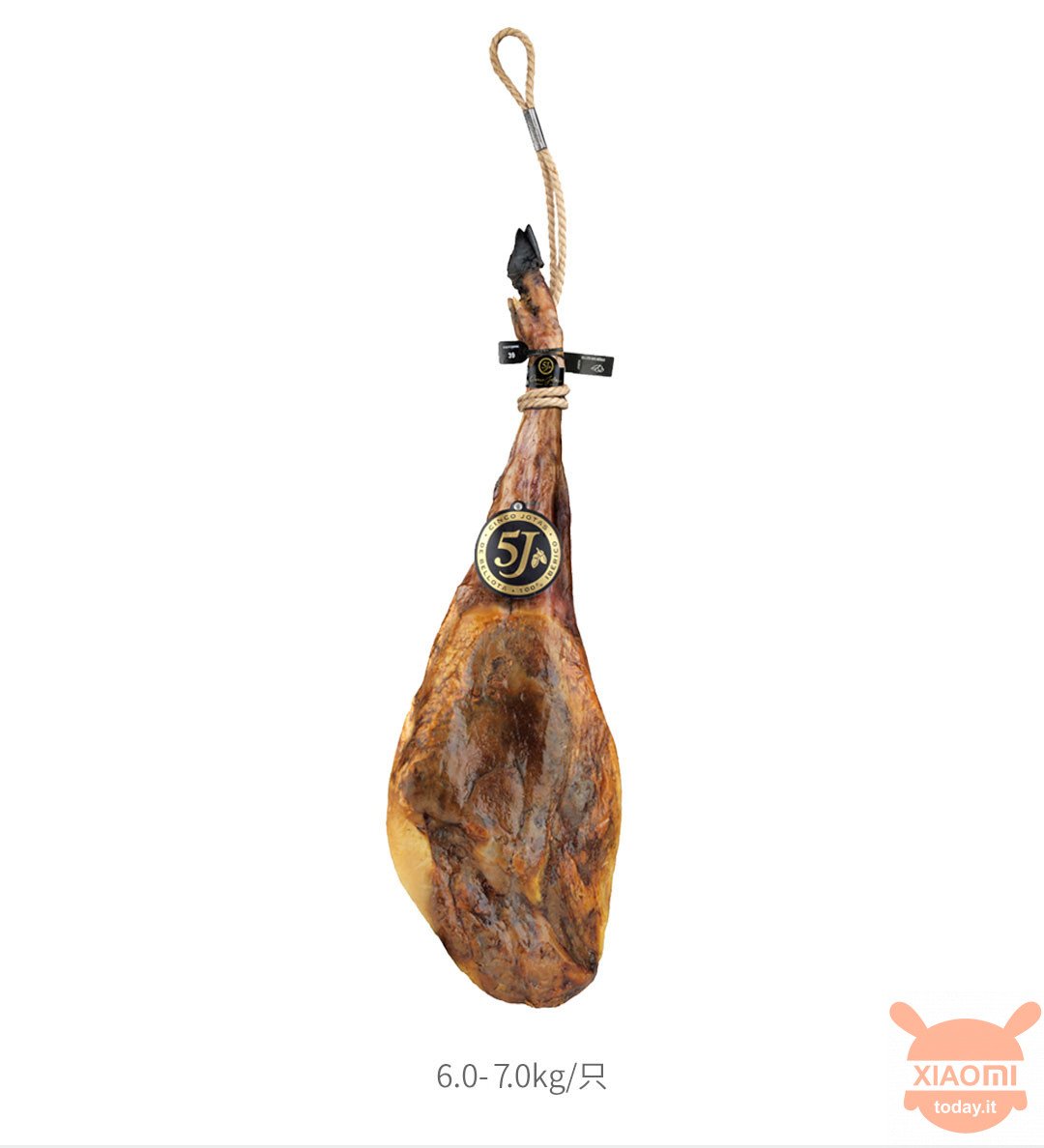 The definition that the 5J company itself gives of its product is that this ham is 100% Iberian excellence, in its original format and delivered directly from their centenary cellars. Each piece is unique and meets the highest expectations of flavor, texture and aroma to seduce the gustatory senses from the first cut. It will be a pleasure to sculpt an authentic Cinco Jotas (5J) ham with a knife cut, surprising everyone with the nuances of the best ham in the world, freshly cut.
A 100% Iberian acorn ham from Cinco Jotas can be appreciated by each of the five senses: its warm touch when captured with the fingers, its juicy and oily texture when it melts in the mouth, the long and intense aroma with flavors acorn and thyme and finally its incredible flavor, which persists on the palate.
This ham in Spain is sold at a price of around € 600, definitely suitable for the wealthiest pockets, but in China, with the import rates that take place through the Qingtian Keluo Ma company, the sale will shoot up to 9500 yuan, or about 1240 euros at the current exchange rate. Xiaomi on the Youpin online shop now sells everything, such as oil, beer, fake hamburgers and now even ham, a symptom that CHINESE JE LIKE MAGNA '.
Seriously, the gastronomy of excellence is certainly to be enhanced and Xiaomi has also been able to seize this business. And you which culinary delicacy typical of your region / city would you recommend to Xiaomi?
Are you interested in OFFERS? Follow our TELEGRAM Channel! Many discount codes, offers, some exclusive of the group, on phones, tablet gadgets and technology.