A few days ago we brought to your attention two news concerning the Xiaomi gaming phone, that is BlackShark. In particular we announced that the smartphone will also debut on the global market but above all we showed you one video which revealed the second generation of the device that at the level of deisgn will really make the throat of the most hardcore gamers, proposing a play of lights through the LEDs positioned on the side and the logo on the aback cover.
Xiaomi Redmi 7 Global
FREE Shipping 8 / 10gg - Cover and Complimentary Film - Italy Guarantee 🇮🇹
Read also: Xiaomi BlackShark 2 is shown in a hands-on video | Xiaomi BlackShark: Global version coming soon
We had no information about when it would be presented BlackShark 2, but after the revelation of the 3 Mi Mix launch that will take place on October 25 in Beijing, the Xiaomi partner company has also released a teaser that reveals the inauguration of the new generation of BlackShark, which The 23 in Beijing will also debut in Beijing at 18: 00. In particular, the post reveals that there will be big surprises.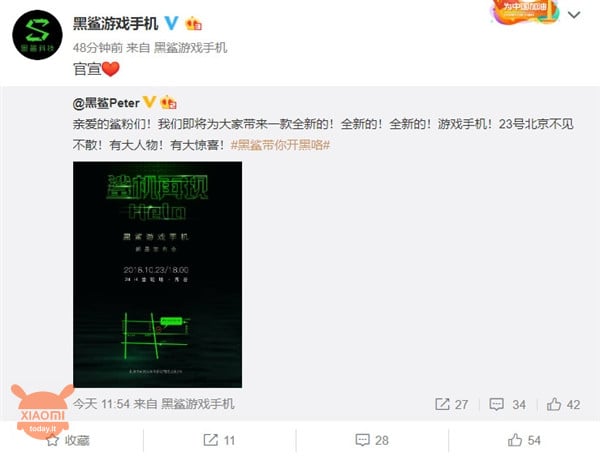 And right below you can see an excerpt of the video that revealed the back of the smartphone with printed BlackShark logo to which RGB LEDs are associated, that in a synchronized way delight the user's view. Moreover, the video confirms the images that had previously appeared on the database TENAA, even if the technical specifications still remain unknown, even if a further one is visible design change also related to the fingerprint sensor, this time positioned on the back cover and the dual camera arranged vertically and central just above the ID sensor.
Xiaomi BlackShark 2: here is the presentation date
From what reported on the TENAA database we only know that the new BalackShark 2 responds to the AWM-A0 model and which has dimensions equal to 160 75,26 × × mm 8,7, battery by 4000 mAh mentre the screen remains diagonally from 5,99 inchesbut probably the company may have equipped the same with refresh rate to 120 Hz. The rest of the specifications will probably be confirmed, as already at the top, like the Qualcomm Snapdragon 845 CPU with liquid cooling system, although there will probably be more optimizations dedicated to gaming.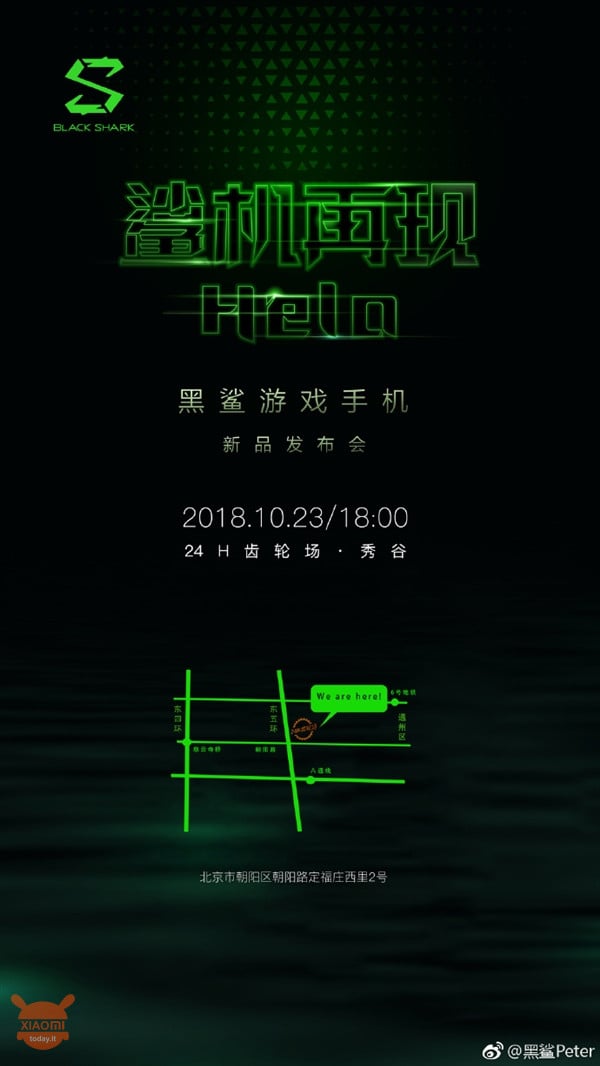 Are you interested in bidding? Follow our Telegram Channel!
A lot of discount codes, some exclusive offers from the group, phones, gadgets and gadgets.