Several times we talked about the Xiaomi BlackShark, one of many smartphone launched in the 2018 but that has the distinction of being dedicated to the gaming world offering top-of-the-range hardware for thrilling performance with the most demanding graphics and resources. This means that we find a powerful SoC on board BlackShark Snapdragon 845, system of liquid cooling, a button to enable the performance mode and a "comfortable" gamepad for a console experience.

Xiaomi Mi8 Lite Global
FREE Shipping 8 / 10gg - Cover and Complimentary Film - Italy Guarantee 🇮🇹
249.99€
We of the staff we have not been able to put hand to this creature, also because of the fact that the device has so far been limited to the Chinese market, leaving out the rest of the world. But apparently things are changing positively, for all extreme gaming enthusiasts, in fact on the net has recently emerged the global website of BlackShark, which greets the user with a fairly unequivocal message: The sharks approach. Release soon.
At the moment no other indication is given, except for the presence of a newsletter subscription form of the company by e-mail. However it is quite clear that the arrival in Europe is around the corner. A well-studied move, albeit late, also because now BlackShark must also compete with other devices category like the recent one Asus ROG Phone which offers more interesting fetishes, such as an overclocked processor and ultrasound buttons. But Xiaomi BlackShark is still an excellent and practical device focused on gaming.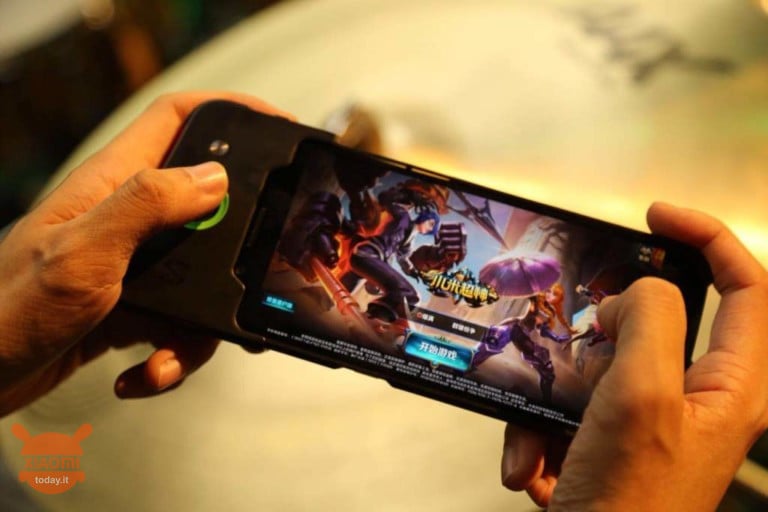 Xiaomi BlackShark: Global version coming soon
As mentioned before, BlackShark offers the aforementioned Snapdragon 845 (liquid cooling), from 6 GB to 8 GB of RAM, 64 GB to 128 GB of storage space and a screen Full HD LCD from 6 in. Other noteworthy details include a 4000 mAh battery, a dual chamber formed by the combination of a lens 12 MP + 20 MP on the back, and a selfie camera from 20 MP as well as a fingerprint scanner mounted on the lower frame below the display.
All this allowed the smartphone to place itself at the first place in the AnTuTu ranking for four consecutive months. But we also know that the company is working on a second variant of the device, as suggested by the TENAA certification arrived in recent days. And you cwould you omit the BlackShark compared to other devices?
Are you interested in bidding? Follow our Telegram Channel!
A lot of discount codes, some exclusive offers from the group, phones, gadgets and gadgets.