Now we are very used to Xiaomi who brings in our homes technological objects of all kinds: from smart light bulbs to desk lamps, from mini speakers to bluetooth speakers. For some time now, many users on Chinese social networks have asked because Xiaomi did not produce an e-reader among the many products and about ten days ago Li Chuangqi, Xiaomi's Senior Product Director, answered positively to a similar question; even if he has not officially confirmed, he has made it clear that something could be in port and that therefore the company could work at the moment on a e-reader.
Xiaomi could work on an e-reader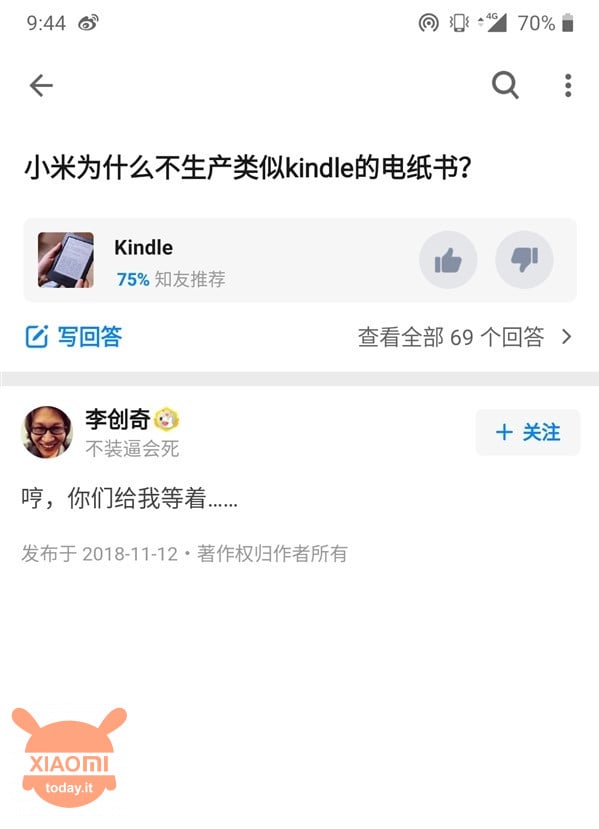 As we see, the Product Director's answer is not at all clear as it literally means "Humph, you're waiting for me ..." and it could mean several things: is the product already in port and could it come out soon? There are many requests and only now Xiaomi has decided to put into production this type of product? We do not know anything yet, but if we think about it and go back a year, in 2017 on the forum came out a news about it, news that informed that the engineers had completed a prototype of the device

but that still would not have come out since i efforts of the working groups were focused on something else, Or the production and improvement of new smartphones that would come out from that moment and all the devices that concern the smart home. Another reason why Xiaomi would not have put into production that prototype could be the poor request.

But now it could be a great time to expand their reach to more users and rethink the idea of ​​producing a Kindle-like e-reader. The card is actually destined to disappear, in a world that is starting more and more to digitization of products. So why not take up this hypothetical project and expand the product range a little more?


What do you think about it? Would you use a Kindle-like product or would you read on paper?
Are you interested in OFFERS? Follow our TELEGRAM Channel! Many discount codes, offers, some exclusive of the group, on phones, tablet gadgets and technology.