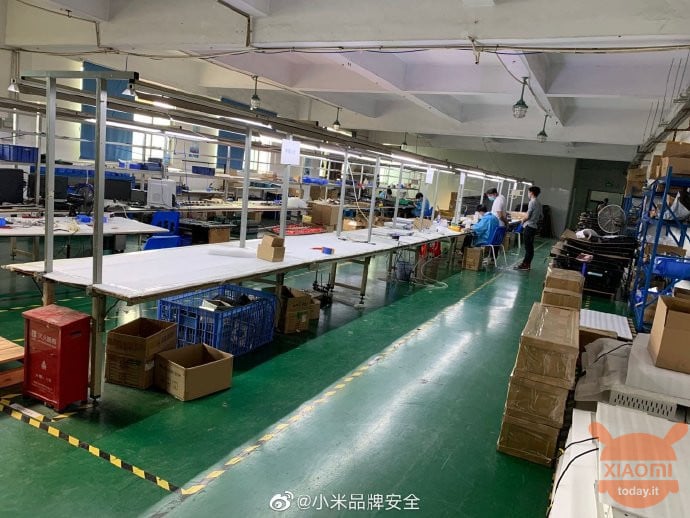 When it comes to counterfeit products, we often hear of Chinese producers attempting to copy Western goods. But that's not always how it works: even in China counterfeiters exist that sell products within the country. Many times, as we have seen some time ago, the goods are also exported and unfortunately arrive in the western market. But where are these objects actually produced? Clearly in fake factories set up ad hoc. One of these was found in China. We show you pictures disclosed on Weibo from an official account Xiaomi.
Xiaomi's most counterfeit products are accessories, including headphones: after months of investigation, a factory was discovered and dismantled
According to what is published by the Weibo official account of the brand's security department, by April 2020 investigations into a series of counterfeit products who went around China. In particular these investigations took place in Shenzhen, in Shandong province. For those of you who don't know, Shenzhen is there capital of Chinese technology. A sort of industrial core where many workers give life to the smartphones and accessories that we have at home. In the chaos of these factories there is clearly the possibility, for some, of build false ones.
According to what reported by the upper floors of Xiaomi, the investigations started following an online shop that delivered to unsuspecting users of the fake products. Obviously few have noticed the reality, but these few did not hesitate to report the incident to the police. After some time the agents managed to find one fake 200 square meter factory who produced headphones on behalf of our brand. The workforce of this company was from 20 people and therefore it was not an improvised thing at all. We are not aware of this, but based on the production rates that the agents have estimated, one can be calculated loss of millions of yuan for Xiaomi

. Below is a photo of boxes containing counterfeit headphones.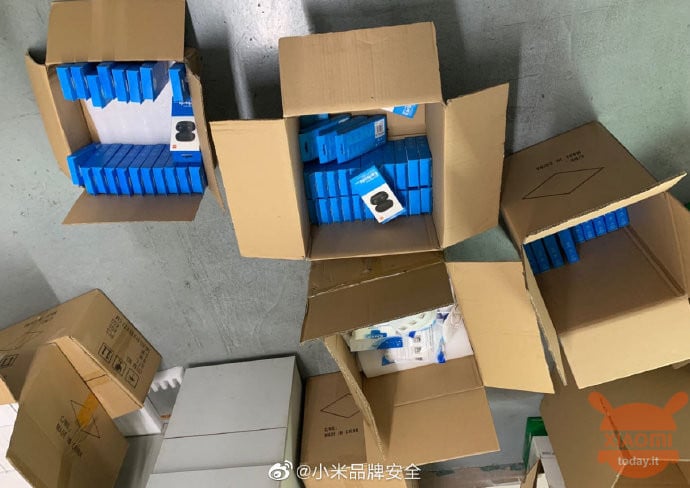 It was also reported that the work was coming really done painstaking: more than 1000 products were found including boxes, stickers to apply, instruction booklets, cables and connectors. Clearly the perpetrators were immediately arrested pending a counterfeiting trial against a multinational company.
Partly for responsibility and part for justice, we want to share a short one with you guide to recognize counterfeit products. Sometimes when buying from Chinese stores it can happen that accessories (rarely smartphones) get in the hands of the Xiaomi brand but that in reality are not under his responsibility. Why do we talk about responsibility? Because obviously being fake they cannot in any way enjoy the official guarantee: in fact, even the recognition codes are false.
How to recognize an original Xiaomi product from a counterfeit one
The reality of recognizing a real Xiaomi product from a fake one is very simple. In fact, the brand has made a profit available to us digital instrument to do it. What you need to do is simply go to the official website via this link. Here we will have the opportunity to choose between two options:
the first will allow us to recognize the authenticity of your smartphone by entering the IMEI code;
the second will allow us to recognize the authenticity of any other brand product by entering the security code. Clearly to check if a product in our possession is counterfeit or not we will have to be in possession of the box where there are the two codes above. Recall that it is good practice always check this data regardless of which channel is used to purchase accessories, smartphones or whatever.
Poco F2 Pro Global 6 / 128Gb from EU Warehouse
ES Standard Shipping Shipping 2 / 5gg (NO customs) ✈
Source | Weibo
Via | Read
Are you interested in OFFERS? Follow our TELEGRAM Channel! Many discount codes, offers, some exclusive of the group, on phones, tablet gadgets and technology.