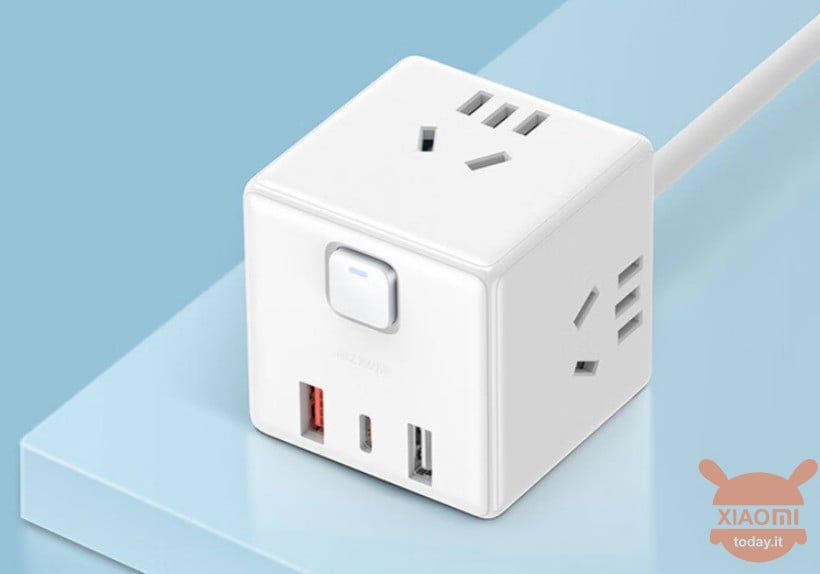 Asian tech giant Xiaomi has just launched a very interesting gadget. We refer to the new Xiaomi Cube Converter Pro, a compact multiple socket to power and charge different types of devices.
Xiaomi Cube Converter Pro: multiple socket and charger in an ultra compact cube
But let's start with the design of the Xiaomi Cube Converter Pro which, as the name suggests, has a cubic shape to integrate both the multiple socket and charger functions, with the sockets located on the four sides of the cube.
The new Cube Converter Pro is about 24% smaller than the previously launched Mijia Cube Converter (wired version) and can easily be stowed in a backpack and carried around, allowing us to power multiple devices on the go.
Going into detail, the power strip provides 3 sets of ordinary power sockets and 3 USB ports, including 2 USB Type-A ports and one USB Type-C port. One of these USB Type-A and USB Type-C ports support 33W fast charging, while the other USB Type-A port supports a maximum power of 22,5W.
In addition, the Xiaomi Cube Converter Pro can intelligently identify the output current and is compatible with various devices such as Nintendo Switch. According to data released by Xiaomi, it takes 65 minutes to fully charge the Mi 12S Ultra and 30 minutes to charge the iPhone 14 at 58%.
In terms of safety, the Cube Converter Pro uses high quality copper material as the internal conductive structural material and the shell is made of flame retardant material. It passed the 750 ° C glow wire test. It has built-in two- and three-level independent protection to prevent foreign objects from entering and supports on / off with a button that lights up.
The Xiaomi Cube Converter Pro will be sold at a price of 89 yuan, about 12 euros at the exchange rate.
Xiaomi smart band 7
43 used by 45,54 €
6 December 2022 14: 18

Amazon.it
Price updated on: 6 December 2022 14:18