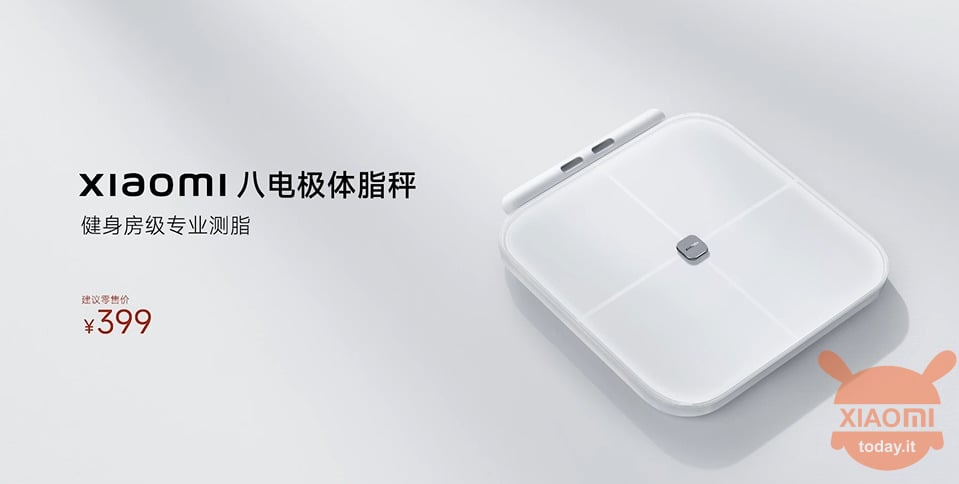 Among the many products released today, the Chinese company Xiaomi has also launched the new Eight-Electrode Body Fat Scale with an eight-electrode whole body measurement provides for a complete body composition analysis. The scale will be sold in China at a price of 399 yuan (58 euros).
Xiaomi Eight-Electrode Body Fat Scale presented: measures body fat thanks to 8 electrodes
But let's start by explaining that traditional scales that calculate body fat on the market use a single frequency measurement method, as the low frequency current is unable to measure the impedance of the intracellular fluid across the cell membrane, this affects the accuracy of measurement results.
The Xiaomi Eight-Electrode Body Fat Scale adopts dual frequency bioimpedance measurement technology instead, uses high and low dual frequency alternating current to pass through the inside and outside of the cells to obtain impedance data and measure accurately body fat, water, muscle and other human health data.
In addition, the new product is also equipped with a high-precision floating-point compute ADC chip, a built-in thumb electrode handle, a seven-core handle connection cable upgrade, and a full ITO scale surface. foot contact. The measurement system is completely improved and the data results are comparable to the DEXA gold standard.
Going into the details of how it works, the Xiaomi Eight-Electrode Body Fat Scale applies multi-frequency alternating current to the human body through the contact between the human body, the surface of the scale and the handle, with a total of 8 electrodes, forming multiple current circuits. throughout the body, passing through the left arm, right arm, trunk, left leg and right leg. Five-segment component measurement clearly shows fat and muscle distribution in each part, visceral fat level and hidden obesity risk and can also intelligently analyze if body type and posture are correct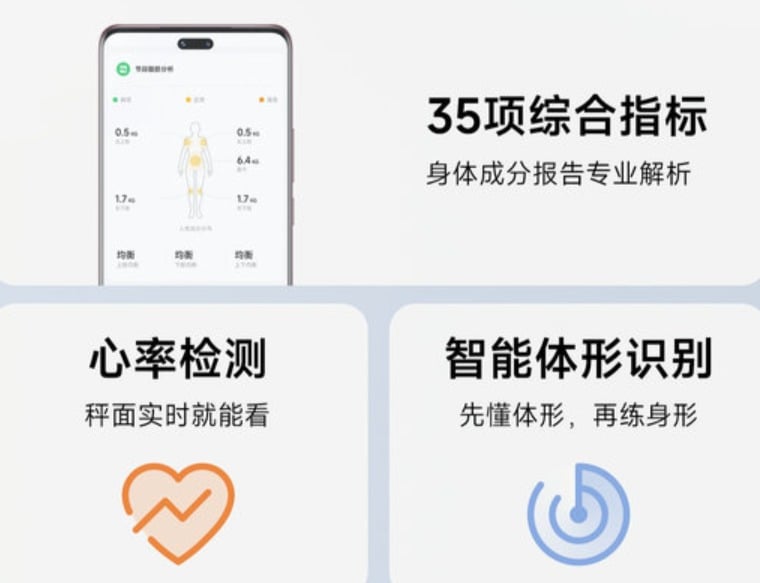 For the rest, the smart scale is equipped with dual functions of Bluetooth and WIFI. It is not necessary to connect the measurement to a smartphone. The measurement will be recorded on the scale and the data will be automatically uploaded to the cloud. Users can open the Xiaomi Sports Health app at any time to view more detailed reports.
10 December 2022 6: 17

Amazon.it
Price updated on: 10 December 2022 6:17