After launching the Xiaomi Mi MIX Alpha with a truly innovative design almost two months ago, the Chinese technology giant does not seem to want to stop. So here comes a new smartphone patent from China with an even more incredible design; let's find out together!
Xiaomi Foldable returns to the rescue with this patent
As we can see from the images, the device presented by Xiaomi on the Chinese official patent site, CNIPA, adopts a design very similar to that of another terminal presented in this 2019. We are obviously talking about the Huawei Mate X, a smartphone unveiled several months ago but which unfortunately has not yet entered the market.
Even the prototype of Xiaomi Foldable in fact, it has a large display that can be folded to make it much more compact and easy to carry, although probably not yet pocket-sized. This design differs from that adopted by Samsung for example, which instead sees a display that closes inwards.
In the patent, however, we note that the device is divided into two different sections, the main one with all the components we find on a normal smartphone (processor, cameras, battery, etc.), while the other section includes an independent flexible screen (for half) from the rest of the hardware.
Finally, the foldable patented by Xiaomi has something that makes it even more exceptional, or a pop-up mechanism that brings out five cameras, just like the recent Xiaomi Mi Note 10 (which are the same?). The five sensors can then be used both to take normal pictures and selfies at the highest quality available.
We must admit that Xiaomi always makes us dream with these very futuristic patents, but as we have seen with both Samsung and Huawei, the foldable technology is not yet very mature. So maybe better to postpone until it is possible to create a beautiful and functional smartphone?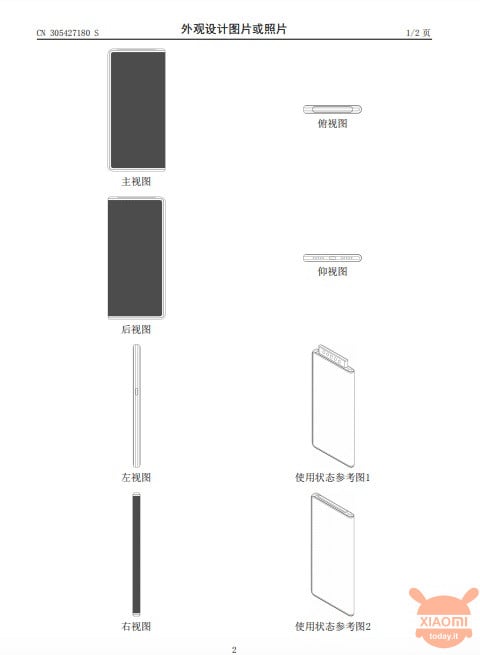 And what do you think? Do you want a foldable at all costs or do you prefer to wait for a more refined product? Let us know in the comments section below!
Are you interested in OFFERS? Follow our TELEGRAM Channel! Many discount codes, offers, some exclusive of the group, on phones, tablet gadgets and technology.