The 339esimo product has just been presented on the crowdfunding site of Xiaomi Youpin, it is the Furrytail Feeder, or a distributor of food for dogs and cats, with different features both smart and not and a price of only 199 Yuan (26 €) .
XIAOMI Mi 9T PRO 128GB Flame RED - BLU Global 6 / 128gb
ATGRATIS Shipping from Italy 24 / 48h

A pet food dispenser can always be useful for those who travel frequently for work or maybe even get busy in other matters. Thanks to this device we can in fact feed three or more times a day at the configured time and in the desired quantity.
Xiaomi Furrytail Feeder in crowdfunding, the smart food distributor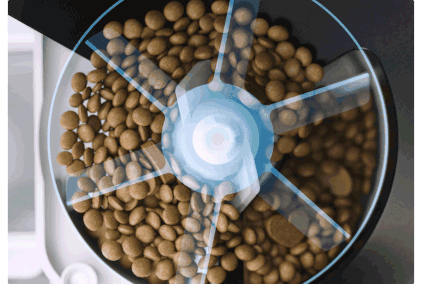 The Furrytail Feeder has an innovative structure divided into six parts with a soft rubber and a capacity of four liters. This allows you to keep 2 pounds of eating well for dogs or cats, then divided into six-gram portions to avoid a build-up of food in the bowl which could then leak out. The better organization of meals also allows less waste in general.
Obviously it is not possible to put food of any size, in fact we have a limit to 13mm in diameter, therefore almost all cat food, while for dogs we must limit ourselves to medium-small size.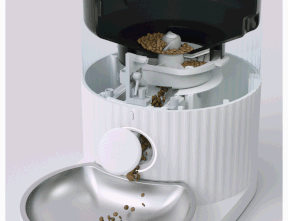 The container used for the feed is made of ABS material, while the bowl is made of 304 stainless steel, this to reduce the growth of bacteria. Then there is a small door that closes the silicone spout from which the food comes out with a three-step closure to ensure that no air enters the interior and thus prevent the feed from spoiling.
As if that were not enough, infrared sensors are able to monitor the status of the container and understand if the food is about to run out. In that case an LED light will illuminate below and a notification will be sent to the connected app. Moreover, under the bowl there is a scale to be able to understand how much food is present above it and how much is eaten by the four-legged friend.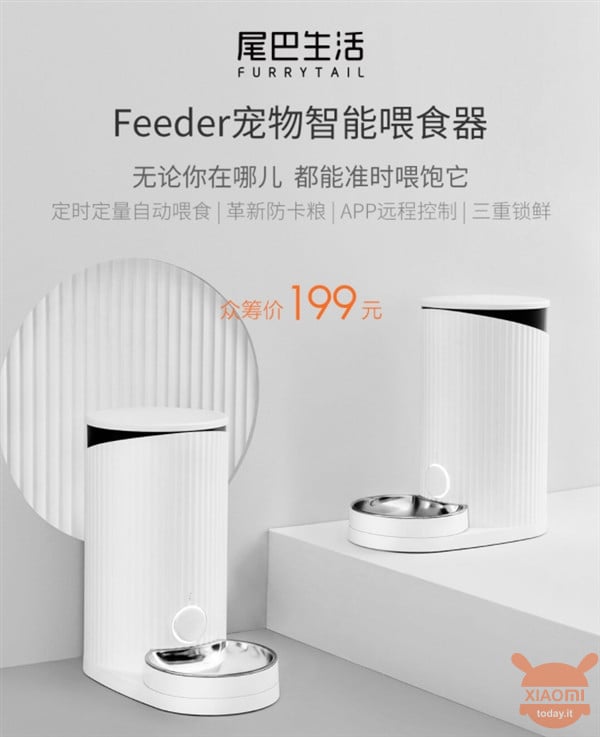 Finally, through the dedicated app it will be possible to decide when and how much to feed your pet and be able to keep track of his diet.
As we said at the beginning, the Furrytail Feeder is now in the crowdfunding campaign on the Xiaomi Youpin site at only 199 Yuan, or around 26 €. A fairly interesting figure given the various features and the ability to manage almost everything from the smartphone.
What do you think instead? Do you agree with us? Let us know in the comments section below!
Are you interested in OFFERS? Follow our TELEGRAM Channel! Many discount codes, offers, some exclusive of the group, on phones, tablet gadgets and technology.