If you have just begun to master the names and variants of the many smartphones that the Xiaomi brand has launched on the market in this 2021, also through the Redmi and POCO, perhaps you will have to reinforce what you have just learned as a dense list is leaking online, including 14 new terminals.
Of course the list is not official, but it is not the first time that the code name that identifies the more or less imminent release of new smartphones has been leaked online, which for the moment are 14, complete with a pseudonym, real name of the device and processor equipped.
It is certainly not new that Xiaomi concentrates its forces on multiple device families, which often also include 6 or 7 units as in the case of the 12 series which from what emerges from the list will consist of 5 elements, including the Pro variant, Lite Zoom and Lite but also the K50 series of Redmi and Note 11, to which the JE and Global models are added.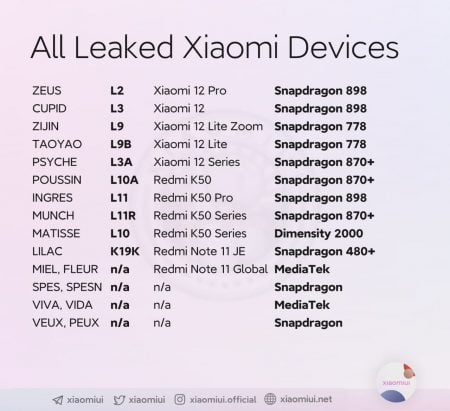 Xiaomi will soon invade the market with 14 new smartphones
It is interesting to browse the CPU specifications, finding the Snapdragon 898 as protagonist but also the SD 778 in addition to the Snapdragon 480+ which immediately suggests that the terminal in which it will be housed will probably refer to the entry level range of the market, if not even to the sales squares. so-called emerging.
There is also no shortage of solutions offered by MediaTek with the Dimensity 2000 while at the moment 3 are smartphones whose only specification is the code name. Who knows if among these there will be one already tested with the future MIUI 13. In short, the invasion policy by the brand will continue throughout 2022, but many are clamoring to focus on fewer specimens and take better care of the software optimizations. And what do you prefer: more choice or higher quality in the software sector?