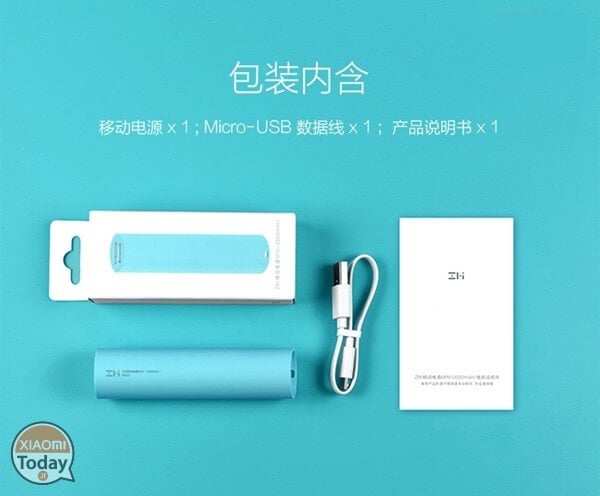 We often find ourselves in situations where our smartphone has so little residual charge that we are not allowed to even take a picture or maybe make a call to warn us of our delay. And although there are solutions on the market, such as power banks, we sometimes forget them at home or we do not take them with us because of their size. In fact, there are various sizes and capacities on the market, reaching over the 20000 mAh, but with increasing nominal capacity they also increase in weight and size.

And so Xiaomi offers a pocket version, slightly bigger than a lipstick, one 3000 mAh power bank priced at 39,9 yuan, just over 5 euros, and produced by the brand ZMI, which is Zimi Corporation, which is the exclusive supplier of accessories for the mobile power supply of Xiaomi. Zimi Corporation was one of the first companies funded by Xiaomi, and specializes in the design and manufacture of power banks, power adapters and charging cables for mobile phones, tablets, laptops and other mobile devices. During the partnership between the two companies over 80 million portable battery chargers / power banks worldwide have been sold under the Mi or ZMI brand from the 2014

, and this figure continues to grow at an impressive rate.

The new ZMI powerbank is in turquoise color, addressing therefore also to a younger audience, length of 10,1 centimeters and a weight of only 76 grams, extremely compact design so can be placed in the bag, in the backpack or directly in the pocket without creating discomfort during the trip. The name is not absolutely original, that is Mini ZMI LG, and the ability to 3000 mAh / 3.6 V / 10.8 Wh allows the charging of small devices such as bluetooth headsets, smart bands or smartphones as long as no more power is required. In fact, the Mini ZMI LG has an output from 5V / 1A and the same is required to recharge the same through themicro USB input.
Are you interested in OFFERS? Follow our TELEGRAM Channel! Many discount codes, offers, some exclusive of the group, on phones, tablet gadgets and technology.