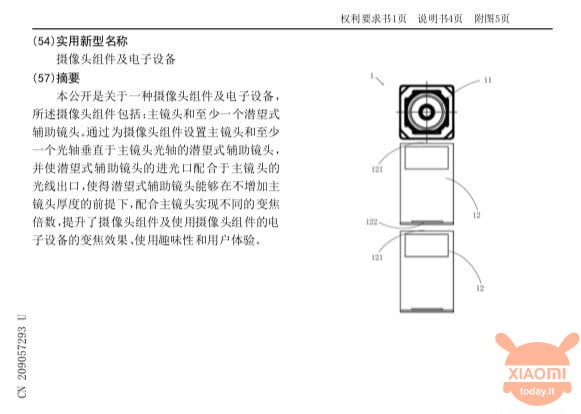 The smartphone sector always reserves beautiful surprises: in recent times we have witnessed real revolutions in terms of design, technology but above all linked to the photographic sector. In fact, with the recent Huawei P30 Pro but also OPPO Reno 10X Zoom, the possibility was introduced at the camera level to go with zoom to distances where before it was impossible to arrive, provided you get a super-grainy photo.
It is the two smartphones mentioned above that have obtained the periscope based camera technology and now Xiaomi also seems to be ready for this technology. In fact, a new patent has appeared online that identifies Xiaomi as the owner of a technological project that uses cameras with periscope lenses. Xiaomi is designing a periscope lens zoom camera
The patent document was filed on 20 December 2018 and the 2 July of this year was published with CN201822150093.2 application number under the title CAMERA COMPONENTS AND ELECTRONICS DEVICES, which leaves little room for maneuver to the imagination, so much so that it is accompanied by an illustration representing the main photographic sensor to which auxiliary sensors are placed side by side, forming a periscopic system that does not increase the final thickness of the device. One thing is certain, although Xiaomi sometimes finds herself chasing after some technologies, she is proving that being first is of no use and perhaps it is better to go out on the market than technology is really mature. It is perhaps not the case of Huawei or OPPO, but we are sure that this new technology will make us live beautiful emotions.
Perhaps we will see it on the future Xiaomi Mi Mix 4 or perhaps on a new line of devices devoted to photography. And what do you think? Have your say in the comments box below and why not maybe even post a photo taken from your smartphone.
Are you interested in OFFERS? Follow our TELEGRAM Channel! Many discount codes, offers, some exclusive of the group, on phones, tablet gadgets and technology.