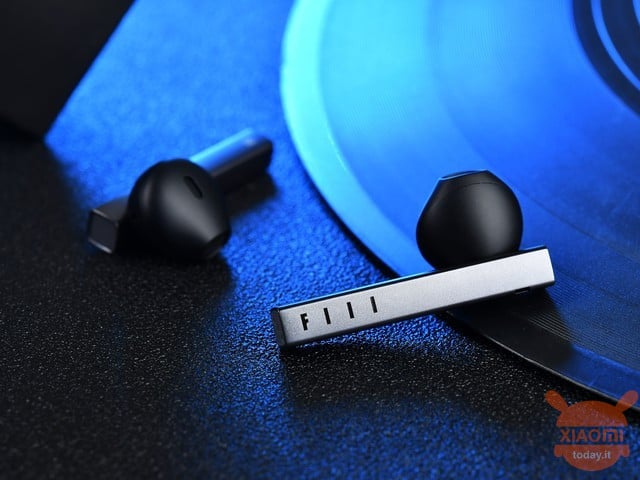 As said in the previous article, Xiaomi today presented two new products in the audio sector. The second one we are talking about is a pair of true wireless headphones that respond to the name of FIIL CC. A bit like successes to many successful products, even this gadget does not belong directly to Xiaomi but to one of the many companies that gravitate to the Youpin crowdfunding platform.
FIIL is a brand already established in China, a high-end brand and that with the CC model puts into practice all the know-how collected to date by proposing a futuristic design that recalls the German industrial lines. FIIL CC therefore belong to the premium segment of the market, so much so that many have already compared and compared them directly with Apple's AirPods, given the extreme audio quality and practically zero latency, thanks to a Bluetooth 5.0 connection with support for AAC / SBC codec and 13,1 mm driver with dynamic range from 15 Hz to 22000 Hz with a peak of 123 dB.
Xiaomi launches new TWS headphones, the FIIL CC from today on Youpin
Each earphone integrates a 30 mAh battery with a weight of only 4 grams that make them super comfortable even after long hours of use, 4 with a single charge, obtained through an elegant 500 mAh box which in turn offers an input for USB Type-C charging. To enhance the audio, a companion app is used that allows you to adjust the sound using an equalizer and three latency modes. The first of these modes is designed for music, the second for videos, and the third for games.
Another strong point of the FIIL CC is the touch control which can be selected in two different modes, simple or complete. Youpin requires 399 yuan, or about 51 euros at the current exchange rate, but by peering into the network it is already possible to find them on alternative stores at a higher price, even reaching 75 euros. All in all a more than fair price, considering that we are not dealing with the classic clone, but rather an excellence in the portable audio sector. The only drawback is the application, only in Chinese.