Are you interested in OFFERS? Be smart and subscribe to our Telegram channel! Lots of discount codes, offers, pricing errors on technology from Amazon and the best online stores.
Today Lei Jun's brand presented its latest spearhead: Xiaomi Mi 11, the most complete smartphone ever at the time of writing. It is a flagship with all the trappings, both in terms of hardware and software. In fact, if on the one hand we find the latest chipset released from Qualcomm, that is Snapdragon 888, on the other we have the MIUI 12.5, Or a new interface (we can say it without shame) that revolutionizes the schemes we are used to. But is that all? No, there is a surprise.
Xiaomi Mi 11 has a fingerprint sensor that literally photographs the fingertip revealing the heart rate. Brilliant revolution or just advertising?
In a historical moment like this where the control of some health parameters is really vital, the Chinese giant has seen fit to offer users (at a very competitive price) one smartphone that could help monitor health
. Of course, this is not the goal but still it is an extra option that it gives us. As we know is the fingerprint scanner is provided by the Chinese
Goodix
which has been providing Xiaomi for a long time. Good,
as revealed
,
the scanner also acts as a heart rate monitor
.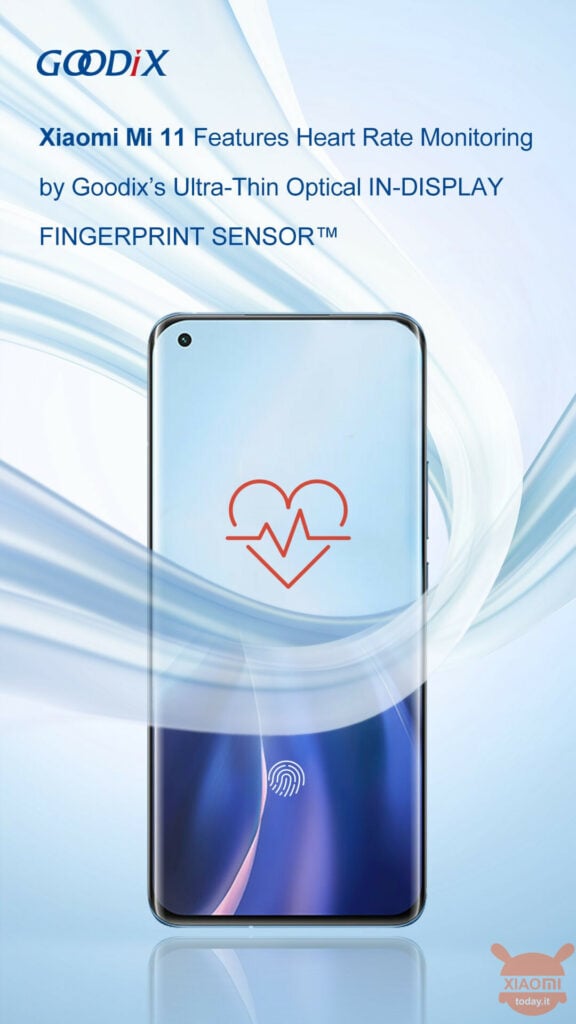 A quick update on the fingerprint sensor ultrathin IN-DISPLAY ™ enables the heart rate monitoring function on Xiaomi Mi 11 for the first time. You will be able to read the heart rate with the same accuracy with which we read the same parameter on the Mi Band. The fingerprint scanner under the optical display literally take a picture of our finger. Heart rate measurement uses a technique known as photoplethysmography (PPG). However, such a thing is not the first time we hear it, already last September a feature has landed on Mi Health that allows you to monitor the same parameter via the smartphone camera.
But now a question arises: will such a feature really be needed? Our answer (mine) is: Yup. At the price at which this device is offered, approx € 600 at the current exchange rate, we can't complain at all. If the cost had been increased due to the integration of this feature the story would have been different.
Buy on Amazon
487,42€
499,90€
available
7 new from 487,42 €
2 used from 331,91 €
as of 20 September 2021 0:55
Last update of the 20 September 2021 0: 55